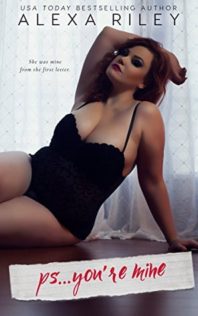 PS... You're Mine
by
Alexa Riley

Published by
Self-Published
on January 30th 2016
Genres:
Contemporary
Pages:
128
Format:
eBook


This post contains affiliate links you can use to purchase the book. If you buy the book using that link, I will receive a small commission from the sale.
---
[box style="rounded" border="full"]I read some posts about this book and admit to being intrigued. I also have to admit to being quite disappointed. The story premise had promise and simply fell flat.[/box]
Teacher Katie Lovely's high school class was assigned a project of writing to some marines overseas. Not remembering a recent student's transfer, Katie was left with one additional name. Not wanting this soldier to go without a letter, she started writing Sergeant Major Mark Gunner.
Mark was quite surprised to receive any correspondence. Mark was an orphan and his only friends were his fellow soldiers and even those who have returned to the States weren't much for letter writing.
During Mark's last year of active duty, Katie and Mark continue to write letters and Katie sends care packages of treats to Mark. When Mark decided he would retire from the Marines when his last year was up, he had no real plans of what he would do next. Now the only thing he wants is to get to Katie and begin forever by her side.
THOUGHTS:
I have a giant TBR list which I mention all the time and it is constantly growing. So for a story to catch my attention enough (1) that I pay for it and (2) that I pop it up my list to read it, means that I thought it really had potential. I like the idea of the two characters writing letters and falling in love through their correspondence.
Unfortunately, the only correspondence we see is the initial "Hi, my name is ____" letters. We don't even get a peek at how their romance grows. The letter writing starts and then we jump one year to when Mark gets out of the Marines and they both have boxes of letters and were writing several times a week. We didn't need to read every letter, but we could have been given a line from hers and a corresponding line from his and bouncing back and forth for a few pages. The addition of two or three pages of how their feelings grow toward each other would have brought us into their romance and could have made all the difference in our feeling towards the characters and the romance.
Our first note of WTF is that Katie is a 24-year-old virgin who is not unattractive. She is just shy. But she mentions in the beginning that a few of the other teachers have asked her out but she was too shy to go. Really? I could understand if no one asked her, but you couldn't go out to dinner with one of the teachers you probably have had conversations with at school after he asked you out? Not one? Unless he was married or 20 years older, none of which she claimed, it seemed a little odd.
Here is where there is a fine line between romance and creepy-stalker-psychopath. Mark arrives at Katie's front door suddenly, since for security reasons he couldn't give her details. He kisses her and carries her to the bedroom, but doesn't want to have sex if she doesn't want to. He just wants to hold her, which he could have done in the living room, but he plops her on the bed and gets on top of her, because that's how you hold someone…yeah, hold them down o they can't get away. Katie wants to have sex and everyone starts stripping and getting busy. At this point, I am distracted by the fact that Mark did not make a stop at the drug store or even the quickie-mart to grab some condoms before he gets to Katie's house when he knows he is hoping for some sex and he knows that she's a virgin so unless she has one of those "control my craps" excuses, she isn't on the pill. Really? Come on! The marines didn't teach you were babies come from?
After the sex, Katie starts asking those important questions like where do you plan on living? "Right here with you." He then starts telling her that they would be getting married asap especially since he might have just knocked her up. Wait…what?
There is a 20 year later epilogue where we see the happy couple still flirting at their kid's graduation, but this story might not have turned out so nice for Katie. Even after all those letters, what if Mark was a control freak or a heavy drinker? They didn't take five minutes to have a face to face date before he's telling her how it is. He didn't even stop long enough to ask if she was on the pill or ask if she wanted to risk pregnancy. Maybe Mark should have been concerned why Katie wasn't concerned about pregnancy. Maybe there's a reason she's a 24-year-old single, virgin who is desperate to get knocked up.
Yes, I know this was a short story and yes, I was expecting a lot out of that. Worse, there is a second short story bonus attached and actually this 100 page story is only about 50. I think if the author had stretched it out to 60 pages, we could have been properly drawn in to the romance. Then Mark would have been a man desperately in love who needed to get his hands on his love and not a guy trying to knock up a lonely desperate woman so he has a place to live.
I can't even say that this was a 50 page excuse to read about hot sex since there was only one sex scene and some references to Mark pleasuring himself to pictures of Katie, while he ate the cookies she sent him. Umm…yeah, not too creepy.
This story plot had the potential of being a sweet romance with a sexy, hot payoff in the end and we receive neither the sweet romance nor the sexy hot. I was very, very disappointed.
Related Posts