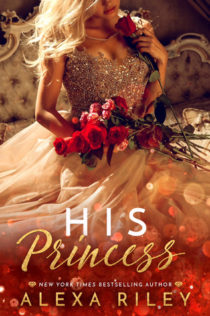 His Princess
by
Alexa Riley

Published by
Self-Published
on February 22nd 2017
Genres:
Erotic
Pages:
60
Format:
eBook

I received this book for free from in exchange for an honest review. This does not affect my opinion of the book or the content of my review.
Alena is a princess, and with that comes responsibility. Like marrying the giant caveman King Roman, who looks more like a warrior than a ruler. Everything about him is intense. Especially the way he looks at her. But she's been promised to him, and there's no way out.

Roman took one look and made up his mind. Princess Alena will be his and no one will stop him from taking her. Everything about her belongs to him now, and waiting one week for a wedding isn't going to happen.

This beast of a man might just claim his princess before she has a chance to say "I do."
---



No. Just no.
I will admit that I misunderstood the synopsis of the story. In the description Roman is described as "giant caveman King Roman, who looks more like a warrior than a ruler." So my brain translated this statement to a historical novel, something more medieval. But in the first paragraph Alena is searching the internet for pictures of Roman. That jerked my whole perception of the story making Roman less warlord and more dictator, although we don't bother with pages discussing his role as a leader.
This is an erotica and doesn't waste much time on story plot or explaining things like genetics and why Alena would be the blond, fair-skinned, blue-eyed daughter, unlike her parents and her sister who are all "sun-kissed" with dark hair.
Roman needs to pick a bride and sees a picture of Alena and must have her. The wedding is set by contract and will occur within a week's time. As part of the bargain, Roman meets Alena at a dinner beforehand, and once he sees her in person, he can't wait a week to have her so he keeps breaking into her bedroom at night to have sex with her. In fact, at one point he can't even wait until the nighttime to break into her room and breaks in during her bridal shower to have sex with her in an alcove. Wait, I take that back, they don't technically have sex until they are married, but there is a lot of touching and rubbing up against each other going on.
It is a very short story and obviously a quick read.   I was merely meh about this story until Roman starts focusing on breeding her.    As far as I am concerned "breeding" is for farm animals, not wives. I know there is a sub-genre of erotica which focuses on getting the woman pregnant, but it is generally not for me. While I like when my romance leads eventually have a baby, I do not like the focus  to be to "bred" a baby.
I have been offered several Alexa Riley stories and I thought this was my first attempt. I actually had to search my own site to see that I, in fact, read another one of her stories which I did not like. This is definitely not an author for me.
Related Posts