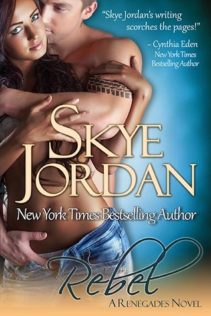 Rebel (Renegades, #2)
by
Skye Jordan
,
Piper Goodeve

Series:
Renegades #2
Published by
Cygnet Books
on May 13th 2014
Genres:
Contemporary
,
Erotic
Pages:
13
Format:
Audiobook
Narrator:
Piper Goodeve
Length:
13 hrs 05 mins



This post contains affiliate links you can use to purchase the book. If you buy the book using that link, I will receive a small commission from the sale.
---
[box style="rounded" border="full"]Rubi was a stand out character in Book 1, Reckless, and definitely caught my attention. Rubi and Wes as a couple were fabulous and are definitely worth the read.[/box]
I read Reckless some time ago. There were some great scenes, like the airport scene, and a hot and sexy encounter between between Jax and Lexi at the hotel. Overall, I didn't enjoy this story since I felt the Lexi's waffling about why she can't be with Jax was too far fetched and fabricated and left me disliking Lexi. You can read more of my issues with Reckless if you so desire. After my unhappiness with Book 1, I abandoned this series. One of our blog followers recommended that I give Book 2 and especially Book 3 a try, and I am so glad I did.
Rubi stood out in Book 1 as the wild and crazy, fun loving friend. Rubi was always up for a party and even the few minutes she was flirting with Wes in the beginning of Reckless caught my attention.
In Rebel, we find out the deeper issues which lead Rubi to be the wild and crazy party girl. Rubi's father is mega-rich and Rubi grew up with every privilege, except a parent who cared for her. Her mother died when Rubi was very young and her father had no time or desire to be with Rubi and try as she might, she could never get his attention. She never even had a nanny who stayed around long enough for her to get attached.  Her father is such a bastard to her, for example Rubi wants to buy the house she is renting from him at a fair market price, but he won't sell it to her just because she wants it.
Although she was raised in privilege, Rubi was neglected and has deep, deep abandonment issues. She has no idea how to form relationships with people. The only tie that Rubi has to any person is her friend Lexi. Rubi meets men for sex, never taking them home, and when it is over, she's done. She leaves. She doesn't call them again. She doesn't want to see them again. If you don't expect anything from people, they can't let you down.
When we start Book 2, Lexi and Jax have been dating for awhile and they spend time hanging out with their respective best friends, Rubi and Wes. After spending so much time as a foursome, Rubi and Wes start to build a friendship and spending time with Wes becomes very important to Rubi. There is no question as to their attraction, and we know that Wes wants to build their friendship into a romance. But remember, Rubi only has sex with a man once and she walks away.  She doesn't do sleep overs.  She doesn't do dates.  She doesn't know how to be a couple.   She fears that dating Wes will ruin the friendship with him that has become very important to her.
This series is supposed to be erotica, but the basic premise of this story is Rubi overcoming her fears and giving a romance with Wes a try so the sex doesn't come into the story for quite a while. There was some hot shower sex, and I don't know if you'll be able to look at chocolate ice cream again the same way, but in general,  I felt it was more a steamy romance than erotica which is sometimes sex, sex, sex with a few words in between to get you to more sex.  This is not a complaint more a statement that there is so much more to these characters than some erotica fuck-buddy story.
Where Reckless lacked a believable plot to keep our H/H apart, in Rebel we felt all Rubi's self-doubt and anger at herself that she couldn't take the leap of faith to try with Wes. Wes was already so important to Rubi that to lose his friendship if a romance didn't work out, would be been devastating to her. Once they finally decide to give it a try, Rubi works so hard to fight her fears.
We also feel Wes's frustration.   He works really hard to move forward with a relationship with Rubi. He knows that he has to move slowly and gently because of the neglect and abandonment issues, and every time he thinks he has moved them forward, he pushes a little too hard and Rubi scrambles away again, such as when Wes needs to go home and asks Rubi to come along.  A simple request, but meeting Wes's family is suddenly too much for her and she starts to withdraw again.
It is Lexi who makes Wes understand that someone from a normal home wouldn't understand the level of fear and self-doubt that surrounds someone like Rubi or Lexi, and that what seems like a simple request like "let me stay the night" causing them to shut down overwhemed by their own self-created terror.
THOUGHTS:
I loved Rubi and Wes and I was glad I listened and gave the next book a try.   I felt their story strongly as they attempted to create a relationship past their own past hurts.   They both wanted a relationship badly enough to overcome their own self-doubts.
We do get to meet the H/H from Book 3 and they have a small phone flirtation.  I  won't be able to get to that one for a while but I definitely will be working it onto my list.
This book was on special on Amazon and the audiobook was only $1.99 additional after the purchase of the kindle copy.   Piper Goodeve did a wonderful job as narrator and I would recommend giving this a try on audiobook.
---
Favorite Scene:
She glanced down at Rodie for the hundredth time today. His eyes were open, scanning every movement on the beach.  She crouched beside him and stroked him, head to tail. "How are you doing, baby?"
He lifted his head, wagged his tail, and licked her face. But then immediately resumed his sad position. This just wasn't like him. He was an impossibly happy dog. Maybe she should call the vet. Then she thought of Wes and his experience with animals.
RUBI: I'm worried he might be sick. Do you know how to tell?
WES: I'm already halfway to your place, coming to check up on you. I'll take a look at him.
Her heart tripped at the news that he was close. An immediate bite of irritation followed. She didn't want these unsettling feelings. These little unexpected zings of electricity every time she thought of him were beyond annoying.
She smoothed her hand over Rodie's head. "Wes is coming to see you, baby."
At Wes's name, Rodie's head came off the floor. He pushed into a sitting position and his ears tilted forward. His eyes sparked with an alertness Rubi hadn't seen all day.
Rodie pushed to his feet, tail wagging fiercely, ears perked. His whines picked up volume and pitch. Frowning, Rubi peered out the door. A figure jogged their direction. She narrowed her eyes on her dog — the animal who loved no one but Rubi. The animal that growled and threatened everyone who came within half a mile of the house.
She crossed her arms and glared down at Rodie. He was acting completely normal. His lighthearted, happy self. Rubi shook her head and muttered, "You little traitor."
His paws were upon against the glass before Wes was within half a mile, wearing nothing but swim trunks.
She rubbed the back of her neck and slid open the door, then the screen. Rodie let out a bark and took off toward Wes, ignoring a pair of Labradors walking with a man the other direction.
"Hey there, buddy," Wes called to Rodie as the dog approached, then dropped to his knees in the sand. Rodie jumped on him, paws on Wes's shoulders, licking his face. Wes's head tilted back, and laughter rolled from his throat, the deep, rich sound tingling through Rubi's body. "Seems like you're feeling pretty good."
Rubin shook her head and touched the mute button to sign off the call with the others. She was pulling the earpiece off when he looked up and spotted her standing in the doorway. Even several yards away now, she could see the joy in his smile.
Her stomach took a tumble, then squeezed, spurting adrenaline through her upper body. And this time when she tuned in to the emotions, there were far more what-ifs? than "no ways."
He stood, flung the Frisbee toward Rubi's house, and Rodie took off after it. Wes followed. Rubi left the door open for him and returnd to the living room to check on the program. Rodie trotted into the house first, a red Frisbee clutched in his mouth, his deep brown eyes sparking and a bounce in his step.
Wes appeared a moment later, his swim trunks covered in big red Hawaiian flowers on a white background contrasting with the tanned skin–all that tanned skin wrapping his muscles.
He crouched in front of Rodie again, taking his face in both hands. "He looks good. Is he eating okay? Drinking water?"
"Yes," she said, shooting him a lightly disgusted look. "Little faker perked right up when your name was mentioned."
The concern vanished from his expression, replaced by a wide grin and a mischievous twinkle in his eyes. "Told you he'd love me."
Related Posts