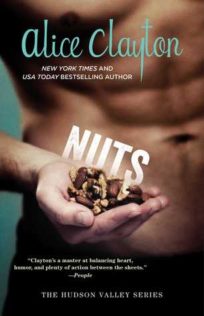 Nuts (Hudson Valley, #1)
by
Alice Clayton

Series:
Hudson Valley #1
Published by
Gallery Books
on October 20th 2015
Genres:
Blue Collar
,
Contemporary
Pages:
308
Format:
Paperback


I received this book for free from in exchange for an honest review. This does not affect my opinion of the book or the content of my review.
This post contains affiliate links you can use to purchase the book. If you buy the book using that link, I will receive a small commission from the sale.
---
[box style="rounded" border="full"]Nuts. This book is full of of them. Everyone in this story is little bit crazy and a great deal delightful.  I just loved Leo and Roxie.  This book had the same magic as her Redhead series and Wallbanger.  It's a perfect blend of witty banter, romance, sex and fun. [/box]
Roxie Callahan left her small town of Bailey Falls, NY to attend culinary school in California and she had no plans of ever returning. Her growing business as a personal chef to the ultra-rich and super-spoiled was growing, at least until a small kitchen debacle got her tossed out and, as gossip spreads quickly in the Hills outside L.A., Roxie found her her business floundering overnight.
Just as Roxie was getting ready to pull up her big girl panties and start again, she gets a phone call from her mother, a 2nd wave 80's hippie.  Always looking for and adventure, her mother has been chosen for The Amazing Race and she needs Roxie to come home to run the family diner for the summer. Although returning to Bailey Falls is the last thing Roxie wants to do, the timing couldn't be better. Roxie is hoping that the butter scandal will die down by the time she returns to L.A.
Roxie left Bailey Falls for a reason. Small town life was too stifling and everyone knew your business.  Roxie was shy, didn't fit in well in high school and never, ever wanted to inherit the family diner and spend her life picking the blue plate special each week. Now that she's back, she sees that small town life does have a certain charm that is missing from her impersonal life back in L.A. She's even reconnecting with old friends. Young Roxie was too shy to speak to people but L.A. Roxie has a lot of confidence and a whole lot of sass.
Since her mother is out of town and no longer checking over her shoulder, it might be a good time to try and shake things up at the diner. Roxie starts playing with some recipes and adding some pizzazz to everyday dishes like mac and cheese and meatloaf, she'e even adding more desserts than just cherry pie to the menu. Suddenly, the diner is selling out their specials before the dinner rush can even start.
The most interesting change in town is that someone has turned the old, rundown Maxwell Estate into an organic farm which is run by sexy farmer named Leo.  Farmer Leo has Roxie digging up long buried Little House on the Prairie fantasies.   Most of the women in town have been trying to get farmer Leo to plow their field to no avail. Suddenly Leo starts delivering more than nuts and the world's largest zucchini to Roxie's door, the town starts coming to the diner for more than just the gourmet desserts. They want the juicy gossip on Roxie and Leo.
Small town life is as crazy as it is quaint but will a sexy farmer and a new outlook be enough to keep Roxie from returning to L.A. once summer is over?
THOUGHTS:
As much as I enjoyed Alice's last two book, Screwdrivered and Mai Tai'd Up, they seemed to lack that special spark that made Wallbanger and The Redhead series so special. In Nuts, Alice Clayton has found that magic spark again.
In returning to her small town, an older and more mature Roxie can finally see the charm of the small town life.  The reconnects with friends, including her high school crush, and becoming a part of the citizenship, rather than just a small town kid, dying to get away.    She never wanted to inherit the family diner, but again, the mature, trained chef sees the potential in upgrading the standard diner fare while adding specialties to the menu.  She even begins teaching cooking classes on the side.
Her relationship with Leo develops nicely and we are in for quite a surprise at the end which adds an interesting twist.  Quite surprising that no body in town spilled any information to Roxie, even by accident, but then the surprise wouldn't have been so surprising.
Leo and Roxie were well-developed and delightful characters and their connection added that special spark that made the story so special.
If you loved Wallbanger and The Unidentified Redhead, you will love her newest cast of characters because they truly are Nuts.
Received an ARC from the publisher in exchange for an honest review.
---
Favorite Scene:
"Are you armed?"
I peeked over my shoulder to see Leo, wearing a teasing grin. I answered it with my own and held my hands up in the air, potato in one and peeler in the other.
"I am; you may not want to come much closer," I said very seriously. I nodded toward the basket on top of the boxes he was carrying. "I can't believe you brought nuts to a potato fight."
"I'll admit it didn't go well for me last time," he said, walking over to my station and setting down the boxes he was carrying. "Or it went very well for me last time, depending on the point of view."
"Point of view is important," I said, setting down my peeler. He was closer than I expected and I found myself staring up into the incredible green eyes, bright and curious. "So what did you bring me today?"
Without taking his eyes from mine, he thumped lightly on the stack of boxes. "Lettuce–a few different kinds, including a new blush variety. Big mess of fennel and garlic bulbs. Leeks, celery, and a big fat rutabaga. And a special treat, the first strawberries." He lifted a small paper bag from the top of the pile, opened the top, and I peered inside. Nestled at the bottom were a handful of plump strawberries, pinky red and speckled with fragrant green leaves.
"Mmm," I breathed in. "That smells like summer."
"Doesn't it?" he answered, pulling out one of the tiny fruits. "It's a new variety we're trying this year–brown sugar strawberries. A low yield so far, but it's about the sweetest strawberry I've ever tasted."
"Yeah?" It looked the same as every other one I'd ever seen.
"Go on. Try it," he said, offering me the strawberry.
"I don't take candy from strangers."
"It's not candy, and we're not strangers. We painted together."
"And fell down a few times."
"Exactly," he nodded, holding it out once more. "Put this in your mouth."
"That's exactly what a stranger might say," I said, but opened up.
He dropped it onto my tongue, his eyes crinkling when I let out the tiniest sigh.
"That's a great fucking strawberry."
"I like to think so," he replied. We looked at each other exactly two seconds longer than was necessary, then moved on.
"So what's with all the walnuts?" I asked, looking at the big basket.
"There's an old grove on the property, and we're always rolling in them. So I stared adding them to the foodshare, and people love them."
Suddenly inspired, I said, "I'll make a black walnut cake! I haven't made one in ages, and I could make a few, based on how many nuts you've brought me."
"I feel like so many of our conversations have been nut based," he said.
I tilted my head sideways, my thoughts drawn back with visions of thick frosting to the very handsome farmer in front of me. "Agreed. How can we change that?"
"You wanna come see my farm?"
"Hell yes. Should I bring some walnut cake?"
He nodded, and I made him feed me another strawberry.
Summer lovin', happened so fast…
Related Posts