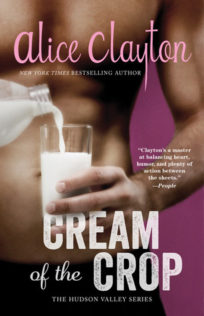 Cream of the Crop (Hudson Valley, #2)
by
Alice Clayton

Series:
Hudson Valley #2
Published by
Gallery Books
on July 12th 2016
Genres:
Contemporary
,
Small Town
Pages:
384
Format:
eBook



I received this book for free from in exchange for an honest review. This does not affect my opinion of the book or the content of my review.
This post contains affiliate links you can use to purchase the book. If you buy the book using that link, I will receive a small commission from the sale.
---





[box style="rounded" border="full"]Alice Clayton does it again. Cream of the Crop is delightful and delicious and not the least bit cheesy. She makes you want to pack up and move to the Hudson Valley. Wait…I live there. I have to find this town.[/box]
Advertising executive, Natalie Grayson is a New York City girl from the top of her salon haircut, down to her designer heels. But lately she has been fantasizing what it would be like to be a farm girl. More particularly, a dairy farm girl. Natalie's weekly trip to the Saturday Farmer's Market in Midtown has started garnishing her more than just fresh produce since Bailey Falls Dairy started selling their wares. Their Brie is to die for, but Natalie would rather be getting her hands on the gorgeous maker of that cheese, Oscar Mendoza.
Imagine her surprise to find out that Oscar's dairy farm is right next door to the organic farm owned by Leo Maxwell, the man currently playing Farmer in the Dell with her BFF, Roxie Callahan.
Natalie's need to go visit her friend Roxie gets a boost when Natalie's boss received a call from the Town Council of Bailey Falls. It seems they want an ad campaign to draw the tourists to their bucolic town. Natalie jumps at the excuse to spend a few days looking around town, getting to know the people better, maybe a private tour of the local farms and hopefully getting lai….the lay of the land. Um, you know, so she can start on that ad campaign.
Natalie wasn't the only one at the market fantasizing about playing hide the cheese log and it doesn't take long for Oscar and Natalie to start churning some butter. *nudge,nudge* But life on a dairy farm isn't as idyllic as Natalie daydreamed it would be. What's a NYC girl to do with herself in a quaint little town? Can Oscar and Natalie merge their two worlds or is Nat just destined to be left Bleu?
THOUGHTS:
I just love Alice Clayton. Her stories are hysterical and her characters are outrageously crazy.
I loved that Natalie was a vibrant, confident woman who could get men to follow her home like the pied piper with just a wink and a smile. The fact that she was a plus-sized heroine was secondary. I do wish a little less time was spent on Natalie's flashback on her first serious boyfriend, who slowly but surely played and mentally abused the shy, vulnerable overweight girl. I loved the self-assured Natalie. She is an awesome role-model that confidence is sexier than skinny jeans. She knows she's smart and talented and beautiful. Her weight doesn't matter. So I didn't like seeing her brought down like that and she didn't even toss him off with a big, bold F.U. Since weight wasn't an issue in her household, it would have been nice to see her raised with that "I'm big and beautiful. Love me or F-Off!" attitude.
Together Oscar and Natalie burned up the pages. It was funny seeing all the women in town and at the farmer's market giving Natalie the evil eye for winning Oscar. The only one to make a snide comment about weight was Oscar's ex-wife and he shut that down right away.
I loved how Alice Clayton brought in a plus-sized heroine but her weight was not a definition of her, it was no more than a description of her such as auburn hair and light eyes.
I can't wait to see what our next to Bailey Falls will bring.
---
Favorite Scene:
"So here's the thing, Oscar. Can I call you Oscar?"
"My name is Oscar," he said, sounding a little amused.
"Right," I nodded, screwing up my eyes on frustration. Hmm. That was actually even better. I couldn't see him, and now I couldn't see anything. Much better. I reached out, catching hold of a wooden slat, rough under my fingertips, yet grounding somehow. "Here's the thing, Oscar," I repeated. "You're fucking incredible to look at, and when I see you, I turn stupid. Weirdly, oddly stupid, because normally I can talk to any guy. But with you, it's like all I can say is what I always say. oh. Yes. Which believe me, I've thought about all the different ways that I could say that. And obviously your cheese is amazing, but it's not all about the cheese for me. What I mean to say, is…" I bit down on my lower lip. Should I just come out with it? "I think about you all the time, naked all the time, with me, and I'm naked and I'm doing things to you, and holy shit are you doing things to me, and it's so very very good, and if you were any other guy we'd already be doing the naked very good things, but you're not, it's like you've got some kind of mysterious hold over me–speaking of which, I've thought about you over me, and under me, and behind me." I laughed out loud, realizing that my brain had clearly decided to just come out with it. "So–I needed to say this, and you needed to hear this, and now maybe I can be in the same room with you and actually have eye contact and not turn stupid anymore, because it's out there now. We're both aware of it, and now when I come to see you in the city and you ring up my order, you'll know and I'll know that while I definitely want your Brie, I'm also imagining banging the ever-loving fuck out of you."
There.
Said it.
And he wasn't saying anything. Not good.
"You know who I am, right?"
Still nothing from his side of the stall.
I climbed up one rung, then the second. Was he still there? I made it ot the top, peered over–but the stall was empty.
"I know exactly who you are," a deep voice said behind me.
I startled, then realized Oscar was exactly where I wanted him to be. Behind me, getting a great view of my exceptional–
"You're the Brie girl with the great big ass."
I turned slowly on my precarious perch, a slow burn building toward the top of my head.
As I turned, his eyes flickered upon from my ass to my face, and he blinked in surprise when he saw my expression. Springing lightly to the ground–a feat I'm sure someone with all this great big ballast wasn't supposed to be able to do–I poked him squarely in the chest and looked him dead in those beautiful gray-blue eyes. "You want to say that again? To my face?"
A slow grin spread across his face. "Which part?"
"You know exactly which part."
He moved closer. "Oh, the part about your great big ass?"
I blinked in total surprise. "I can't believe you have the balls to say that out loud."
"What, that you've got a great ass?"
"Come again?" I asked confused.
He took a step closer to me. Which made me take a step backward from him. "Seeing you standing in my line is the second best part of my Saturday," he said, taking another step.
I was up against the wooden wall with nowhere to go. "What's the first best part?"
"Watching you walk away." He placed his hands on either side of my head and leaned in. "I love watching your great big ass."
"Hold up," I said, placing one hand on his chest and slowing his roll. "Are you saying great big ass? Or great comma big ass?"
He looked at me quizzically. "Great comma big ass?"
This was going to be harder than I thought. "Okay, I'm confused. So you're not saying that I have a great big…ass, you're saying that I have a great…big ass. Meaning–"
"Your ass is big. And it's great." He dipped own to bring his face to within inches of mine. "How is that confusing?"
Related Posts