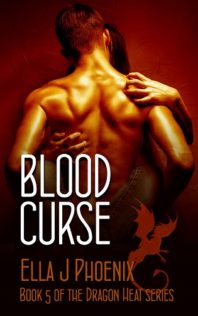 Blood Curse (Book 5 of the Dragon Heat Series)
by
Ella J. Phoenix

Series:
Dragon Heat #5
Published by
Smashwords Edition
on April 26th 2016
Genres:
Paranormal/Urban Fantasy
Pages:
308
Format:
eBook



I received this book for free from in exchange for an honest review. This does not affect my opinion of the book or the content of my review.
This post contains affiliate links you can use to purchase the book. If you buy the book using that link, I will receive a small commission from the sale.
---



[box style="rounded" border="full"]This is the fifth and, I believe, last book in the series. Sadly I didn't enjoyed this book as much as the first three stories in the series. I am not a big fan of storylines where gods as the antagonist. It is a lopsided fight that can't be won.[/box]
There is no way to talk about this story without including some spoilers from Book #3, Wolf Hunger. If you haven't read it yet and hate spoilers, please come back.
Old enemies of Tardieh and Zoricah are back and they have teamed up with a plan to destroy the happy couple. They have the ritual to resurrect the Phoenix, an unstoppable creature with the power of a god. He who controls the Phoenix, doesn't need an army to destroy his enemy.
They just need to find the perfect body in which to resurrect the Phoenix and they believe Naiah, the water witch, would do perfectly. They just need the help of the Konec, the Keeper of Haid, the Underworld, to resurrect her soul. In payment, they will hand over to Konec, Z and Tardieh's baby, Zoe, the granddaughter of Konec's greatest enemy, Ucidhere.
Konec is only too happy to help two of his most devoted followers, especially since he plans to take control of the Phoenix himself once these two fools succeed in her resurrection. Taking baby Zoe will bring Ucidhere to his knees, but with a powerful creature such as the Phoenix, Konec could finally destroy his beloved twin brother and take over his position as the God of Death and Lord of Apa Sâmbetei.
No one is more shocked to see Naiah again than Dyam. He still tortures himself over her death. He constantly tortures himself that if he had not been afraid of his feelings for Naiah and pushed her away, would she still be alive? Dyam is certain that Naiah is still in there somewhere, and if he can get Naiah to control the Phoenix, maybe they could have a second chance.
When death comes to your door wearing a familiar face, will you welcome them in or can you see the creature hiding behind the familiar mask?
THOUGHTS:
I knew that Blood Curse focused on Dyam and Naiah, and couldn't imagine after finishing Wolf Hunger how they were going to get a happy ending. Simply put, Naiah is killed in the big battle at the end of Book #3. They bring her injured body to the healing waters of the Emerald Lake but are delayed by the witches and by the time they put her in the water, she dies and her spirit turns into a waterlily. So how romantic can the next story be?  So I will give the author kudos for the creativity of the Phoenix storyline and resurrecting the romantic heroine.
A good portion of the story is enjoyable.  Anything involving Dyam and Naiah was enjoyable.  The anticipation of whether Naiah would resurrect her soul and be able to control the Phoenix, or if the Phoenix controlled the body and was acting as a slave to her master was all well done.
If we had just left the story to two enemies who resurrected the Phoenix for revenge, it would have been a great story. Especially added to that fact was that once the Phoenix was resurrected, the backstabbing began as both wanted to control the powerful creature.  The problem comes in when the antagonist turns out to be a god. Our cast of characters which we have been introduced to are all powerful, supernatural creatures, but they can't fight a god. The best they can do is hold off the Phoenix and Konec and hope that one of the other gods comes to save your butt before it is too late. They aren't powerful enough to kill the Phoenix, let alone a god. They can barely wound him as he heals instantly. All our heroes can do is try to die slowly and keep him busy for awhile. Personally, I dislike stories where one character is all-powerful. A human can fight a vampire even if they are stronger, because they still have vulnerabilities. If you have no chance to win a fight, there is no excitement to it. Again, the best you can do is try to die slowly and allow everyone else to get away. But since a god can't be destroyed, they just need to sit back and wait.
I am still confused why they chose Naiah to resurrect the Phoenix.  It seemed that the Phoenix takes over the body, so it is not like they needed the water witch's power and magic.  If the idea was to send the Phoenix in like a Trojan Horse, and that Z, Tardieh, Dyam and Yara would welcome Naiah back into the house with no fight, yet they lost their element of surprise right away so that was pointless.  Obviously for our story, we needed Naiah back alive, but why she was chosen wasn't clear.
SORRY, MORE SPOILERS:
Every Young Adult supernatural story seems to start with an average teenage finding out that they are actually some type of supernatural creature given up as a child and raised by regular old humans, who either didn't know their kid was supernatural or was hiding this fact from the child. At the end of this story, we are setting the stage for the next series. Just like in Charley Davidson series, we have the joy of a baby born to our main characters, only to have her sent away to be raised by humans. Instead of being raised and trained to protect herself by the two people who could help her the most, she will be raised in ignorance. I was a bit angry when I read the end of this story where they erase even the vague memory of Zoe's parents and send her away. Thankfully, there are a few pages from the next series which we can see will star the now grown-up Zoe. Obviously, this was a "we can't protect our kid from a god, so we have to hide her with humans" set up for the next series, but it detracted from this story.
Part of me feels very bad that I am dismissing the author's hard work and the creativity in resurrecting the character that we were sad to see go in the last story.  But personally I can't stand when one character is invincible.  It would be no fun to read a story if the hero or heroine was invincible and all-powerful and it sucks to read a story when your protagonists simply can't win.
Related Posts