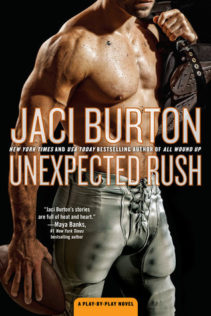 Unexpected Rush (Play by Play, #11)
by
Jaci Burton

Series:
Play by Play
Published by
Berkley
on February 16th 2016
Genres:
Sports
Pages:
330
Format:
eBook



I received this book for free from in exchange for an honest review. This does not affect my opinion of the book or the content of my review.
This post contains affiliate links you can use to purchase the book. If you buy the book using that link, I will receive a small commission from the sale.
---



[box style="rounded" border="full"]DNF – I thought I might go back and try to finish this one but I was so uninterested in this story, it was time to admit defeat. [/box]
For Barrett Cassidy, playing defense for the Tampa Hawks is a dream come true. And now he may have discovered his dream woman. Harmony Evans, once the sweet, gawky teenage sister of his best friend and teammate has grown into a smart, gorgeous woman with moves he finds hard to resist. But he knows he can't get involved with his best friend's sister—it's guy code.

Harmony has always gone after what she wants with single-minded determination, from her independence to her education to her career in social work. She never expected her youthful crush on Barrett to develop into something deeper. And she's not about to let some ridiculous man rules or her brother stand in her way.

When the chemistry is this combustible, lines tend to get crossed. And when Barrett and Harmony's secret gets out, it just might be game over…
THOUGHTS:
I didn't even feel like writing this one up so I just gave you the standard information.
As much as I like Barrett's twin brother Tucker's story, I had absolutely no interest in continuing this one. Harmony is the sister of Barrett's best friend from college and teammate. They are as close as brothers. Harmony just broke up with her boyfriend and sees Barrett at her mother's house for a party and decides she wants to get some of that and she is not going to take no for an answer.
Barrett knows that his friend is overprotective of his baby sister and knows that screwing with said baby sister will put his friendship in jeopardy so he puts is foot down and let's Harmony know it will not happen. No way. No how.
Well, it appears when you have money to burn, when you decide to go to the beach with your BFF's baby sister, you spend the money getting a hotel room and the fancy hotel so you can change your close and get that pesky sand off and have a private cabana on the beach where you can slather lotion on your BFF's sister and have dirty, sex dreams about her as you snooze in the warm sun. That's about where I gave up.
We were a third of the way through the book and there was absolutely nothing more to this story than eye-fucking and "no-no" "yes-yes". First of all, I was pissed off that Harmony would have no respect for her brother and Barrett's deep friendship that she was willing to toss it away so she could have sex with Barrett. There was no way Barrett would still be treated by one of the family after he broke Harmony's heart or vice versa. Yet knowing that Barrett feared repercussions, she kept pursuing him.
And although I didn't read any further, you know he was going to give in because they might say "Bro's before Ho's" but give a guy a naked girl and bro's go out the window.
I would have appreciated it more if they had a sit down discussion about trying a relationship with their clothes on and maybe talked to her brother ahead of time so things didn't get awkward. Now this might have all happened, but there wasn't enough story outside of the eye-banging and the no-yes, no-yes to keep me reading.
After Tucker's story, I was very disappointed.
Related Posts