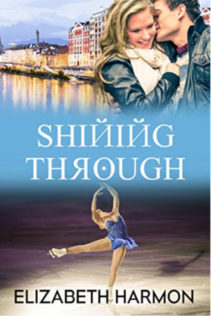 Shining Through (Red Hot Russians, #4)
by
Elizabeth Harmon

Series:
Red Hot Russians #4
Published by
Elizabeth Harmon
on October 2nd 2017
Genres:
Sports
Pages:
269
Format:
eBook



This post contains affiliate links you can use to purchase the book. If you buy the book using that link, I will receive a small commission from the sale.
The Biggest Season of her Career…America's sweetheart Tabitha Turner is on track to win figure-skating gold in the Winter Games. Her family has sacrificed everything for her career, but the pressure is taking its toll. Burned out and living a lie, can Tabitha let off a little steam without melting the ice?The Last Chance of His…Russia's bad boy of skating Daniil Andreev is determined to prove the toughest thing about him is his competitive fight. When Tabitha tempts him to help her take a secret walk on the wild side, he gives her a taste of the freedom she craves, never expecting that one unforgettable night could turn into something more.Two Hearts on Thin Ice…Chicago, Vancouver, Paris… the international figure skating season unfolds. Tabitha and Daniil compete and fall in love, but as the pressure mounts in a make-or-break season, can they set aside their painful pasts and spiral into a shining future together… or will their dreams shatter like thin ice?
---




I didn't realize that the Winter Olympics started. What perfect timing!

Shining Through was a wonderful balance of characters, locations and the backstage hardships of competative figure skating.
Shining Through was one of those $1.99 offers which came up on one of the many, many emails I receive every day about discount books. It caught my eye and I purchased a copy. Normally, I never actually read the books I purchase since I already have so many review books to read. It is more an obsessive behavior. Books are good, more books must be better. But this story popped up at just the right time and I decided I was in the mood for a nice figure skating story. I hadn't read anything by Elizabeth Harmon before, but I grabbed it off my virtual shelf, crossed my fingers and hoped it wouldn't disappoint.
I am happy to tell you that this book far exceeded my expectations. At 367 pages, the author took her time building a captivating tale of a budding romance between an American "Good Girl" and a Russian "Bad Boy."
Tabitha Turner is the favorite to represent USA in the upcoming Olympics but she tries to hide the fact that her bio is a complete sham. She isn't enrolled in Harvard, except a free online course. She isn't engaged to one of her fellow skaters, she's helping him cover up the fact that he is gay. She wasn't a late comer to figure skating, her family couldn't always scrape together the money for rink and coaching fees, so she would have to keep taking a break from her training. At an ancient 23 years old, this is Tabitha's last chance to make the Olympics. Everything is riding on these next few performances to make the team so the last thing she needs right now is a distraction in the form of a hot Russian skater.
Daniil Andreev was originally thrilled with the bad boy moniker ascribed to him in the press until he came face to face with the fact that everyone presumes the worst of him. He missed his chance at the prior Olympics by failing a drug test for using marijuana, but everyone just presumed it must have been for performance enhancing drugs, and no one, not even his coach, would come to his defense. The story starts off where Daniil is in Baltimore facing a charge of stealing a motorcycle for a joy ride while he contends that the man's girlfriend told him to take it for a spin.
It is while his is frantically waiting for the Court's determination, knowing jail time will cost him his last shot at the Olympics, that he sees the TV tuned to a skating exhibition featuring the lovely American Tabitha Turner. As he watches her skate, he starts to calm down and then hopes that not only will he make the Russian team, but that his path will cross with Ms. Turner's. He wants a chance to know her. When he sees her in Chicago, he beelines to introduce himself and the attraction between them is instant. But her coaches aren't excited about the Russian bad boy hanging around their golden girl when she should be focused on winning gold.
Tabitha admits that she has limited practical knowledge of men, except for her mother and sister's bad choices. She has spent all her adolescence skating instead of dating. So she and Daniil take their time getting to know each other while supporting each other in their skating. But with each competition, the pressure mounts toward the final goal of Olympic gold. Can a blossoming relationship between a Russian bad boy and an American good girl withstand the building pressures from outside forces and within themselves?
Of course, since I over think these things, I can't help wonder why in stories such as this, why our main characters can't just agree that they really want to give a relationship a try, but we need to hold off for just a few more months. Let's just get to know each other by text and emails until this whole Olympic pressure is done and then let's see where things go. It might be the difference between being 23 and being…not 23 anymore, and the fact that there wouldn't be a story if they did that.
What really made the story so engrossing if the fact that we really get an understanding of how much pressure they are under. Tabitha is fighting to get back her love for skating. Her technique is perfect but her performance has lost its shine. Daniil is fighting to get on a team that doesn't want him. If he doesn't dominate, they will shut him out. Even though their lives are so different, they want so much to be together, but an implosion is almost inevitable. We see the differences in how their marketing affects who they are when they are subjected to a rather horrible and mandatory random drug testing. When they arrive for Tabitha, the testers are apologetic to her; while the testers are outright nasty to Daniil and presumptuous that he will probably fail it anyway.
The author find a happy balance in introducing the secondary characters so that they aren't flat or stereotypical characters. For example, Tabitha's mother at first glance seems like a neglectful mother and her sister seems like a typical rebellious teen looking for trouble. But it is more that her mother is horrible at relationships, a not-so-former rock groupie, she keeps making bad decisions about men, and ends up getting them kicked out of their home every few months, but she is also loving and supportive to Tabitha and her skating aspirations. The same can be said for her sister, she isn't looking for trouble so much as looking to find her own creative niche. The other skaters aren't true teammates since they are all competing for three spaces on the Olympic team and then they are all competing against each other for the Gold medal. Tabitha isn't friends with any of them, and while they are cold to her, they aren't introduced as evil or malicious. They are all just as dedicated as Tabitha to reach their dreams.
Okay, this was a lot of words just to tell you that this lucky find turned out to be a really engaging story which I finished in a day. I was so pleased with the writing that I have also picked up a copy of Book 2, Turning It On (Red Hot Russians)
. While the skaters from Book 1 show up in Shining Through as coaches and they might have a great story too, I want to read about the Russian skater turned stripper and the reality show contestant first. This story was definitely worth the time and the $2 investment.
---
Favorite Scene:
My favorite scene comes at the end, so I will give you this one…
She headed in that direction when a door at the opposite end of the corridor swung open. And there was Daniil, headed toward her.
Confronted by what she'd both dreaded and longed for, she froze. Her pulse quickened with intense attraction that was all too real, even if he didn't share it. A part of her wanted to turn away, but pride kept her walking. She had nothing to be ashamed of. She wasn't the one who'd hidden the fact there was someone else. They were on a collision course, and when they reached the middle, he stepped into her path, blocking her way.
"Hello Tabitha." There was low menace curled in his voice.
"Excuse me, I need to get past." She tried to side-step him, but he braced his hands against the wall on either side of her. Trapped, her heart pounded. She wasn't afraid of what he might do though. No. As heat prickled her body, and her gaze fell on the tempting swell of his lower lip Tabitha was more afraid of what she might do.
"Not so fast. First, I have questions."
The silky accent coiled around the words, and a frission of excitement jangled her nerves. She fought it, summoning the shield of righteous anger. She tilted her chin and offered a disdainful laugh. "Ask away. I have nothing to hide."
"Why didn't you tell me about your fiancé? Instead, I find out from chatty TV reporter who said she would interview you and Brett Stafford."
"The same reporter who interviewed you and your girlfriend?"
His stiff posture relaxed as his shoulders dropped and he sighed, shaking his head. "Yelena is not my girlfriend. It's true we were involved last year, but it's over now."
"That wasn't how it looked on TV."
"She was nervous about facing Western press, which you may have noticed, isn't kind to us. I tried to put her at ease, and that reporter assumed that there was more to it. But in reality, Yelena is in love with Ruslan Chernin, who you met in Chicago."
She remembered Samara commenting that Ruslan had a serious girlfriend. She also thought of how the press had seized on her and Brett's alleged romance. Daniil could be telling the truth.
"But you still haven't answered my question. You say you don't trust men, when all the while you're deceiving not only me, but him too. Did you tell him about Chicago? Has he met Hildegard Snarski?"
She couldn't bear for him to think she was a cheater. Yet, revealing the truth could compromise Brett. "It's not how it looks either. Brett's also just a friend."
He leaned closer, his nearness overwhelming and his breath fanned her cheek. "We seem to have complicated friendships."
"Yes." Tabitha's mouth felt dry, and she flicked her tongue across her lips.
"We need to talk." He brought his hand to her face and dragged his finger across the slick moisture on her mouth. The sensation set her nerves tingling, and he leaned in further, so that his mouth brushed her cheek. Their gazes locked together, and the corner of his lips lifted in a sexy little smile. "But first, you should be kissed properly."
Related Posts