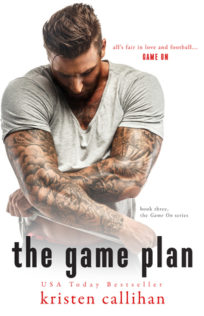 The Game Plan (Game On) (Volume 3)
by
Kristen Callihan

Series:
Game On #3
Published by
Self-Published
on November 1st 2015
Genres:
Sports
Pages:
322
Format:
eBook


This post contains affiliate links you can use to purchase the book. If you buy the book using that link, I will receive a small commission from the sale.
---
[box style="rounded" border="full"]I have really enjoyed this series, and I get very positive feedback from everyone I recommend this series to. Dex and Fi's story is a great addition.[/box]
We saw the way Dex was staring at Fiona at the party held by Gray and Ivy in The Friend Zone. It was like he found a missing treasure.
In The Game Plan , Ethan Dexter takes his one week vacation break to go stay with Ivy, Gray and their new baby, Leo, and gets a bonus when Fi is also going to be visiting at the same time. (Very impressive for new, sleep deprived parents to take in two houseguests at the same time. That shows just how much they love these two people.)
Although Dex has spent the last two years wanting Fi, he has held himself back as he always does, first because she had a boyfriend and then after they broke up, just…because.   On his first night in San Francisco, he is sent by Gray out to the club where Fi is hanging out (by herself?) to check up on her. It takes Fi a moment to realize why the man staring at her looks so familiar but soon thereafter Dex teases Fi into kissing him when she makes comments about his bushy beard. And the sparks fly!
Dex does a 180 in his "I should stay away from Fi" and starts pursuing her immediately, asking her on a date the next morning. Fi acknowledges that she is feeling very interested in Dex but she rightfully has concerns. Dex is such a solid, quiet man. He's not a hook-up kind of guy.  Both Ivy and Gray point out to her that if she starts something with Dex, she better have real interest and not play with him since Dex will no doubt want a relationship with her, not just sex.   Deciding to throw her heart completely into a new relationship is one thing, but Fi lives in New York and Dex plays for a team in New Orleans. They would be starting a new relationship at a great disadvantage since they are so far apart. But sparks are flying and they give it a chance.
Their relationship is amazing but each time they get to see each other, the parting and being apart is harder and harder.
We begin to see a change in Dex because of his relationship with Fi.  He is spending more time with his new team mates and becoming a part of the conversation and not just sitting back and observing.
When one of Dex's rivals starts running off his mouth to the press about the rumors that Dex is a virgin (which he was until Fi), the spotlight turns on Dex with women wanting to help him out, and paparazzi and reporters taking pictures. Fi wants to bring their relationship out to the world, but Dex doesn't want to drag her into a media circus. Being in the limelight was the one thing Fi didn't want. When Dex's phone is stolen and private pictures hits the internet, will the ensuing media circus be the end of Fi's trust is Dex and the end to any future they were trying to fight for?
THOUGHTS:
How could you not love this odd couple of Dex, the big strong, quiet lumberjack of a man, and tiny, tinkerbell Fiona, who is bubbly, chatty and the life of the party? They are such opposites that they are perfect together. It takes a bit for Fi to realize all the things she has noticed over the years about quiet, unassuming Dex, like how he is always in a corner watching everyone around him. It is Fi that starts to drag him into his life rather than just sitting back and observing everyone living theirs.
Dex gives Fi an anchor to hold onto. He is so solid both in stature and in his feelings for her. Dex also points out that Fi isn't "flighty" as her parents point out to her. She is just searching to find what makes her happy and doesn't settle for something that won't.   Because of Dex she can finally let go of her fears of disappointing everyone because she doesn't like her new job.   It gives her to confidence to not worry about what other people think of her and she is only concerned how she and Dex think about her and her choices.
I missed the lighthearted, flirty fun that we had with Ivy and Gray, but we know from the beginning the Dex and Fi are just a different dynamic.   Dex is more intense and the story wasn't a where does our relationship stand like Anna/Drew or Ivy/Gray, it was how can we make this work when we are so far apart physically.
You know that I have to love this series since I am not on the list of review copies and had to buy a copy; it only came out on Sunday and I was finished by Monday night, and yes, I skipped it to the top of my giant book list.
I love this group of characters.  I don't know if there is plans for more stories or if she is leaving this as a trilogy.  There is no one who stands out as a next chapter except Rolando, who has been with them all since college and is now on the team with Dex.  Rolando is gay so that would take us into a m/m romance.  Since that is not always popular, I find that authors only throw those into a series when you have become quite invested in both the male characters and need to see them happy.  We'll just have to see who comes along next.
FYI: If you haven't taken a chance on this series yet, book #1, The Hook Up (Game On Series Book 1)
is currently on sale for only $.99. Take a chance. You will thank me. 🙂
---
Favorite Scene:
Airport again. Why do they all smell the same? Dex walks me to the TSA line, and I feel like I'm going to my execution. My entire body wants to resist moving forward. Maybe Dex does too because he doesn't try to hurry me along, even though my sluggish pace causes him to take unnaturally short steps.
When we get within sight of the line, his fingertips press my lower back, as if he's entertaining ideas of grabbing hold and pulling me away. I wouldn't object.
With a soft sort of grunt, he turns me into his embrace. I get a glimpse of his eyes, serious and pained. His warm hands cradle my cheeks, and then he's kissing me.
It's deep, desperate and savoring, as if he's putting his entire heart into each touch and taste, as if he's trying to memorize every second. And I'm lost, utterly lost.
Sounds fade. There is only Ethan and how good he feels, how good he makes me feel. I'm on my toes, my arms wrapped around his neck, as I kiss him back, consumed by my need for him. I don't know how long we stand there, but when he moves his mouth from mine to explore my jaw, taking soft nibbles, my lips feel tender and swollen.
Big hands caress my back, my sides, sliding down to the crest of my butt and up to just under my breasts. Keeping it decent but driving me wild all the same.
"Be sure to drink water," he murmurs against my skin, kissing my neck, my chin, mouth, cheek.
"'Kay." My hands roam too, finding the hard rounds of his massive shoulders, sliding over his firm pecs.
He tugs me closer, his breath warm on my sin. "Some strange guy tries to talk to you, tell him to fuck off."
I laugh at that.
Ethan doesn't. He grazes the side of my neck with his teeth, his beard tickling. "Make an effort to stretch your legs."
"Ethan." I run my fingers through his silky hair. "It's not that long of a plane ride."
"It's too long," he grumps. And I know he isn't talking about time but distance. My breath hitches with a twinge of pain.
It breaks the spell between us. He takes a step back, his hand falling away as if holding me any longer hurts him.
He stares down at me with eyes suspiciously bright and glassy. "Safe flight, Fi."
"See you soon, Ethan."
His nod is a ghost of a movement.
It takes effort to move, to take the handle of my roll-on bag. I'm turning to go when he mutters an oath and grabs me. I'm engulfed by a wall of muscle and arms of steel. He hugs me tight, hunching over me, his nose buried in the crook of my neck.
My arms wrap around his waist, fingers digging into the loose fabric of his shirt.
He breathes in deep, then lets it go with a shaky gust. "I hate this. I hate it so much." His grip makes my ribs protest, and his voice goes rough. "I feel like some essential organ is being ripped from me."
My eyes burn, my throat locking up tight. I have to swallow hard to speak. "Ethan…"
But he shakes his head and sets me away from him. His expression is almost angry, jaw set beneath the blanket of his beard. "Time to go, Cherry. Just…don't look back, okay? Or I won't be able to let you go."
Fuck. My vision blurs. Sniffling, I nod. "All right."
But I can't move.
With a sad smile, he takes me by the shoulders and turns me toward the dreaded TSA line. "Go on now." His big hand slaps my butt. "Get."
I jump a little, glaring over my shoulder. "You sounded awfully Southern just now, mister."
That smile quirks. "Went to a Southern university. Guess I picked up a few things, ma'am." The smile falls. "Go on, Cherry. Don't look back."
"I won't." I can't. Or I'll never leave.
My rolling bag weights a thousand pounds as I drag it behind me, every step taking me farther away from Ethan. I don't turn around, but I feel him watching. I know he won't go until I'm out of sight.
Tears threaten to fall, but I breathe through them. I can't let him see me cry.
When I'm through the line, my cell dings. Glancing down, I almost lose it again.
FearTheBeard: <3  <—– mine goes with you.  Always.
Related Posts