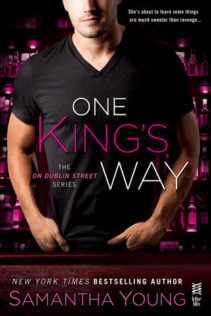 One King's Way (On Dublin Street, #6.5)
by
Samantha Young

Series:
On Dublin Street #6.5
Published by
Intermix
on November 3rd 2015
Genres:
Blue Collar
,
Contemporary
Pages:
158
Format:
eBook


I received this book for free from in exchange for an honest review. This does not affect my opinion of the book or the content of my review.
This post contains affiliate links you can use to purchase the book. If you buy the book using that link, I will receive a small commission from the sale.
---
[box style="rounded" border="full"]This book takes us time traveling back to when Joss and Braden first started dating. It features Craig the bartender who kissed Joss to piss off Braden before they officially starting dating. I enjoyed watching Craig the manwhore being hooked for the first time and how amazed he was that he like it.[/box]
Samantha Young takes us back in time with One King's Way. Joss and Braden have just started dating and so have Adam and Ellie. Craig Lanaghan is a bartender at Club 39, working with Joss and Jo. You would remember him as the co-worker who kissed Joss to piss off Braden which ended with Braden following Joss into the office where he gave her one hell of a hot kiss himself.
Craig's only interest in women so far has been of the one-night-stand variety. The handsome, flirty bartender has more than enough offers each night and not enough interest in anything more. This is drawn out for us quite clearly at the start the story when Craig wakes up in the morning to find he dozed off after sex and he tries to sneak out without waking the snoring woman next to him. He is at least honest with them and tries not to pick women who think it is more than just sex.
When he sees Rain Alexander walk into the bar looking like a 1940's pinup girl, he is intrigued, but Rain is there for revenge not a hook up. She is trying to find her sister's ex-boyfriend and make him sorry for making a sex tape of her sister and showing to all his friends at a party. Rain really has no plan what she is going to do other than get embarrassing information on him and humiliate him. Not a great plan, especially when she finally finds him and his plan is to grope her at the bar. He is a dirtbag but he's not stupid and he knows she up to something he just want to see how far she'll go. Craig realizes that her plan is a mess and tries to talk her out of it.
There are sparks between these two from the moment they meet. Craig's interest in Rain is there from the moment he see's her and even after she tells him that she is not a one-night-stand girl, he realizes for the first time that he might be willing to try a relationship if it means spending more time with Rain. Rain tries to scare him off letting him know that she had a lousy childhood, she reads too many romance novels, and wants a man who will be all about her. Even this doesn't scare him off. For Rain, he is ready to try a relationship and he'll do his hardest to make her happy.
They have great chemistry and although I could imagine a real-life Rain would be a very high-maintenance and a frustrating woman to keep happy, what I enjoyed most about this story is watching Craig's absolute awe that being with Rain doesn't make him want to run away like all the previous women he's been with. Things he sees in other people's relationships, he finally understands and you can almost hear the click, click, click of things falling into place as he realizes what he feels is real HEA love for Rain.
Rain does not come off as a great character, with her stupid, unformed plan for revenge, her unrealistic ideal relationship and her issues babying her little sister which almost ruin her relationship with Craig. Notwithstanding the flaws in Rain's character, the sparks between the characters and watching Craig fall in love make the story worth reading.
Received an ARC from the publisher in exchange for an honest review.
---
Favorite Scene:
Craig's mother calls him after he wakes up with Rain and has his epiphany about his feelings for her.
Trying not to wake Rain, Craig slipped out of bed and crept out into the hall. He found his phone and discovered a missing call for his mum.
He shoved on his boxers and jeans and called her back.
"You alright?" he asked quietly.
"Aye, I just haven't heard from you in a couple of days…and well…I was a bit worried you're upset about me and Drew?"
Craig flinched. Her question was just bad timing considering his dad was on his mind. It was strange to think of his mum with some other man, especially knowing how much his dad had loved her, but he also knew it wasn't fair to begrudge his mum companionship. "Not at all, Mum."
"Why are you whispering?"
"I'm not whispering. I'm just being quiet."
"Why?"
He glanced down the hall at Rain's bedroom door. "Because I'm with the reason you haven't heard from me in a couple of days."
"Oh?" She sounded curious and also like she was trying not to sound hopeful.
Craig grinned. "I've found her, Mum."
His mother sucked in her breath and after a few seconds of silence said, "You're not messing with me?"
"Nope."
"Craig," she said excitedly. "That's wonderful. What's her name? What does she do? What's she like? Where did you meet her? When do I get to meet her?"
He laughed softly so as not to wake Rain and wandered into the living room where she'd have less change of hearing him if she was awake. "Her name is Rain Alexander. She owns her own clothing company. She's amazing, she makes me laugh, and she's absolutely stunning. I met her at work a few weeks ago. And she's a wee bit shy about getting serious with me because she's been hurt in the past so I'm taking it slow, which means it'll be a while yet before you meet her. But as soon as she's ready I'll bring her around for dinner."
"You sound happy," his mum said, and he heard the tenderness in her voice. "I'm glad for you, son."
"Aye, I know. Me too."
"Well I'll let you go. Tell Rain I said hi!"
He chuckled. "I will do. I love you, Mum."
"I love you too."
He hung up and turned around, surprised to find Rain leaning against the doorway wearing nothing but his shirt, and it was all buttoned up wrong so he could see plenty of skin. Unbelievably, after all their antics the night before, he wanted her again.
She gave him a small smile. "That was sweet."
"What was?"
"You telling your mum you loved her like that."
"I said it because it's true and it makes her happy to hear it."
"Oh." She shivered in exaggeration and pouted her lips comically. "You're making me want you again."
He laughed. "Are you mocking me?"
Rain gave a light laugh and shook her head. "In all honesty, no. I think you're charming, Craig Lanaghan."
He felt her words sink into his chest and clutch hard.
Related Posts