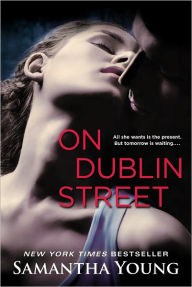 On Dublin Street (On Dublin Street, #1)
by
Samantha Young

Series:
On Dublin Street #1
Published by
NAL
on December 31st 2012
Genres:
Contemporary
,
Small Town
Pages:
325
Format:
eBook



I received this book for free from in exchange for an honest review. This does not affect my opinion of the book or the content of my review.
This post contains affiliate links you can use to purchase the book. If you buy the book using that link, I will receive a small commission from the sale.
---
Jocelyn Butler has been hiding from her past for years. But all her secrets are about to be laid bare… Four years ago, Jocelyn left her tragic past behind in the States and started over in Scotland, burying her grief, ignoring her demons, and forging ahead without attachments. Her solitary life is working well—until she moves into a new apartment on Dublin Street where she meets a man who shakes her carefully guarded world to its core. Braden Carmichael is used to getting what he wants, and he's determined to get Jocelyn into his bed. Knowing how skittish she is about entering a relationship, Braden proposes an arrangement that will satisfy their intense attraction without any strings attached. But after an intrigued Jocelyn accepts, she realizes that Braden won't be satisfied with just mind-blowing passion. The stubborn Scotsman is intent on truly knowing her… down to the very soul.
---
Jocelyn Butler's world went spinning out of control when she lost her parents and her baby sister when they were killed in a car crash. Since then, she has made sure to keep people at a safe distance where she doesn't have to get too attached or care too much. She never wants to feel that pain of loss ever again. In fact, she has moved from the United States to Scotland to get away from all the painful memories.
When her former college flatmate moves to London to pursue a career, Joss is left to find a new place to live. She goes to Dublin Street and meets Ellie Carmichael, a girl so unlike Joss, that they can't help but get along. Where Jocelyn keeps her life and herself closed off from others, Ellie is vivacious and friendly.
After moving in, Jocelyn has a very revealing meet with Ellie's brother Braden…after she steps out of her bathroom quite naked.
Although Braden usually has a leggy, blonde supermodel-type draped on his arm, he can't stop thinking of the petite, curvy and quite prickly Jocelyn and he is quite determined to become more than just friends. Jocelyn has no interest of having a relationship with anyone who could possibly hurt her. So when Braden suggests that they quench the fire between them with just a sexual relationship, no strings attached, Jocelyn decides to go along with it since she can't stop thinking about getting her hands on Braden. She'll get a taste of Braden without the having the mess of emotions.
What Jocelyn doesn't realize is the Braden wants so much more from Jocelyn but he is willing to worm his way slowly through her defenses because he can see that there is so much more to her than she sees in herself.
Everything is going so well until tragedy tries to work its way back into Jocelyn's life and she once again tries to lock her heart away from the pain. But those who have come to love her will not let her go without a fight.
THOUGHTS:
I LOVED this book. It was absolutely extraordinary. The characters were so well-written and enjoyable. I loved how Braden doesn't let Jocelyn push him away. Although a man who is so pushy and domineering would probably annoy me in real life, I loved him in this story and how he brought Jocelyn back to life; as well as his sister Ellie, who even the antisocial Jocelyn couldn't deny feeling a deep affection for her.
The storyline was so compelling and the characters were so enticing, I just didn't want the story to end.
The draw between Braden and Jocelyn was so sexy, whether they were in or out of bed. And the bedroom scenes were quite erotic, but not to the point of being obscene.
I can't recommend it enough that you try this story! I had a review copy of this book, but have already picked up my own copy to keep because I will definitely be enjoying this story over and over again.
Received an ARC from netgalley.com courtesy of the publisher. THANK YOU!!
---
Favorite Scene:
Encouraging Craig was a bad idea. We'd always joked around but tonight he'd crossed the line and I'd let him, and it was all because Braden was messing with my head. I hated the punch to my gut when I thought Donna was his date. I hated that he knew I'd felt something. I hated that I suspected he'd orchestrated the whole thing.
I had to find way to let him know once and for all that nothing was ever going to happen between us.
My eyes snapped up from their hook on the carpet when Su's door opened, and I straightened, the butterflies in my stomach raging to life as Braden stepped inside and closed the door.
His eyes were calculating as they trained on my face, his features hard, clouded.
Braden looked pissed.
"What are you doing here?"
He didn't answer and my eyes did that thing again…losing control, running down his body, taking in the stylish back crew-neck sweater and tailored black pants. The only accessory he wore was an expensive platinum sports watch. His understated style and the fact that he hadn't shave in a few days added up to a very hot package.
I felt the squeeze right in the bottom depths of my body and my jaw locked. Why did he have to turn me on so much? It wasn't fair.
Covering, I took a swig of my soda. "Well?"
"I don't like to share."
My eyes flew to his and if it was possible, he looked angrier than ever. In this tiny room, Braden was huge and intimidating, and the comparison between our sizes more notable. He could crush me like a bug if he wanted to. "What?"
His eyes narrowed. "I said, I don't like to share."
I thought of Vicky. "That's not what I've heard."
"Let me rephrase." He took a seething step toward me. "When it comes to you…I don't like to share."
There was no time to process that. One minute I was staring incredulously up at him, the next the soda can was hitting the floor and my ass was on the desk as Braden collided with me. The heat and strength of him overwhelmed me as his large hand gripped the back of my neck and his other tugged my left thigh up, allowing him to push in between my legs and position me over the desk. His mouth crashed down on mine and the desire my body had been harboring for him for weeks took control of me. I clung to him, my hand digging into this back, my legs climbing his hips as my lips parted on an exhalation of relief that allowed his tongue inside my mouth to tease mine. The smell of him, the taste of whisky on his tongue, the feel of his warm hands gripping me tight it…it all overpowered me and I made this throaty sound I couldn't control.
His kiss whipped out any memory of Craig's.
Related Posts