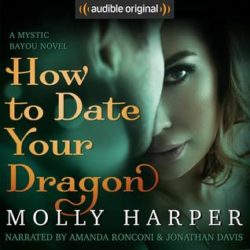 How to Date Your Dragon (Mystic Bayou, #1)
by
Molly Harper

Series:
Mystic Bayou #1
Published by
Audible Studios
on January 23rd 2018
Genres:
Paranormal/Urban Fantasy
,
Small Town
Pages:
212
Format:
Audiobook
Narrator:
Amanda Ronconi
,
Jonathan Davis
Length:
6 hrs 24 min



This post contains affiliate links you can use to purchase the book. If you buy the book using that link, I will receive a small commission from the sale.
Anthropologist Jillian Ramsay's career has taken a turn south.

Concerned that technology is about to chase mythological creatures out into the open (how long can Sasquatch stay hidden from Google maps?), the League for Interspecies Cooperation is sending Jillian to Louisiana on a fact-finding mission. While the League hopes to hold on to secrecy for a little bit longer, they're preparing for the worst in terms of human reactions. They need a plan, so they look to Mystic Bayou, a tiny town hidden in the swamp where humans and supernatural residents have been living in harmony for generations. Mermaids and gator shifters swim in the bayou. Spirit bottles light the front porches after twilight. Dragons light the fires under crayfish pots.

Jillian's first assignment for the League could be her last. Mystic Bayou is wary of outsiders, and she has difficulty getting locals to talk to her. And she can't get the get gruff town sheriff, Bael Boone, off of her back or out of her mind. Bael is the finest male specimen she's seen in a long time, even though he might not be human. Soon their flirtation is hotter than a dragon's breath, which Bael just might turn out to be....
---
Another fun paranormal and entertaining series by Molly Harper.
These stories were originally presented as Audible Original narrations done by Amanda Ronconi  (who narrates most of Molly Harper's series) and Jonathan Davis but are now available in eBook and paperback.  Shamefully, I seem to have kept this series to myself as I listened to the first book back in 2018 but haven't done any reviews on it.  As I just finished the 6th book in the series, One Fine Fae, I thought it would be easer just give you an overall look into Mystic Bayou.
Mystic Bayou, Louisiana is a tiny town where all the various shifters and magical beings live openly and in harmony with their  human neighbors.  In the first book, The League, a secret government agency who supervises over supernatural beings, is concerned that all too soon, in our technologically advanced world with cells phones and youtube, someone will figure out that creatures of legend, like Bigfoot and the Mothman, are actually real and may just live next door.   In an attempt to get ahead of the problem, the League has sent Dr. Jillian Ramsey to Mystic Bayou to figure out how this tiny town gets along so well and to write up a manual of how other towns can blend their magical and non-magical populations without panic and chaos breaking out.
Part of what is drawing all the magical population to Mystic Bayou is the Rift which is located out in the swamp.  It appears to be some type of rip to another dimension, at least that is what they are guessing.  Humans can only get so close before their brains melt and magical beings can only get a little bit closer and every time someone is sent to figure out how to close this Rift, some one else pops up trying to tear it open wider.
As interesting as this dimension rip may be, it is the population of Mystic Bayou who are the true draw to the series.  Bael Boon is a dragon shifter.  The Boons  mostly own everything in the town but unlike his family, Bael has chosen…shudder…public service as the local sheriff.   Zed is a bear-shifter who looks like a dangerous leader of a biker gang, but is the most cuddly. laid back Mayor that Mystic Bayou has ever known, and if you are lucky enough, Zed may adopt you as one of his own, but that involves forehead licking so be prepared.   Over the next few books, more of the League begins to drift into the Bayou, including Jillian's BFF and assistant, Sonia Fong.  While Sonia is 100 percent human, her organizational skills and almost prophetic ability to know what you need makes her more frightening than even the local Mamas who will likely break in and stock your fridge with casseroles.
In this series, Molly Harper digs deep into legends for some very interesting magical creatures.   I thought Always Be My Banshee was the last of the series since it completed the story arc, but One Fine Fae proved that even the author wasn't ready to leave the Bayou behind.    Mystic Bayou is a fun place to visit and maybe you'll even want to stick around for awhile.
Related Posts