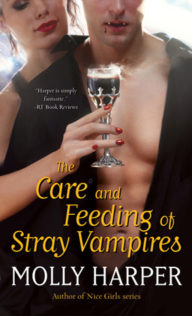 The Care and Feeding of Stray Vampires (Half-Moon Hollow, #1)
by
Molly Harper

Series:
Half-Moon Hollow #1
Published by
Pocket Books
on July 31st 2012
Genres:
Paranormal/Urban Fantasy
Pages:
356
Format:
Audiobook
Narrator:
Amanda Ronconi
Length:
8 hrs 55 min



I received this book for free from in exchange for an honest review. This does not affect my opinion of the book or the content of my review.
This post contains affiliate links you can use to purchase the book. If you buy the book using that link, I will receive a small commission from the sale.
---
Iris Scanlon, Half-Moon Hollow's only daytime vampire concierge, knows more about the undead than she'd like. Running all their daylight errands—from letting in the plumber to picking up some chilled O neg—gives her a look at the not-so-glamorous side of vampire life. Her rules are strict; relationships with vamps are strictly business, not friendship—and certainly not anything else. But then she finds her newest client, Cal, poisoned on his kitchen floor, and only Iris can help.

Cal – who would be devastatingly sexy, if Iris allowed herself to think that way – offers Iris a hefty fee for hiding him at her place until he figures out who wants him permanently dead. Even though he's imperious, unfriendly and doesn't seem to understand the difference between "employee" and "servant," Iris agrees, and finds herself breaking more and more of her own rules to help him – particularly those concerning nudity.

Turns out what her quiet little life needed was some intrigue & romance—in the form of her very own stray vampire.
---
When her parents died leaving Iris Scanlon to take care of her younger sister, a very ambitious Iris decided to open a business as the daytime assistant to newly burgeoning vampire population. Her new company, Beeline, gave Iris a chance to show off her organization skills and the flexible hours are great so she is available to be there for her teenage sister, and she filled the growing need that Vampires had with dealing with things that can only be handled during daylight hours.
When she goes to meet her newest client, Mr. C. Calix, and drop off her service contract for his review, she immediately falls for him…I mean, literally falls over him when she finds him passed out on his floor. Someone has tried to poison Mr. Calix, the new investigator for the vampire counsel. It appears Cal's investigation is getting to close for someone's comfort.
Now weakened from his attempted poisoning, Cal convinces Iris to take him to her house so he has time to recover, and like it or not, Iris is drawn into Cal's investigation since the sooner he solves the mystery of who is tampering with the vampire Faux Type O blood supply, the sooner she can send her stray vampire packing. Living with a vampire can be nerve-wrecking, especially when he looks like a Greek God—and he could even be one since he's old enough to remember fighting in the Trojan War.
THOUGHTS:
Molly Harper certainly writes some great characters. We first met Iris as the coordinator for Jane and Gabriel's wedding in Nice Girls Don't Bite their Neighbors. Now we get to meet Iris's younger sister, Gigi, and the dynamic of the two sisters is wonderful.
Now throw in a several century old Greek warrior/vampire, who, of course, starts out with that "I'm a really old vampire" pompous attitude and it's great to see the changing attitudes as he recovers and starts to blend into the household with Iris and Gigi and becomes part of their family dynamic, including warning Gigi's date about curfews and proper use of seatbelts. There is not just the romantic interaction with Iris, but the surrogate father role he slides into with Gigi. I just love this grouping.
Iris does go over to Jane's bookstore to find some books to help Cal's investigation so we do get to spend time with Jane, Andrea and Jolene. Yay!
Once we got into it, I just loved the dynamic of Iris, Cal and Gigi, so much that I was sorry to finish their story.
---
Favorite Scene:
I tilted my head to the side and studied my charge. Although his feet dangled over the end of the sofa and his head was bent at a weird angle, his face was relaxed. He looked sort of sweet and untroubled…when his mouth was closed.
The nearly drained blood packet rested precariously against his chest. At that angle, it was in danger of dripping onto my upholstery, so I reached over him to take it away. His eyes snapped open, and he hissed at me, fangs in full play, as his fingers circled my left wrist and squeezed. Even in his weakened state, the crushing force of his grip dropped me to my knees. I braced my feet against the chair legs and tugged frantically as he pulled my arm toward his mouth. I threw all my weight back, hoping to knock him off balance, but he didn't budge. Finally, I bopped him on the end of the nose with my other hand, shouting, "No!" in my sternest voice.
His grip loosened as he stared up at me, dark eyes boring into mine as if there were secret codes scribbled on my corneas. He blinked rapidly as my face came into focus.
"Did you just slap me on my nose like a mischievous dog?" he asked incredulously as I tried to rub circulation back into my wrist.
I nodded, cringing away from him. "I think I did."
His tone was at once menacing and amused. "And am I mistaken, or did you poke me in the eye earlier?"
"I saw it on Shark Week," I murmured.
"What was that?" he asked, although I knew good and well that he could hear me.
"I saw it on Shark Week," I repeated in a louder, irritated tone. "The narrator said that if you're attacked by a shark, you should jab it in the eye, and it might distract the shark long enough to let you go. I figured as another apex predator, it might apply to you, too."
He chuckled, a hoarse noise that rattled in his chest like a cough. "So I went from shark to dog in a matter of hours? That's a considerable demotion. Do you always apply animal-behavior techniques to interactions with clients?"
Related Posts