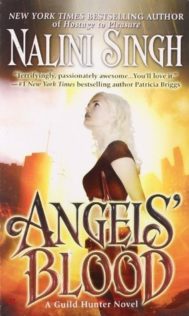 Angels' Blood (Guild Hunter, #1)
by
Nalini Singh

Series:
Guild Hunter #1
Published by
Berkley Sensation
on March 3rd 2009
Genres:
Paranormal/Urban Fantasy
Pages:
339
Format:
Audiobook
Narrator:
Justine Eyre
Length:
10 hrs 32 min



I received this book for free from in exchange for an honest review. This does not affect my opinion of the book or the content of my review.
This post contains affiliate links you can use to purchase the book. If you buy the book using that link, I will receive a small commission from the sale.
---
Vampire hunter Elena Deveraux knows she is the best- but she does not know if even she is good enough for this job. Hired by the dangerously beautiful archangel Raphael, a being so lethal that no mortal wants his attention, Elena knows failure is not an option—even if the task is impossible.

Because this time, it's not a wayward vamp she has to track. It's an archangel gone bad.

The job will put Elena in the midst of a killing spree like no other—and pull her to the razor's edge of passion. Even if the hunt does not destroy her, succumbing to Raphael's seductive touch just might. For when archangels play, mortals break
---
Elena Deveroe is a vampire hunter. She hunts down rogue vampires and returns them to their Angel masters.
Elena is Hunter-Born. She can track a vampire by smell, and she always completes her job. Her latest assignment has her terrified, and not because of a rogue vampire. She is to go to Archangel Tower and meet with the Archangel Raphael. Elena knows that you don't want to be on an Archangel's radar. Something like that can get you killed. And why would an Archangel need her to track down a rogue vampire? He has an army of angels and ancient vampires who could easily track someone down.
Raphael doesn't need Elena to find a vampire. He needs her talents to help him find another Archangel. An Archangel who is ancient and powerful and who is now suffering from a virus that is going to drive him mad, and once that happens, the death tolls could be astronomical.
Elena might have more strength and abilities a regular human, but she is no match for an Angel, let alone an Archangel of Raphael's power. But that doesn't mean she will let him walk all over her or allow him to use her as a new toy to play with, except no one says No to Raphael.
As Raphael's interest in Elena becomes obsessive, his closest protectors, his Seven, might just kill her to protect Raphael from himself, and if they don't get her, the Archangel Micheala might since she wants Raphael for herself.
With vampires, angels, and Archangels all wanting her head on a platter, and Raphael wanting to get into her pants, Elena is pretty sure she won't be surviving this mission in one piece.
THOUGHTS:
This is all part of my Catch Up by Audiobook experiment which is working very well.
Because I read Archangel's Storm first, I had some hints of things that happened in the prior four novels. This didn't effect my overall enjoyment of the story, but the ending wasn't a surprise.
I will again say, just like with Archangel's Storm, these are not your halo wearing Angels. These Angels have all the same flaws as humans, anger, jealously, fear…but they have be around longer to perfect them. That makes these books a bit dark. Raphael hires Elena to track the Archangel who has gone mad and started killing. He doesn't give her an option to say No, but then he treats her very disrespectfully even when he decides he might be interested enough to have sex with her and then he really puts on the pressure. Yes, he is an Archangel, and she is only human, so he believes she is so unimportant. But why he expects her to fall into his bed when he calls her a toy and treats her so horribly.
On top of this his Seven, which are his closest group of angels and vampires, are all threatening to kill her as soon as Raphael gives the go ahead because she is distracting Raphael and they all indicate how much they are going to enjoy it. If that's not enough, there is a jealous Archangel who wants Raphael as her lover and she wants to kill Elena too. To the point that Elena snaps with a "get in line."
I enjoyed it but was a little put off by how badly they all treat Elena, someone they called to help them because of her enhanced-human skills. I was also put off by Elena's relationship with her father who a rich bastard who threw her out into the street when she wanted to be a Guild Hunter but yet she comes running every time he calls. Dysfunctional!!
---
Favorite Scene:
She closed the phone before he could say anything else, and looked up into eyes so blue they shouldn't have been possible. "Michaela really wants me dead."
Raphael's expression remained unchanged. "I don't let anyone break my toys."
It should've pissed her off, but she smiled, "Wow, I feel all mushy inside."
"Who were you speaking with?"
"Possessive much?"
He cupped her cheek, his hand wet, his hold uncompromising. "I don't share my toys either."
"Watch it," she murmured, twisting in her seat until her feet touched the sodden earth outside. "I might decide to be irritated."
Raphael rubbed his thumb over her lower lip. "I see nightmares in your eyes again."
"And I see sex in yours."
He rose, tugging her out of the car and trapping her with her back to the opening. Behind him, his wings flared out, gleaming with rain wetness. There was an edge to that sensual mouth. A touch of savagery in the way it curved.
Elena leaned forward and put her arms around his neck, letting herself luxuriate in the sheer strength of him. Today, she was going to break all the rules. Forget about sleeping with a vamp, she was going straight to the top and to hell with it. "So, how does an archangel do it?"
A gust of wind buffeted them, stealing away her words. But Raphael had heard. Leaning in, he brushed his lips over hers. "I haven't agreed yet."
She blinked. Then scowled as he drew back. "What, you're playing hard to get now?"
Related Posts