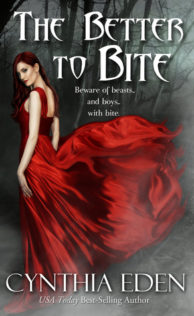 The Better to Bite (Howl, #1)
by
Cynthia Eden

on December 3rd 2013
Genres:
Paranormal/Urban Fantasy
,
Young Adult
Pages:
300
Format:
eBook



---
Check out our interview with Cynthia Eden. We'll be talking about her many, many, many new series out now and coming in 2013.
---
Don't go into the woods.

Sixteen-year-old Anna Lambert knows that the woods near her new home aren't safe. She's seen the wolves that stalk through that dark forest, but Anna doesn't scare easily.

Anna is cursed–or gifted, depending on how you look at it–with the ability to find anyone or anything that is lost. So when folks start disappearing in the small town of Haven, Anna's father, the sheriff, has to use her special skills as they begin to hunt for a killer.

But the killer isn't exactly human. As Anna is pulled deeper into the secrets of Haven–a town that is truly cursed–she finds herself falling for two, equally mysterious boys. With the danger closing in, one of those boys may just turn out to be her savior. And the other? He could be a very big, very bad…beast.

Beware of beasts…and boys…with bite
<
---
Anna Lambert and her father have just moved from Chicago to the small town of Haven, SC. Maybe she's just not used to small towns, but it seems that there is something odd going on in Haven. And Anna knows all about being odd, or as her father calls her…different. Anna can always find things that are lost, whether it is lost keys, a lost earring, or even lost people.
When Anna goes to visit her father, the new local sheriff, she sees all the missing person's fliers and she immediately knows where to find the "lost" people but none of them are coming home alive. They have all been the victims of animal attacks…more particularly, a wolf. Maybe even the same wolf that chased Anna herself through the forest.
Anna's father forbids her from getting involved in the searches, and just wants her to get settled into her new school. That sounds simple enough, but being the new girl in town isn't always easy. Aside from a few new friends, Anna isn't the most popular girl in class, especially after she catches the attention of not only the hot football quarterback, and gorgeous, boy-next-door, Brent Peters, but also the sexy bad-boy, Rafe Channing.
But as more people go missing, Anna's special abilities are needed to help find them before it's too late. When discussions start turning to witches, magic and werewolves, Anna thinks she might just be been safer on the mean streets of Chicago.
THOUGHTS
This was a spellbinding tale of a young woman, first loves and paranormal mystery. A perfect example of great storytelling.
There was no hot werewolf sex in this book, barely so much as a kiss, but I didn't miss it at all. There was so much going on and so many questions running through my head that I never felt the loss. I also realized that there were several questions left open once we got to the end. But even before I knew it was the first in a trilogy, I didn't feel short-changed about the unanswered questions which would usually piss me off. Really, don't get me started on Lost!!!
You knew that there were a lot of secrets in this little town, but you were never sure who was hiding a secret and if everyone was actually in on them but Anna.
Definitely pick up a copy for your favorite teen, as well as a copy for yourself. I am looking forward to getting some more answers in the upcoming books.
---
Favorite Scene:
A long, mournful wail jerked my attention from the Trig book on the kitchen table. Who was I kidding? I wasn't into Trig right then. I kept peeking out of the window and hoping to see some sign of my dad.
So far…nothing.
The howl had me rising and creeping once more to the window. I pulled backthe curtain and peered outside. I didn't see anything.
I turned away.
Seconds later, something slammed into the front door, and I gasped.
Hard, heavy. The whole house seemed to shake with the impact.
Very, very slowly, I turned back around.
Once more, I looked outside, but I couldn't see anything. From this angle, I wouldn't be able to see what was on the other side of that door.
I crept toward the door and risked a fast glance out of the peephole.
Nothing.
But…
I could hear a faint scratching. Like nails, digging into the wood.
I jumped back, then I turned and ran as fast as I could for the closet in my dad's room.
I knew my dad. Knew how he thought. Knew where he hid his weapons. It took me about three seconds to shove a chair into his closet and climb up on it to find the back-up gun he'd tucked onto the top shelf.
Dad had taught me to use a gun, and I really was a very good shot. I loaded the bullets, climbed down, and carefully inched back toward the living room.
I heard the scratches instantly. Scratches and a low whine.
An animal in pain. Possibly dying. But weren't those the most dangerous types of animals?
I didn't open the door. "Get out of here!" I yelled, hoping my voice would scare the beast away. "Just get out of here!"
I didn't hear the sound of fleeing feet, but I did hear…"Anna."
My name, so soft, barely slipping past the locked door.
Then…"Help me."
Not an animal. Oh, crap. I kept my hold on the gun and fumbled with the lock. I jerked and twisted and the door creaked open, but not too much. Just a few inches.
The porch light fell on his dark hair.
He was lying on his stomach, with his arms outstretched toward the door. He was naked, totally naked and blood gushed from wounds on his back.
I dropped to me knees. "What happened?" But I knew what those wounds were on his back. No way could I mistake gunshot wounds, not with my dad's job.
He grabbed for my leg, and that was when I realized something was very, very wrong with is hands. Because he didn't just have hands. Long, thick claws—actual freaking claws—burst from his fingertips. Claws like an animal would have. Not fingernails like a human would possess.
I stopped breathing.
His head lifted, and he looked up at me. His face…it was different, too. His cheeks were sharper, his jaw longer, his whole face thinner. And his eyes weren't blue anymore. They were bright yellow. Glowing.
The wolf's eyes.
"Help…me." The voice wasn't his. That hard, desperate grating seemed more like an animal's growl than anything else.
His claws were wrapped around my knee. His eyes burned into mine. His blood dripped onto my porch.
I lifted my gun and pointed it right between his eyes. "What are you?" But I knew–I knew.

Related Posts