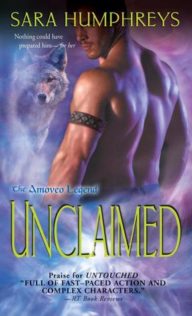 Unclaimed (The Amoveo Legend, #5)
by
Sara Humphreys

Series:
The Amoveo Legend #5
Published by
Sourcebooks Casablanca
on December 3rd 2013
Genres:
Paranormal/Urban Fantasy
Pages:
320
Format:
eBook



I received this book for free from in exchange for an honest review. This does not affect my opinion of the book or the content of my review.
This post contains affiliate links you can use to purchase the book. If you buy the book using that link, I will receive a small commission from the sale.
---
Tatiana Winters loves the freedom of her life as a veterinarian in Oregon. It's only reluctantly that she agrees to help cure a mysterious illness among the horses on a Montana ranch—the ranch of the Amoveo Prince. Tatiana is no ordinary vet—she's a hybrid from the Timber Wolf Clan, but she wants nothing to do with the world of the Amoveo shifters.

Dominic Trejada serves as a Guardian, one of the elite protectors of the Prince's Montana ranch. As a dedicated Amoveo warrior, he is desperate to find his mate, and time is running out. He knows Tatiana is the one—but if he can't convince her, he may not be able to protect her from the evil that's rapidly closing in.
---
Tatiana Winters and her twin brother, Raife, were raised by the same foster mother as Layla Nickelsen. All three are half-human/half-Amoveo and they promised to protect each other from the Amoveo and stay out of their world. Even though Layla has since found happiness with her Amoveo mate, William Fleury, Tatiana was doing everything to avoid the Amoveo male who is seeking her in her dreams. She refuses to let fate dictate who she can love. She just wants to stay quietly in her Oregon home, caring for sick animals. It is only her love for Layla that can get Tatiana to agree to go anywhere near the home of the Amoveo Prince to determine if someone is trying to kill the Prince's horses.
Once Tatiana arrives on the property, she immediately realizes her error. The man she has been trying to avoid in her dreams is standing right in front of her and from the look in his eyes, he knows exactly who she is. He might be tall, dark and gorgeous and he might be making her tingle in all the right places, but she is not fool enough to think that an Amoveo male like Dominic is going to agree to some hot sex and let her walk away from him.
Dominic is finding his loyalties being torn between his duty as guardian to the Prince and protecting his mate now that he has found her. Although he may war between his own duty and his desire to claim his mate, he is not going to let an opportunity to be with Tatiana pass him by. Just when Tatiana is ready to submit to a night of passion in Dominic's arms, they all find themselves in the midst of a war but with the enemy hiding in the shadows, it is hard to protect the ones you love when you don't know if you are being attacked by an enemies or someone you thought as a friend?
THOUGHTS:
I have enjoyed this series. I have enjoyed the characters Sara Humphreys has created and some of the interesting twists that she has introduced. I even enjoyed the new characters introduced in her new vampire series. This book just rubbed me the wrong way.
I will start by reminding you that in the last book, Undone, the Amoveo were fighting the humans who wanted to wipe out the Amoveo "animals," but now they had the Purists, who didn't want the half-breeds mating with the full-bred Amoveo and polluting the bloodlines to contend with. The Purists were kidnapping selected full-blooded Amoveo women and trying to impregnate them with sperm from full-blooded males to help increase the dying Amoveo population. Mariana was rescued from this facility before she was experimented on, but upon rescuing the women (most of whom died from bearing children not from their mates) they also found Steven (from Book #1 and #2) and his mate who had been experimented on and impregnated with his sperm.
Steve and Courtney are a big part of this story. From conversations with the author, I thought I understood that Steven's story would be the last of the series. I honestly checked Goodreads twice to see if I had missed Steven's story. It wasn't until the very, very end that I understood why they were introduced as a couple before their own story was released, but it bugged me the entire story that this couple was focused on without having their story. By the time I understood why, I had been annoyed by this the entire time I was reading.
I was also pretty confused by why the Prince and his family, especially during a time of civil war, only had two guards for his entire property. His prior guard, Dominic's sister, left for the purist cause. Although all the characters from the prior books showed up to help defend against the assault, they were not as powerful as some of the Purist leaders and number-wise, a civil war shouldn't come down to about 9 guys on each side. That's not a war, that's a baseball game.
We also find out that the purist are all fighting in rags and living in the woods since their research facility was destroyed. What the heck? These purists were made up of some of the more powerful families and being shifters, who live longer than humans, and has plenty of time to amass a fortune. That not-very-secret facility must have cost a pretty penny if they were all poverty stricken now that it was destroyed.
There were too few good guys defending the Prince, including the Prince doing his own fighting, and too many enemies with too many issues. On top of all the chaos, we are trying to balance the romance storyline where the Dominic and Tatiana sizzled when they came near each other, but neither one wanted to upset their lives with the commitment of mating,, even though by not mating they would both lose their Avoveo powers.
All of her stories, this one just didn't grab me.
Received ARC from the publisher in exchange for an honest review.
---
Favorite Scene:
Tatiana strode toward the back of the cabin and tugged open the glass sliders. She stepped out onto the small deck and leaned on the railing. Dominic's gaze skimmed up her well-shaped legs, which were bronzed from the summer sun, then wandered along the curve of her hip and up her toned arms.
Images of her naked body curled around his flooded his mind…
"Can we swim in that pond?" She looked at him over her shoulder and smirked as she caught him checking her out.
"What?" He blinked and shook his head, but those images of her still wandered through his imagination. "I'm sorry. What?"
"Dominic?" Smiling, she looked back out to the mirrorlike body of water in the distance. "That pond? Can we swim in it?"
"It's not a pond, actually. It's a swimming pool." He moved closer so he stood next to her, but not close enough to accidentally touch her. "It's a freshwater swimming pool complete with heat in the winter and lights at night. Salinda had it designed to look like a pond so it wouldn't ruin the natural landscape."
Heat radiated form her body, and even amid the thick summer air, he could feel it rippling over him like a siren song. Calling him. Daring him to touch her again. Tempting him to break the stupid deal he made with her, throw her on the ground, and kiss her silly.
Why did he make that deal? That was the dumbest fucking move ever.
Dominic tightened his grip on the railing and squared his shoulders against the all-consuming urge to stroke that gorgeous skin. Instead, he focused on the setting sun and grit his teeth against the driving physical need to connect with her.
"Are you alright?" Tatiana's voice, soft and delicate, drifted over him with the breeze.
"No," he said, his voice tight with restraint. Dominic looked down into those huge brown eyes, and he knew he was a goner. "I'm not alright. Not at all."
Without thinking he brushed a lock of dark hair off her forehead, and as her warm skin rushed beneath his fingertips, a wave of static electricity rippled up his arm and shot through his body. Her eyes widened, and those red lips that tasted like cherries, parted temptingly as she sucked in a slow, quivering breath.
"I'm doing my best to be a gentlemen and keep my word," he whispered as he trailed one finger along her jawline. Her body wavered closer, her eyes searched his for answers, but none came as the ripples of nerve tingling electric slowed. "I have a feeling I'm going to welsh on our deal."
"I think we should try to stay clear of each other," Tatiana murmured. She nodded slowly. Her tongue darted out, moistening her plump lower lip.
"It's really the best way to handle this situation. Neither of us wants a mate, so the smart thing to do would be to forget it. We still have free will. Don't we?"
Tatiana inched nearer in spite of what she was saying. Her hand brushed his as it curled along the weather wood railing, and that same zapping sensation fired through his body. An odd buzzing filled Dominic's head as their energy signatures whipped through the air like an invisible tornado, dancing around them like a whirling dervish. The buzzing reached a crescendo, and with one final pass, their energy waves merged with a jolt.
Tatiana cried out in surprise and stepped back, but Dominic linked one arm around her waist and pulled her up against him. Her hands gripped his shoulders, and although she didn't push him away, she gaped at him like a deer in the headlights.
"Wha–what was that?" She asked breathlessly, her voice edged with fear. "I don't think I can handle this."
"I'm no entirely sure, but I think our energy signatures merged, and we've imprinted on each other. There is one thing I am sure of." Dominic kissed the corner of her mouth and murmured against her cheek. "The only woman I'm looking to handle…is you."
Related Posts