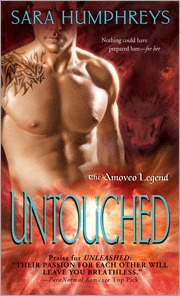 Untouched (The Amoveo Legend, #2)
by
Sara Humphreys

Series:
The Amoveo Legend #2
Published by
Sourcebooks Casablanca
on April 3rd 2012
Genres:
Paranormal/Urban Fantasy
Pages:
302
Format:
eBook



I received this book for free from in exchange for an honest review. This does not affect my opinion of the book or the content of my review.
This post contains affiliate links you can use to purchase the book. If you buy the book using that link, I will receive a small commission from the sale.
---
The Amoveo are shape-shifting animal clans who live secretly among humans and must find their pre-destined soul mate while avoiding the enemy that seeks to destroy them all.

Beautiful plus-size model Kerry Smithson appears to have it all, but inside she harbors a crippling secret and avoids all physical contact. Until she encounters gorgeous Dante Coltari, an Amoveo shifter. In her, he believes he has finally found his life mate. But how does he convince her…and keep her safe?
---
In the world created by Sara Humphreys, shapeshifters live quietly among us. They are the Amoveo and there are ten clans, including lions, tigers, panthers, cheetahs, coyotes, foxes, bears, eagles, gyrfalcon, and the wolf clan.
Kerry Smithson is a beautiful supermodel, but beneath the beauty hides a torturous secret. She is an empath and touching not only brings her great pain, but causes her to get flashes into the dark secrets hidden in the souls of those she touches. She has lived with this curse all her life and it has alienated her from even her adoptive parents, who could not touch her without her screaming in agony. What she doesn't know yet is that she is also a half-breed; one of her natural parents was Amoveo.
Dante Coltari is the head of Inferno Securities, and he is also Amoveo, a member of the fox clan. He knew from the moment he met Kerry that she was meant to be his life mate. Now he must protect her from threats both from humans and from other Amoveo, neither of which want a further mixing of the bloodlines.
I was very intrigued by this story since I read those few pages at the end of Unleashed. I could only image that life as an empathy is very difficult and lonely one if you cannot touch another person and I was curious how Sara would tackle this in her book.
Once again the characters were well written and the story drew me in right from the beginning. I admit I started doubting the allegiances of some of the major characters (someone had inside information) and I no longer trusted anyone. I wasn't sure who our antagonist was until the final reveal. She really kept me guessing. This was definitely a very enjoyable story, and I am looking forward to William's story in the Fall.
---
See my interview with Sara Humphreys for more information on this series.
---
Favorite Scene:
He knew that he needed to show her she was not alone.
"This is not going to work if you're going to ogle me like that." She straightened her back and stuck her nose in the air. "Stop staring. It's bad manners," she said briskly, while she flipped through the in-flight magazine.
"I'm sorry if I've made you uncomfortable," he said softly.
She made a short scoffing sound. "Listen." She shifted her body so they were now face-to-face. Her dark chocolate eyes narrowed with gritty determination. "I get stared at all day long by total strangers. The last thing I need is my bodyguard, or whatever you are, to be undressing me with your eyes. So why don't you do us both a favor and keep your big eyes to yourself. Okay?" She smiled tightly and crossed her arms under her breast, which only served to accentuate her spectacular cleavage.
"I wasn't undressing you with my eyes or anything else for that matter." He leaned in closer with only the armrest between them. Her eyes widened, and her warm breath puffed across his cheek. Dante lowered his voice so only she would hear him. "Believe me, princess," he said with a smile. "When I undress you, I'll do it the old-fashioned way, with my hands." He winked.
Kerry's visibly shocked face reddened at his suggestion. "Just who the hell do you think you are?"
A long lock of ebony hair fell across her forehead, and Dante knew it was now or never. Before she could stop him he reached up, gently swept the hair from her face, and tucked it behind her ear. The pads of his fingers softly grazed the alabaster skin at her temple and skimmed along the top of her perfectly formed ears. The skin-to-skin contact may have been brief, but Dante knew the impact would have much longer lasting ramifications.
He sat back in his seat slowly and kept his gaze locked on her startled face. Kerry's body had gone completely still, but he sensed her heart beating wildly beneath the surface. Her confused eyes searched his for answers, and all he wanted to do was touch her again, gather her in his arms, and tell her it was going to be okay. His heart ached as ripples of confusion flowed from her body, and one large tear rolled down her face.
"You tell me, princess," he whispered. "Who am I?"
Related Posts