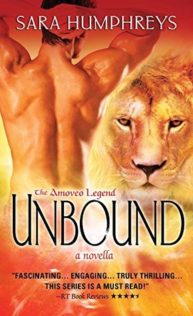 Unbound (The Amoveo Legend, #5.5)
by
Sara Humphreys

Series:
The Amoveo Legend #5.5
on January 6th 2015
Genres:
Paranormal/Urban Fantasy
Pages:
80
Format:
eBook



I received this book for free from in exchange for an honest review. This does not affect my opinion of the book or the content of my review.
This post contains affiliate links you can use to purchase the book. If you buy the book using that link, I will receive a small commission from the sale.
---
This short novella was quite enjoyable and gives us some tropical seduction with Zachery and Annabelle. Enjoyable thought it is, it also focuses on the one major flaw of the series.
Zachary is an Amoveo shifter of the Lion Clan and he will soon be reaching his 30th birthday and unless he finds his fated mate, he will lose his ability to shift and all his other Amoveo powers. As a Guardian of their Prince, he will be of little help if he is no stronger than a human male and can't shift.
Zachary has dream walked about his mate, but she always walks away from him and he hasn't seen her face. He has never heard of an Amoveo whose mate had turned away from him in the dream world.
After being injured in a recent attack on the ranch by the Caedo, a human cult who know about the Amoveo and want to see them extinct, Zach goes to Mexico to vacation and recover. This recent attack has increased Zachary's hate for the Caedo cult and he is as interested in wiping them off the face of the earth as they wish to do to the Amoveo.
Once there, he comes across a woman who was just attacked on the street. All her belongings were stolen and she received a head injury when she was knocked down. [Note: When you are on the run, particularly in a poor, foreign country, and strolling alone at night in a bad neighborhood, you shouldn't have all your money in your bag. Keep some in a pocket, some in your shoe, maybe a $20 stuffed in your bra; you know, just in case.]
Annabelle is on the run from her family. After her mother died, her father didn't know what to do with himself and went back home to his family. It didn't take long for Annabelle to see that her family was more of a psychotic cult and they were expecting her to drink the Kool-Aid and follow their dogma. They wanted to kill people. People they didn't even consider to be people. They considered these Amoveo to be animals that needed to be destroyed. Annabelle was not about to agree to this, so at the first opportunity she grabbed what little she had and hopped the first flight out of the country, hoping they had better things to do than come looking for her.
The only problem is that the Caedo know that Annabelle has been having dreams about a lion and what that means. They are not going to let her get away. In fact, they are going to wait for her to lead them straight to the Amoveo.
THOUGHTS:
The major flaw of this series is the fact that Amoveo who don't mate, lose their powers, and any Amoveo who mate with full humans lose their powers. These are different than the half-human/half-Amoveo mates which have been the heroines in most of this series. No one loses their abilities if they mate a half-Amoveo which does seem a bit hypocritical.
So in the end, Zachary gets to make a choice between mating with Annabelle and losing his powers or staying away from Annabelle and losing his powers. So it is not truly a choice or self-sacrifice for him to choose Annabelle. He's going to lose is ability to shift, etc. whether or not he mates with her, so he might as well mate with her and get a beautiful companion/lover to live his soon to be human life with. I just think it would have had more impact if his decision to love her made him choose her over his abilities. Or, in this case, that the choice he makes was to accept the human mate who was born to his mortal enemy, the Caedo, that being the only way to keep his abilities, and his choice is whether he can look past his prejudice and love her and mate with her anyway, or would he rather walk away from her and lose his abilities.
The way the series is written, he's going to lose everything he has ever known no matter what he chooses so why not keep the beautiful woman who he has incredible sex with? It was not much of a sacrifice to make the choice. Since Annabelle was mostly on his side from the beginning, it wasn't even as if he had to really convince her that being a Caedo was wrong. She wasn't part of their cult to begin with.
Aside from my complaint about self-sacrifice and the fact that Zachary didn't make one, this short story was full of exciting fights and chases, and a hot sex scene in a tropical paradise, which is something we all dream about when we want to go on a tropical vacation. In fact, the sex scene was so well written I could easily imagine it being represented on screen in a film on an adult website like youngsexer in the future. It really was quite a raunchy scene. Anyway, it was certainly worth the $.99 price tag.
---
Favorite Scene:
Hands on his hips, he looked around, happy to find the island empty. There had been a few people on the other side, but this little corner of paradise was all theirs. He extended his hands to her. "Come on."
Annabelle squinted against the sun and looked from his hands to his face. A smile played at her lips, and after a few seconds of contemplation, she placed her hands in his. Zachary pulled her to her feet, and his body tightened when her soft, wet form met his. The heat of her skin drifted over him in inviting pulses, and it took considerable restraint not to take her right there on the beach.
Without a word, he tangled her fingers in his and walked with her toward the doughnut-shaped rock. Though the brush was thick, a sandy path caught Zach's eye, making it evident that this secret little spot had been enjoyed by plenty of others before them. Holding her hand tightly, Zach led her along the path and through the lush foliage. Annabelle hadn't said much, and she didn't really need to because her energy signature hummed around him, communicating a heightened sense of anticipation.
After walking for ten minutes, he began to think they might never find the waterfall. Just when he was about to express his frustration, the sound of rushing water captured his attention. Zach stilled and curled his hand tighter around hers as he pressed a finger to his lips. "Hear that?" he whispered. A smile cracked his face as he captured her wide-eyed gaze with his.
"The waterfall." Annabelle's lips curved and he leaned against him. Her breasts, still damp from their ocean adventure, brushed temptingly along his arm. He'd never seen a woman so beautiful and so totally unaware of it. "It's close."
"Not close enough," Zach murmured.
"Keep going." Annabelle's cheeks pinkened as she rolled her eyes and pushed him ahead. "I'm hot and sweaty, and dunking myself beneath a waterfall is just the cooling off I need…and you too, from the sound of it."
Zachary laughed and gave in to her demands, but his laughter was cut short when they rounded a curve in the path. A wall of thick foliage blocked their way, but when Zach pushed it aside, the world opened up. He let out a low whistle and wrapped his arm around Annabelle's shoulders, pulling her against him. They looked around in genuine awe at the stunning oasis.
They stood at the edge of a massive lagoon with water so clear that the rocky bottom was completely visible. A few colorful fish swam here and there, and the entire body of water was surrounded on three sides by a rocky wall that had to be thirty feet tall at the highest point. Directly across from where they stood, at the center of the wall, was a rushing waterfall that looked all too inviting.
"It's just like the one in my vision," Annabelle murmured. She linked her arms around Zach's waist and rested her head on his chest, pulling him close. "This place is, quite literally, a hidden paradise."
Related Posts