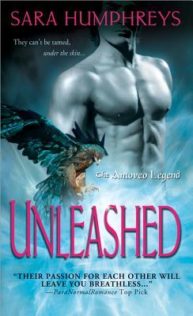 Unleashed (The Amoveo Legend, #1)
by
Sara Humphreys

Series:
The Amoveo Legend #1
Published by
Sourcebooks Casablanca
on October 4th 2011
Genres:
Paranormal/Urban Fantasy
Pages:
315
Format:
Paperback



This post contains affiliate links you can use to purchase the book. If you buy the book using that link, I will receive a small commission from the sale.
---
What if you suddenly discovered your own powers were beyond anything you'd ever imagined…

Samantha Logan's childhood home had always been a haven, but everything changed while she was away. She has a gorgeous new neighbor, Malcolm, who introduces her to the amazing world of the dream-walking, shapeshifting Amoveo clans…but what leaves her reeling with disbelief is when he tells her she's one of them…

And shock turns to terror as Samantha falls prey to the deadly enemy determined to destroy the Amoveo, and the only chance she has to come into her true powers is to trust in Malcolm to show her the way…
---
In the world created by Sara Humphreys, shapeshifters live quietly among us.  They are the Amoveo and there are ten clans, including lions, tigers, coyotes, foxes, bears, eagles, gyrfalcon, but the wolf clan is all but extinct. 
What Samantha Logan doesn't know yet is that she is a half-breed.  Her father was the last of the wolf clan and her mother was a human with psychic gifts.  Her dreams have been leading her back home to her family's Rhode Island beach house. 
Malcolm Drew has been waiting for Samantha to come home.  His dreams have been leading him to her.  She is his soul mate, and his energies will continue to deplete until they are finally mated.   First he must explain to her about who she is and about the dangerous humans who call themselves the Caedo who want to kill the Amoveo.  Just like they killed Sam's parents.
Malcolm isn't the only one watching Sam.  The Amoveo counsel are waiting to see if Sam can find her inner wolf.  It would mean a new beginning for their dwindling numbers if they can find mates among gifted humans.  The Caedo want to make sure that the beasts haven't tainted human blood.
The majority of this book is focused on Malcolm's attempt to explain to Sam her Amoveo heritage and more importantly her status as his mate.  There as a strong bond between them that kept growing as the story progresses.  Throughout the story there is danger lurking in the background in the form of the Caedo stalker and his mysterious partner that needs to be unmasked.   
This was an enjoyable and well written story, and the few pages included at the end for her next book Untouched left me wanting more.  I will definitely be putting Untouched on my TBR list so I can pick up a copy when it comes out in April 2012. 
---
CHECK OUT MY INTERVIEW WITH SARA HUMPHREYS . 
---
Favorite Scene:
"I want you to trust me, Samantha," he said in a low voice laced with desperation and desire.
He brought her delicate hand to his mouth and gently brushed his lips back and forth across her knuckles.  He slowly ran  his other hand up the graceful cure of her back and began to message the soft skin at the nap of her lovely neck.  Her breathing quickened, and with every breath, her breasts pressed tantalizingly against his chest.
"Please, give me a chance to win your trust,"  he whispered against her trembling hand.
He brushed small kisses along her palm.  Malcolm was on fire.  Desire coiled inside of him, and the passion between them grew beyond control.  He knew that her head told her to run, but every other fiber of her being begged for his touch.  He sensed her resolve slipping away, inch by inch.  Her energy wave shifted.  The rapid drumming of fear had been replaced by heated pulses of desire.
He knew what he was doing was dangerous.  He had secrets from her that she may never truly believe.  Yet despite all the doubts, she was still drawn to him beyond all reason.  Her eyes searched his for the answers.  He wanted to tell her, but the right words escaped him.
"Malcolm."  His name came out in a desperate rush through her soft quivering mouth.
He leaned in and this time kissed her gently, slowly seducing her plump lips with his.  He took her face delicately in his hands, as though she might break.  She opened to him willingly and swept her tongue along his.  The slow burn of desire crackled between them.  She deepened the kiss and wrapped her warm arms around him.  His large frame dwarfed her as she fit easily in his embrace.  It was as though they'd been made for one another.  His yearning for her clawed at him from the inside out; he needed to touch her everywhere.
He reached out to her mind with his and gently touched the most intimate part of her.
Trust me.
It was as if a bucket of cold water had been tossed over her.  Sam's eyes flew open, and she struggled to extricate herself from his embrace.  She pushed her small hands against the hard planes of his chest and held him there at arm's-length for a moment.  He kept his eyes locked with hers.  Her energy waves crashed into him violently.  Her shoulders shuddered beneath his hands, and her breath came quickly.  She trembled.  Tears filled her eyes, unable to register what she just heard.
He held his craving in check and kept his eyes from shifting.  He allowed her time to process what had just happened.  Looking into her frightened eyes, he reached out and again whispered gently along the edges of her mind.  Trust me.
Sam's eyes widened further.  She shook her head and backed away from him in disbelief.  Blindly, she ran into the house, leaving Malcolm alone.  One glimmer of hope remained.
He'd been looking into the ice blue eyes of a wolf.
Related Posts