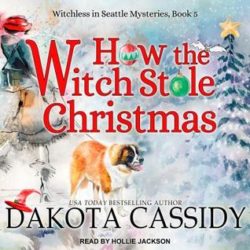 How the Witch Stole Christmas
by
Dakota Cassidy
,
Hollie Jackson

Series:
Witchless in Seattle #5
Published by
Tantor Audio
on June 6th 2017
Genres:
Paranormal/Urban Fantasy
Format:
Audiobook
Narrator:
Hollie Jackson
Length:
4 hrs 47 min



I received this book for free from in exchange for an honest review. This does not affect my opinion of the book or the content of my review.
This post contains affiliate links you can use to purchase the book. If you buy the book using that link, I will receive a small commission from the sale.
It's Christmas, and I, ex-witch, Stevie Cartwright declare this my favorite time of year. I love the decorations! The food! The Hallmark Channel holiday specials! This year promises to be better than ever because for the first time in a very long time, I'm going to have more than just Cheez Whiz, Triscuits, and the wish to be surrounded by family and friends. My carefully planned holiday bonanza includes all the usual suspects. My bat familiar Belfry, my dog Whiskey, my ever-present ghostly spy friends-dashing Brit Winterbottom, stalwart Russian Arkady, and my parents. However, nothing comes easy for this amateur sleuth, not even a neighborhood decorating contest. You know, the one I've been painstakingly prepping for months? Something goes horribly awry with my Christmas display (think bikini-clad carolers, pink flamingos and real, live turkeys) to start. But the worst? The dead body of the famous Chef Pascal Le June in my nativity scene! It becomes clear someone's trying to ruin my Christmas, and that someone must pay. But when Belfry goes missing, and the danger takes on a paranormal edge, I find I have more to lose than ever before. . .
---




I think this series is adorable.  Maybe it is just how the narrator plays with it. This was a much shorter story than the other and while it had fun aspects, there wasn't much to it and yet it had a more convoluted plot.
This is a Christmas story which came out in December but the audiobook was just released and I do enjoy the narrator on this series so I waited.
In this story, our favorite magicless witch, Stevie Cartwright is looking forward to competing in this year's holiday decoration contest. This is the first year in a long, long time that Christmas will be more than just Stevie and her familiar, Belfry. She almost has a full house with her dog Whiskey, two ghostly spy-guys in her heard and her parents coming in for the holiday. Stevie is really looking forward to Christmas this year.
That is until she gets home and finds all of her Christmas decorations have been replaced. Santa on the rooftop is now an Easter Bunny, shooting eggs out his butt, the carolers are not dressed in bikinis and singing Def Leopard, and why the hell are their scantily clad women on her balcony throwing Mardi Gras beads? As if this chaos isn't enough, the very angry judges find something worse behind her trashed nativity scene…the body of the pastry chef who had prepared the treats for the judges.
Stevie is forced to keep to a budget set by the Judges so everything is fair between households. Stevie makes a paper mache nativity (in the snow?) but she has money for carolers?
Once more murder finds Stevie in the small town of Ebeneezer Falls, and it is up to the ex-witch and her two former spies to figure out who killed the pastry chef…and who is killing Stevie's Christmas.
Related Posts