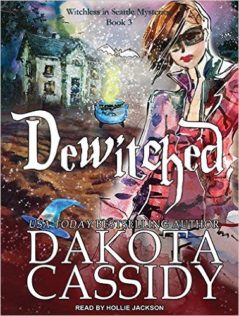 Dewitched
by
Dakota Cassidy
,
Hollie Jackson

Series:
Witchless in Seattle #3
Published by
Tantor Audio
on August 30th 2016
Genres:
Paranormal/Urban Fantasy
Format:
Audiobook
Narrator:
Hollie Jackson
Length:
6 hrs 34 min



This post contains affiliate links you can use to purchase the book. If you buy the book using that link, I will receive a small commission from the sale.
---



This is an audiobook love. I think the narrator is perfect to bring this quirky, fun series to life.
This is a lighthearted, fun series and a quick read. I definitely recommend the audiobook version since Hollie Jackson adds a spark of life to all the characters.
In this third book, Stevie has finished the renovations on the old Victorian house, at the direction of her ghostly "spy-guy" Win, because every ghost needs a built-in pizza oven, Right?  But Stevie has to admit the old house is now a showstopper. In fact, to celebrate, Win has had Stevie invite the whole town to a housewarming, and includin a gourmet chef, acrobats and entertainers. It will be quite the memorable night.
Especially since Belfry's family shows up for it, as well as Stevie's mother and new stepfather, No. 5, maybe? Yeah, No. 5. Not sure what is more shocking to Stevie, the appearance of her real father, a mega-movie star…in Japan, or the murder of her stepfather. Is it just coincidental or is there more to her father's arrival that night?
As always, Stevie, Win and Belfry can't keep from getting in the middle of the investigation.
Since Stevie is focused on murders lately in her sleepy little town, she has forgotten that the deceased Warlock who witchslapped her powers is still trying to get to her, and Win, from the other side.  Stevie has felt a tingle of her old powers but it won't be enough against his evil magic.
Related Posts