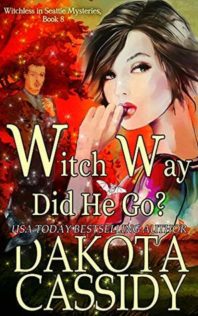 Witch Way Did He Go (Witchless in Seattle #8)
by
Dakota Cassidy

Series:
Witchless in Seattle #8
Published by
Self-Published
on November 27th 2018
Genres:
Paranormal/Urban Fantasy
Pages:
186



This post contains affiliate links you can use to purchase the book. If you buy the book using that link, I will receive a small commission from the sale.
---
Our favorite ghostly, spy-guy has disappeared, possibly forever. No!
Stevie Cartright has been ignoring the fact that she is in love with her spirit of her International Man of Mystery a/k/a ex-spy Crispin Alistair Winterbottom for more than two years.  Together they have solve mysteries and murders, rescued animals and even while straddling two different planes of existence, they have created a life together.   But she will come to regret keeping her feelings to herself.
When Win disappears in the middle of their argument of what to serve for their upcoming Thanksgiving banquet, Stevie at first believes that Win has gone off to have a tantrum on Plane Limbo. All too soon she realizes that there is more going on than just a ghostly sulk and her life may never be the same.
None of the reasons for her missing BFF are good. Win has either decided to finally go over into the light; he is trying to return to the Earthly Plane by jumping into a new body, ignoring with all the things that could go terribly wrong and that he could lose his very soul; or worst yet, what if warlock Adam Westfield, who stole Stevie's magic and has vowed to destroy Stevie and everything she loves, has done something to Win.
How is Stevie going to solve her most important mystery of her life without the help of her Spy Guy on a plane she can't reach? When Stevie starts finding odd "clues," she isn't certain what they mean or if they are even from Win. What if this is just a trap set by Adam? If it will save Win, Stevie is willing to play Adam's game. In fact, there isn't anything Stevie won't do for a chance to tell Win once and for all that she loves him, but is she simply too late?
This was the Afterschool Special version of our fun-loving spirit/witch team. Such an emotional story as we can do nothing but watch Stevie breakdown over losing Win. She is following clues as best she can when she is worlds away from where Win disappeared. She isn't certain that they clues she finds are even from Win or what they could possibly mean. When rumor hits that Win might have simply decided to finally move on into the light — without even saying goodbye — Stevie absolutely loses it.
Part of the recent frustration with the series was the fact that Stevie isn't the only one who kept her feelings to herself.   Win didn't confess his feelings either since if he couldn't find a way to return, he didn't want Stevie living her life waiting for him.   So in one funny scene, Stevie is looking for obituaries (which makes no sense since Win jumping into someone's body would make it seem like they hadn't died) and she has this epiphany that she has only been looking at male obituaries and Win could have easily picked a woman's body.  And her familiar, Bel, and ex-Russian spy, Arkady, who are both aware of Win's feelings for Stevie are like "Nope, it will be a man."   "But he could come back in a  woman's body."  "No, no, no.  He'll be a man."
SPOILERS!!
Woo hoo! We finally get what we have all wanted and what has been hinted at for the last few books — except how did we not even get one kiss? Damn! But Win's change of address doesn't have to mean the end of the series. We still need to determine who killed him and if his killer believes that Win is still alive, they will probably head to Eb Falls to try again. And I am sure that spy and ex-girlfriend Miranda will be showing up at some point and we will finally know for certain if she had anything to do with Win's death. Their relationship will change but there is still so much to do for Stevie, Win and the gang.
This isn't the final story of the series but things will be very different from here on out. I can only imagine what is going to happen next.
---
I'm not sure where I went or how I finally came back to the house, or even when I arrived. I only know that I was suddenly back in the driveway again, when dread welled in my belly.
A dread so real, so palpable, I wasn't sure I could get out of the car.
I dreaded going inside because Win wouldn't be there.
Win wouldn't be there…
Now the agony of hearing Win had left, without any proof he hadn't crossed over, socked me in the chest, making me want to curl up in bed and never leave. I've faced plenty of sadness in my life, plenty of disappointment, but this was different.
Bereft was the best word I could come up with to describe this merciless ache in my soul, and as I sat in my driveway, the driveway Win had designed himself, I almost couldn't move.
Leaning forward, I rested my forehead on the steering wheel and prayed this wretched emptiness, this feeling of abandonment would end. Numb had been so much better–so much easier.
All at once, I was very aware of everything around me, aware of every raw emotion I'd managed to tamp down today. The glow from the dashboard became too much, our favorite Pandora station, playing softly on the radio, became too loud. The lights from the house, dulled only by the pouring rain, hurt my head.
In that moment, the strain of "For Good" began to play in the car, the tinkling piano, the heart-wrenchingly beautiful voice of Kristin Chenoweth brought my agony bubbling to the surface…and that was the moment it all fell apart.
All my resolve, all my self-control slipped away, and anguish set in, clawing at my heart when she sang the words, I've heard it said that people come into our lives for a reason…
The tears I'd been too tired to cry or too determined to allow fell from my eyes in fat splotches, drenching my cheeks. I clung to the steering wheel, holding on with a tight grip as visions of the many adventures I'd shared with Win since we'd met rushed through my mind's eye.
Adventures we'd never again share–the life we'd built together, as unconventional as it was to any outsider, had been so wonderful. We'd managed to work around our deficits somehow. He'd given me so much more than money and a house with all the trimmings. He'd given me courage and strength. He'd given Bel and I a home.
He'd given…
How could I ever conceive of living without him? As the last words of the song floated through the car–Who can say if I've been changed for the better? But because I knew you, I have been changed for good–I gasped for air, almost unable to breathe.
My ragged sobs tore through the interior of my tiny car–until a sharp rap at the window made me jump out of my skin, jolting me from my tortured weeping.
Related Posts