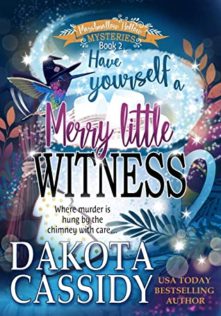 Have Yourself a Merry Little Witness (Marshmallow Hollow Book 2)
by
Dakota Cassidy

Published by
Tantor Audio
on October 29, 2020
Genres:
Mystery
Format:
Audiobook
Narrator:
Holly Jackson
Length:
5 hrs 12 min



I received this book for free from in exchange for an honest review. This does not affect my opinion of the book or the content of my review.
This post contains affiliate links you can use to purchase the book. If you buy the book using that link, I will receive a small commission from the sale.
Welcome to Marshmallow Hollow, Maine, a holiday mystery, where it's all Christmas all the time and murder is hung by the chimney with care...
For an adorable little Christmas town, Marshmallow Hollow sure sees a lot of action. Just days off the last murder—solved by moi, Halliday Valentine, and my gorgeous tenant, Hobbs—I'm eagerly awaiting a visit from my dear Uncle Darling and his husband, Monty, when my phone blows up.
Another murder, this time at the convenience store on the edge of town…and Uncle Monty was hurt in the process.
Without hesitation, Hobbs and I jump into action, seeking justice for the deceased and both of my uncles. Between ambulance-chasing lawyers, career-climbing journalists and chain-smoking ex-drug dealers, we have more than enough suspects to go around.
But how do any of them connect to three missing girls from neighboring towns…?
Will Monty, the only living witness, be safe while the killer's at large …?
Will Atticus, my adorbs hummingbird familiar, magic me to Siberia when I use one too many spells for his liking…?
And most of all, how will Handsome Hobbs react when he learns my frequent "migraines" are a lot less neurological…and a whole lot more paranormal?
---
This second book didn't really hold my interest.
As always, narrator Holly Jackson does a great job brining the characters to life but I found myself drifting off way too often while listening to this story and had to keep rewinding because I was missing the crucial parts of the murder investigation.
Even though there are a lot of similarities between the Witchless in Seattle series and Marshmallow Hollow series, I find myself questioning why everyone keeps answering Hal's questions. Why I think a psychic medium has more right to be a sleuth than the owner of a christmas ornament factory, I don't know.  Maybe it's the ex-spy thing.
In this story, Hal's mother's best friend is coming for a visit with his husband. Just before reaching her house, they stop at a convenient store as a murder takes place and the husband ends up in the hospital after being bashed in the head. While arriving to pick her up her Uncle from the scene Hal has a vision of the murder which links this murder to several abductions of young women.  So Halladay Valentine and her friend Hobbs Digby begin their own digging into the murder investigation even though last time they ended up looking down the barrel of the murder's shotgun rather than solving the crime.
This should have been an interesting story but it just wasn't holding my attention and I kept wondering why everyone was spilling their secrets to her.  I also wondered why the author gave her a cold at the end of the story since it had no real plot point, and why the heck haven't witches developed a spell or a brew to cure a cold.  See, easily distracted from the story.
While Hal isn't ready to tell Hobbs that she is a witch, she did trust him with the fact that her migraines are actually visions. Hal's mother managed to convince the entire town that Hal's odd behavior was due to migraines, which they have all accepted as fact, and Hobbs takes the time to google migraines and figures out something doesn't add up.  Hobbs fears that Hal has a brain tumor or some other series brain issue so she brings him into her confidence. There is still something off about Hobbs's backstory and whether we will ever learn more about him remains to be seen.
You know I love my Stevie, Win and Arkady so why are Hal and her friends not finding the same love? I don't know. I have a copy of Book 3. If that one doesn't draw me in, I am going to drop this series and stick with sister, Stevie.
Related Posts