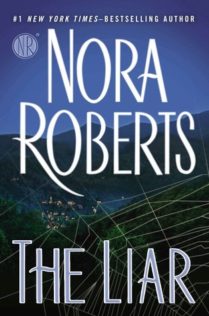 The Liar
by
Nora Roberts

Published by
Berkley
on April 14th 2015
Genres:
Contemporary
,
Mystery
Pages:
501
Format:
Hardcover



I received this book for free from in exchange for an honest review. This does not affect my opinion of the book or the content of my review.
This post contains affiliate links you can use to purchase the book. If you buy the book using that link, I will receive a small commission from the sale.
---
[box style="rounded" border="full"]This is not the most unique story ever told. Hollywood has used this type of story plot over and over again. But Nora Roberts' ability to create a delightful cast of characters and draw you into her world in a little town of Rendezvous Ridge, TN, full of love and family and you'll want to make an appointment at Vi's Salon just for the entertainment.[/box]
Shelby Anne Pomeroy left her small town of Rendevous Ridge, TN, to tour as lead singer of a band.  It was there that she met and was bowled over by the charming Richard Foxworth.  After a whirlwind romance and an unexpected pregnancy, they went off to Vegas for a quick wedding.  She never knew that five years later she would be sitting in a room going through her dead husband's papers and realizing she never really knew the man she married.  After finding a box with cash, a gun and multiple identifications, Shelby realized he might never have existed at all.
Richard never let Shelby handle any of the finances or be involved in anything but taking care of their daughter Callie.   So the fact that their new house is mortgaged to the hilt and currently in foreclosure is news to her.  Not only that, but the cars are leased, there was no life insurance policy or college fund for Callie.   She even attempts to sell off her jewelry, including her engagement ring, only to find out it is all fake.  There is no money, only millions of dollars of debt.
She sells off everything she can, earning enough to purchase a used car, and heads back home to her family in Tennessee.  Shelby realizes how much she missed them and how thoroughly Richard cut her off from them.  With no money of her own, she couldn't go visit if he didn't allow it.  She even lost her best friend because Richard wouldn't let her go when her friend needed her most.  Shelby needs to rebuild her relationship with her family and try to mend her broken friendship.
Returning to Tennessee, her daughter now has a chance to grow up in the loving arms of her family, surrounded by the beautiful smoky mountains.  She'll know real family and friends, and not just the cold disregard of her father.
Just when Shelby is rebuilding her life, and even finding a spark of romance, Richard's past has tracked her down.  Richard's partners want their share of the 30 million in jewelry and stamps that they stole before he died. The items he decided not to share for them when he left them to be picked up by the police.  Con artist and liars, they can't imagine that Shelby might actually be telling the truth that she knew nothing of Richard's real life and his 'business.'  They want the jewels or they are going to be coming back for Shelby and her daughter.
THOUGHTS:
This story plot has definitely been used and reused by Hollywood. By the end of Chapter 2, I had a feeling I knew how it was going to end and wasn't even sure I wanted to trudge through the remaining 450 pages.  While the plot  wasn't particularly original, in true Nora Roberts form you are distracted from that point by the very likable characters and the sweet romance which blooms between Shelby and local carpenter Griff, who is as charmed by Shelby's daughter as he is dazzled by Shelby's beauty.
Shelby's grandmother owns the local beauty shop and spa and is a phenomenal businesswoman. The shop and those in it are as intriguing as the rest of the characters in the story. It is like a live-action soap opera and most patrons come in for a haircut, a massage and all the local drama you can handle.
I'll be coming back with a spoiler after this posts since the emails don't hide them, but there was one 'no way, no how' moment that you really have to work hard to suspend your disbelief and pretend would actually happen or simply ignore and keep reading.
Shelby is abducted by a bad guy and it made to drive off into the woods. Said bad guy doesn't know that Shelby has her cell phone in her pocket, and while she is driving along these back wood roads, she is blind texting with hand in her pocket. She does this more than once and although it is abbreviated, the message is absolutely legible and the good guys are able to find her quickly.
How many times have you made typos in a text message? Has autocorrect made you sound like an idiot? N.R. just calls it a cell phone. Shelby certainly couldn't be using a smart phone since you can barely send a clear text while looking at the screen. Maybe with a blackberry you have a chance. Can you imagine sending out anything legible on flip phone…A-B-C-a-b-c-2. I have a very hard time believing she could have accomplished this one handed, with her hand in her pocket. And wouldn't the screen have lighted up when she turned it on? She's in a dark car, on a dark road, and the bad guy doesn't see the strange glow coming from her butt? More believable if she had muted the phone and butt dialed with the speakerphone on and let them hear her conversation with her kidnapper.
It was surprising that this was so unoriginal for a romantic suspense.  After 40 J.D. Robb books you would imagine Nora Roberts could have been less obvious with the foreshadowing.  But if you like sweet, hometown girl returning to her roots stories, this will definitely draw you in.
Received an ARC from the publisher in exchange for an honest review.
---
Favorite Scene:
"Pizza coming up."
Shelby slid back into the booth. "It sounds like you and Matt are fixing something somewhere all over the Ridge."
"That's the plan. The guy who can fix your furnace when the temperatures dive, or your toilet on a Saturday morning when you've got people coming to dinner? He's a popular guy."
She laughed "And who doesn't like being popular? Busy, too. How did you manage to make yourself popular and do all the work on the old Tripplehorn place?"
"Being popular's the job. The house is the project. I do better with the job when I've got a good project going."
"Mama, look!" Callie bounced in her seat. "The cousin man's doing tricks."
"And he's learned some new ones," Shelby commented as Johnny tossed up dough, did a quick spin, caught it.
"Looks like we're having magic pizza."
Wide-eyed, Callie turned to Griff. "Magic pizza?"
"Pretty sure. Don't you see that magic dust flying?"
With eyes like blue saucers now, she looked back at Johnny, gasped. "It sparkles!"
The power of a kid's imagination, Griff thought. "You bet. When you eat magic pizza, it turns you into a fairy princess in your dreams."
"It does?"
"That's what I've heard. Of course, you've got to eat it, then when your mother says it's bedtime, you've got to go right to bed, and wish for it."
"I will. But you can't be a fairy princess 'cause you're a boy. That's silly."
"That's why I'm the prince who slays the fangbeast."
"Princes slay dragons!"
"I don't get that." Playing it up, he let out a sad sigh, shook his head–caught Shelby smiling at him from across the table. "I like dragons. You might be able to squeeze in another wish and get yourself your own dragon. You could fly on him over your kingdom."
"I like dragons, too. I'm going to fly on mine. Her name's Lulu."
"Can't think of a better name for a dragon."
"You've got a way," Shelby murmured, and Griff grinned over at her.
"Oh, I've got lots of ways."
"I just bet you do."
He decided it was the best hour of his day, sitting in the noisy pizzeria, entertaining a little girl and making her mother laugh. He didn't see why it wasn't something he couldn't work into his regular schedule.
Everybody could use some magic pizza now and then.
"This was so nice," Shelby said when he walked them back to her car. "You sure made Callie's first date one to remember."
"We'll have to have a second. Are you going to go out with me again, Callie?"
"Okay. I like ice cream."
"That's a real coincidence–I'm starting to think we're made for each other. I like ice cream, too."
She gave him what he could only term a femme fatale smile from under her lashes. "You can take me on a date with ice cream."
"Now look what you started." Amused, Shelby hauled Callie up into the car seat."
"How about Saturday?"
Busy strapping Callie in, Shelby glanced back. "What?"
"How about an ice cream date on Saturday?"
"Okay!" Callie bounced in her seat.
"I have to work," Shelby began.
"Me, too. After work."
"Well, I…I guess. Are you sure?"
"I wouldn't have asked if it wasn't. Don't forget to make your wish, Callie."
"I'm going to be a fairy princess and ride my dragon."
"Callie, what do you say to Griffin?"
"Thank you for the date." In joyful innocence, she held out her arms. "Kiss."
"You got it."
He leaned in, kissed her. Laughing, she rubbed his cheek.
"I like your scratchies. They tickle. Kiss Mama now."
"Sure."
He figured she'd offer a cheek, and didn't see why he had to settle. A man could move fast without seeming to, especially when he'd thought it through.
He set his hands on her hips, glided them up her back with his eyes on hers. He watched hers widen in surprise–but not protest. So he went with it.
He dipped down, took her mouth with his as if they had all the time in the world. As if they weren't standing on the sidewalk of High Street, seen by anyone who passed by or glanced out a window.
It wasn't hard to forget where they were when her body melted against his, with her lips, warm and soft, yielding.
Related Posts