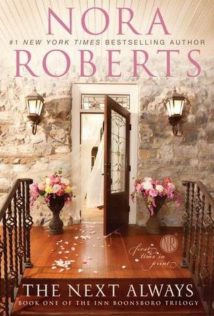 The Next Always (Inn BoonsBoro Trilogy #1)
by
Nora Roberts

Series:
Inn Boonsboro Trilogy #1
Published by
Berkley
on November 1st 2011
Genres:
Contemporary
,
Small Town
Pages:
324
Format:
eBook



I received this book for free from in exchange for an honest review. This does not affect my opinion of the book or the content of my review.
This post contains affiliate links you can use to purchase the book. If you buy the book using that link, I will receive a small commission from the sale.
---
"America's favorite writer" (The New Yorker) begins an all-new trilogy-inspired by the inn she owns and the town she loves.
The historic hotel in BoonsBoro, Maryland, has endured war and peace, changing hands, even rumored hauntings. Now it's getting a major facelift from the Montgomery brothers and their eccentric mother. As the architect of the family, Beckett's social life consists mostly of talking shop over pizza and beer. But there's another project he's got his eye on: the girl he's been waiting to kiss since he was fifteen.
---
Beckett Montgomery and his family are bringing the Inn Boonsboro back to life. The former Inn building has been standing on the corner of Main Street for almost 200 years and has fallen into disrepair. When it re-opens in January, it will be an incredible Bed and Breakfast with the rooms named after the famous lovers in novels and furnished with those couples in mind.
The project is coming along wonderfully and the Town is excited to see the progress being made at the Inn; that includes the owner of the local bookshop across the way.
Clare Brewster has come home to Boonsboro after her husband's death to raise her three boys closer to family. She used her husband's death benefits to open the bookstore and give her boys a good life in a quiet Town.
Beckett has been in love with Clare since high school, but she only had eyes for Clint and when she married Clint and moved away, dreams of Clare faded into the past. Now working across the street, he gets to see her more often and those feelings he had for her in High School start to grow again into thoughts of a family of his own; including three wonderful boys.
While the Montgomerys work hard to get the Inn ready for guests, Beckett is hoping to grow his relationship with Clare into something just as spectacular.
This was a wonderful and well written story. I loved watching Beckett spending "men time" with Clare's boys, and I enjoyed reading the blossoming feeling between these two characters. The additional characters of Beckett's brothers Owen and Ryder, who will be featured in the remaining trilogy stories, as well as Clare's friends, Avery and Hope and Clare's boys, just made for a fabulous story.
Sadly, if the story was 100 percent fictional, I would have enjoyed the discussion of the creation of the Inn more. But knowing that Nora Roberts just opened "The Inn Boonsboro" which is across the street from the Turn the Page Bookstore where Nora repeatedly has book signings, just kept slapping me in the face with the fact that I was reading a 250 page brochure promoting her new venture. It makes her a clever business woman and us, just suckers. 🙁
It is a great story with her usual well-written characters, and if you can forget you paid $9.99 for a promotion advertisement of her Inn, then you will really enjoy the story. And YES, I want to check out the Eve and Rourke room, but not at $350 a night.
---
Favorite Scene:
She shoved the book and her notes in her purse, grabbed her hair-brush. And heard the doorbell.
Not only on time, but ten minutes early. She glanced at herself in the bedroom mirror. She could've used that ten minutes.
She rushed downstairs in time to hear Murphy ask, "Are you going to lock us in our room?"
"Are you guys planning to rob the bank?"
"Nuh-uh!"
"Then I won't need to lock you up." Beckett looked over, up. And smiled, "Spaghetti and meatballs, as ordered."
"Thanks. You're a lifesaver." She took the bag, then felt a little clutch in her belly as she noted all three boys watched Beckett like they would a strange animal in the zoo.
"Let's take this back so I can show you where everything is. They've finished their homework," she began as they went back to the kitchen. "They should eat by around six." She got out plates as she spoke. "Don't worry about the bath, I'll get them in the shower in the morning. Their pj's are laid out, they like to get in them at least an hour before bedtime."
"Men of leisure."
"Exactly. I'll be home before bedtime, that's eight fifteen or so."
"Got it. Clare, relax. Those child endangerment charges were dismissed."
"Very funny. I'm actually more worried about you. They know the rules, but that doesn't mean they won't pull something. You've got my numbers. I can be home in five minutes if—"
"We'll be fine. I won't listen if they tell me to run with scissors."
"Okay." She let out a breath. "I'd better go."
He walked back in with her, and once again the boys turned as one, stared. "I'll be home by bedtime. Be good, and no snacks before dinner. Good luck." She told Beckett.
He closed the door behind her, waited a beat. "All right, men, what's the plan?"
As oldest, Harry took point. "We want cookies."
"Gotta say no to that one. Just got a direct order."
"Told ya," Liam muttered.
"We want to play PlayStation. Pop and Nan gave us PlayStation 3 for Christmas."
"What games have you got?"
Harry eyed him speculatively. "Do you know how to play?"
"Please. You're looking at the reigning town champ."
"Nuh-uh."
Beckett just smiled, flexed his fingers. "Bring it on."
Related Posts