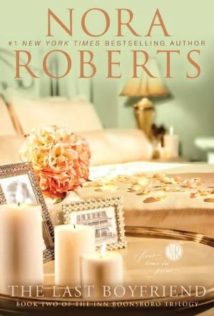 The Last Boyfriend (Inn BoonsBoro, #2)
by
Nora Roberts

Series:
Inn Boonsboro Trilogy #2
Published by
Berkley Trade
on May 1st 2012
Genres:
Contemporary
,
Small Town
Pages:
319
Format:
eBook



I received this book for free from in exchange for an honest review. This does not affect my opinion of the book or the content of my review.
This post contains affiliate links you can use to purchase the book. If you buy the book using that link, I will receive a small commission from the sale.
---
Owen is the organizer of the Montgomery clan, running the family's construction business with an iron fist – and an even less flexible spreadsheet. And though his brothers bust on his compulsive list-making, the Inn BoonsBoro is about to open right on schedule. The only thing Owen didn't plan for was Avery McTavish

Avery's popular pizza place is right across the street from the inn, giving her a first-hand look at its amazing renovation – and a newfound appreciation for Owen. Since he was her first boyfriend when they were kids, Owen has never been far from Avery's thoughts. But the attraction she's feeling for him now is far from innocent.

As Avery and Owen cautiously take their relationship to another level, the opening of the inn gives the whole town of Boonsboro a reason to celebrate. But Owen's hard work has only begun. Getting Avery to let down her guard is going to take longer than he expected – and so will getting her to realize that her first boyfriend is going to be her last.
---
Once again Nora Roberts delivers the goods in Book 2 of The Inn Boonsboro trilogy; The Last Boyfriend. After 200 books, there is no question that she certainly knows how to write characters; and the stories that I have enjoyed most from her involve the long time friends who thoughts regarding each other change drastically, usually due to a spontaneous, world-rocking kiss, and suddenly they begin to see each other in a new romantic light. I'm just a sucker for those!
In her Bride Quartet series, Savor the Moment was my favorite out of the four. In that book, everyone's unofficial big brother Delaney Brown starts to rethink his feelings for his sister's best friend, Laurel McBane, after she lands one of those world-rocking kisses on him after she tires of him treating her like a little sister.
Her latest story takes place under the backdrop of the beautiful, Bed & Breakfast, the Inn Boonsboro. The Montgomery Brothers have brought the 200 year old Inn back to life; Beckett is the architect, Ryder is the builder and Owen, the organized, level-headed manager of the family business. Bringing the Inn back to life is a boost for the town as well as all the local businesses on Main Street.
The pizzeria across the street from the Inn is owned and run by long-time family friend, Avery McTavish. Avery and Owen's fathers were childhood friends and they all be grew up together, and after Avery's mother abandoned her and her father, that family connection enjoyed by the Montgomery's was something Avery envied and dreamed of.
Even more, the quirky and vibrant Avery has always had a soft spot for quiet and over-thinking Owen. She still remembers the day that Owen proposed to her. Of course she was only six and he was a mature eight. She still has the plastic engagement ring he gave her tucked away.
Owen always feels the need to watch over Avery. He believes that she works too hard trying to prove her worth, but only to herself. There is no one in Town that doesn't love Avery and admire the business that she grew all on her own.
Then comes that fateful moment while touring the newly completed Inn, and Avery is knocked into Owens arms and that world-rocking kiss takes place and knocks their years-long friendship into something so much more.
No one can present this type of friends-to-lovers romance like Nora Roberts. This kind of romantic love story doesn't need clichéd storylines of the old girlfriend lurking to cause trouble, or the creepy boss trying to force the heroine into a relationship. It is wonderfully sweet in the simple storytelling of two wonderful people who didn't realize just how much they meant to each other until they took that one scary step of turning their long-time friendship to that of lovers.
Received ARC from Penguin/Berkley. Thank you.
---
Favorite Scene:
"Okay." He sipped the whiskey. "Strange day," he said with a sigh. "You're not pissed at me anymore."
I wasn't pissed at you. Very much. And now I've figured out you've got an issue with sex."
"What?" A close relative of Avery's shock-and-horror look passed over his face. "I do not. Why?"
"See." She lifted a finger off her glass to point at him. "I even say the word and you're all flustered. Issues."
"I don't have any issues with sex. I believe in sex. I like sex. I like lots of sex."
"Strange. You kiss me and go into immediate brain freeze. You see our parents kissing and hit the panic button."
"No. Yes. Maybe. Damn it, that has nothing to do with issues. Any normal person would have a—"
"Momentary moment."
Smart-ass, he thought. She'd always been one. "A reaction to seeing his mother laying a hot one on a longtime family friend. And you and me? You know that wasn't expected."
"Actually, it doesn't seem that unexpected to me. But then, I don't have sexual issues."
"I don't have sexual issues."
"Hmm." She sipped, strolled over to the window. "Oh, it's snowing now. Pretty. God! I have not finished my Christmas shopping. You'd better go before is starts to stick."
"Just wait a minute."
She glanced back. For what?"
"Damn it, Avery, you can't just say something like that then say go home."
"Just voicing an opinion," When he stepped around the counter, she took the glass from his hand. "You shouldn't have any more. I know you handle it well, but still. Whiskey, driving and snow, not a good mix."
He repeated, with all the patience and potency he could muster, "I don't have sexual issues."
"Are we still on that? All right, my mistake. You're sexual issue-free."
"Don't placate me."
"Jesus, Owen, what do you want from me? " Her eyes fired like lasers when he gripped her elbows, hauled her to her toes. "Watch it," she warned.
"Now we're expecting it," he told her, and gave her a quick yank.
She knew where his buttons were and how to push them—and could admit she'd done so. She didn't mind irritating him into kissing her. She wanted an encore, one way or the other, to see how both of them reacted.
"Okay." Deliberately she linked her hands behind his head. "Now we're expecting it." She moved in first, before he could overthink and pull back.
Related Posts