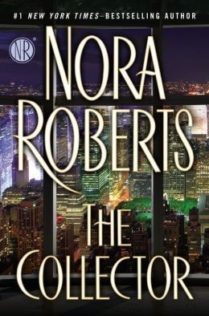 The Collector
by
Nora Roberts

Published by
Berkley
on April 15th 2014
Genres:
Mystery
Pages:
752
Format:
eBook



I received this book for free from in exchange for an honest review. This does not affect my opinion of the book or the content of my review.
This post contains affiliate links you can use to purchase the book. If you buy the book using that link, I will receive a small commission from the sale.
---
When professional house-sitter Lila Emerson witnesses a murder/suicide from her current apartment-sitting job, life as she knows it takes a dramatic turn. Suddenly, the woman with no permanent ties finds herself almost wishing for one.

Artist Ashton Archer knows his brother isn't capable of violence—against himself or others. He recruits Lila, the only eyewitness, to help him uncover what happened. Ash longs to paint her as intensely as he hungers to touch her. But their investigation draws them into a rarified circle where priceless antiques are bought, sold, gambled away, and stolen, where what you possess is who you are, and where what you desire becomes a deadly obsession.
---
It seems Lila Emerson spends a good deal of time watching the world through her binoculars. Lila likes to people watch. As a writer, she likes to make up stories about the lives of the people in the neighboring buildings and as a house sitter, there was always new windows to peek into. At her most recent job, she is enjoying watching the little boy and his new puppy on ten imaging all the adventures they will have. There's the exotic dancer on twelve who's hoping for his big break on Broadway. There is also Blondie and Mr. Slick on fourteen. If they are not dressing up for a night on the town, they are bickering, probably just for all the make up sex.
It is one sleepless night that's going to change everything for Lila. When she sees Blondie take a punch to the face, she races to call 911 but before she can even punch in the three little numbers, Lila see her get pushed out through the window, falling the fourteen floors to her death.
She wants to help the police catch Mr. Slick and have him pay for what he did, but the police already have Oliver Archer in custody. He's on his way to the morgue with a bullet to the brain. But not everyone is willing to believe Oliver would orchestrate a murder/suicide. His brother, artist Ashton Archer, knows his brother was no saint. Oliver was always looking for the next big thing, but he wasn't violent and he wasn't a killer. He was more likely to call big brother Ash to get him out of a bind rather than take his own life.
Ash seeks out the only witness to Sage Kendall's death. Lila can see the pain that this is bringing Ash and she is more than willing to help Ash find some answers.   Kindness from a stranger was the last thing Ash expected, nor did he expect how desperately he wanted to paint Lila.  All he sees when he looks at her is her free spirit and he wants to capture that on canvass.
As some of the puzzle pieces start to fall together, Ash and Lila are starting to see the set up behind Oliver and Sage's deaths, as well as the valuable piece of art and history which Oliver stumbled onto. Oliver might have recognized the value of what he found, but he didn't recognize what kind of man he was trying to extort more money out of. Oliver thought he would be willing to pay a more reasonable finders fee for such a treasure, but this Collector would rather just remove the finder permanently and take his own treasure.
So Ash and Lila are on the trail of Oliver's hidden treasure but Oliver's killer is on their trail waiting for them to uncover the valuable piece of history.
THOUGHTS:
The hunt for the treasure is only half the story.  The rest is a great romance between Lila who reaches out with compassion to Ash for his loss and Ash's need to paint Lila.  Both are very interesting characters, I love the way Ash sees what he wants to paint when he looks at Lila and how he keeps working on her until she caves.  The more their attraction grows, the more Ash focuses on Lila and he keeps seeing different paintings featuring her.
Of course Ash's rich father accuses Lila of being a gold digger and somehow orchestrating her witnessing of the murder to worm her way into Ash's life.   It is so far fetched you can only scratch your head how he can jump to that conclusion.
We also get a secondary romance with Lila's best friend and Ash's best friend. They had a history so although it is more behind the scenes, it does not feel awkward or rushed and we feel how they are lost lovers from their initial meeting and how easily they reconnect and have a chance to start over.
The hired killer in this story is as intriguing as she is dangerous.  She begins to obsess about Ash and Lila and you know that even if they give up the treasure, she isn't going to let them walk away.  She wants to kill them just for her own pleasure.  She is a stone, cold killer.  I think it was very fascinating that Nora Roberts chose to make her killer for hire a woman.
As always, Nora Roberts hits it out of the park with The Collector with both the mystery and the romance.
Received an ARC from the publisher in exchange for an honest review.
---
Favorite Scene:
"And you, an art gallery. You always loved art, talked about studying art history, that sort of thing."
"And I did. I went back to school, moved to New York, wheedled my way into the gallery. I got married, met Lila, got divorced and moved up to manager."
"I had nothing to do with any of it," Lila claimed.
"Oh, please."
"Not on purpose."
"We met at yoga class," Julie began. "Lila and I, not me and Maxim–my ex. We hit if off during up dogs and down dogs, started hitting the juice bar together after. One thing led to another."
Lila sighed. "I was seeing someone, and it looked like it might get fairly serious. So, being females, we talked about men in our lives. I told her about mine. He was great-looking, successful. He traveled a lot, but was very attentive when we were together. And Julie told me about her husband."
"Also great-looking and successful. Working longer hours than he once did, and not as attentive as he'd once been. In fact, things were a little rocky, but we were working on smoothing them out."
"So with a few yoga sessions, a few smoothies, some sharing of details, it turned out the guy I was seeing was married, to Julie. I was sleeping with her husband, and instead of drowning me in my own smoothie, she dealt."
"We dealt."
"We did." Lila tapped her glass to Julie's. "And our friendship is written in his blood. Not literally," she added quickly.
"No violence necessary when you take your husband's slut—"
"Ouch."
"When you take his slut home for drinks and introduce her to him as your new best friend. He packed up what he could in the twenty minutes I gave him and moved out. Lila and I ate the best part of a half gallon of ice cream."
"Ben & Jerry's Coffee Heath Bar Crunch," Lila remembered, with a smile that had the little dimple flickering. "Still a favorite. You were so amazing. I just wanted to crawl into the deep dark hole of shame, but not Julie. 'Let's get the bastard,' that was her reaction. So we did."
"I ditched the bastard, kept the slut."
"I ditched the bastard," Lila corrected, "and kept the pathetic and clueless wife. Someone had to."
"I want to paint you."
Lila glanced at Ash. Blinked. "I'm sorry, what?"
"I'll need you at the loft for some preliminary sketches. A couple of hours would do it to start. What size are you?"
"What?"
"She's a two," Julie said, "as so many sluts are." She angled her head, "What are you looking for?"
"Earthy, sexy gypsy, full skirt, flame red, bold colors in the underskirts."
"Really?" Fascinated, Julie turned to Lila, gaze sharp and assessing. "Really."
"Stop it. No. Thanks. I'm…The knee-jerk is flattered, but I'm more baffled. I'm not a model. I don't know how to model."
"I know what I want so you don't have to." He glanced at the waitress, ordered the pasta special. "Day after tomorrow would work. About ten."
"I don't—What he said is fine," she told the waitress. "Thanks. Listen, I don't—"
"I can pay you by the hour or a flat fee. We'll work that out. Do you know how to play up your eyes?"
"What?"
"Of course she does," Julie put in. "A full-length portrait? She's got long and excellent legs."
"I noticed."
"Really, stop."
"Lila doesn't like being spotlighted. Toughen up, Lila-Lou. You've just been tapped to model for a highly respected contemporary artist whose fanciful, sometimes disturbing, sometimes whimsical, always sensual paintings are acclaimed. She'll be there. I'll get her there."
"Might as well give it up," Luke told her. "You're going to end up standing where he want you anyway."
"I'll paint you anyway," Ash shrugged. "But the work will resonate more, have more depth if you're involved. Lila-Lou?"
"Lila Louise, middle name after my father, Lieutenant Colonel Louis Emerson. And you can't paint me if I say no."
"Your face, your body?" He jerked a shoulder. "They're right out there."
"She'll be there," Julie repeated. "Come on, time for a little sortie to the ladies'. Excuse us." To ward off protests, Julie simply rose, took Lila's hand and hauled her to her feet.
"He can't make me model," Lila hissed as Julie towed her along. "And neither can you."
"I bet you're wrong."
"Plus, I'm not an earthy, sexy gypsy type."
"There, you're definitely wrong." She led Lila down the narrow flight of steps to the restrooms. "You have the coloring, and you have the lifestyle."
"One fling with a married man I didn't know was married, and I have an earthy lifestyle?"
Related Posts