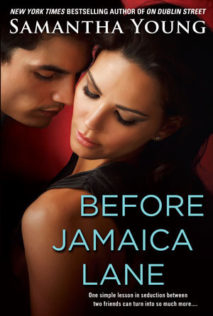 Before Jamaica Lane (On Dublin Street, #3)
by
Samantha Young

Series:
On Dublin Street #3
Published by
NAL
on January 7th 2014
Genres:
Contemporary
,
Small Town
Pages:
432
Format:
eBook



I received this book for free from in exchange for an honest review. This does not affect my opinion of the book or the content of my review.
This post contains affiliate links you can use to purchase the book. If you buy the book using that link, I will receive a small commission from the sale.
---
Despite her outgoing demeanor, Olivia is painfully insecure around the opposite sex—usually, she can't get up the nerve to approach guys she's interested in. But moving to Edinburgh has given her a new start, and, after she develops a crush on a sexy postgrad, she decides it's time to push past her fears and go after what she wants.

Nate Sawyer is a gorgeous player who never commits, but to his close friends, he's as loyal as they come. So when Olivia turns to him with her relationship woes, he offers to instruct her in the art of flirting and to help her become more sexually confident.

The friendly education in seduction soon grows into an intense and hot romance. But then Nate's past and commitment issues rear their ugly heads, and Olivia is left broken-hearted. When Nate realizes he's made the biggest mistake of his life, he will have to work harder than he ever has before to entice his best friend into falling back in love with him—or he may lose her forever.
---
Nate and Olivia are good friends who like to hang out, watch movies, crack jokes and just spend their free time together. Olivia spent her most of her teens years caring for her dying mother so she didn't have that period of her life to experience flirting and boys and sex. Now she is in her mid-20s, inexperienced and uncertain of her own attraction to men. Olivia is a librarian at the college and is attracted to one of the post-grads who comes to her help desk. Every time she sees him she gets tongue-tied. She enlists the help of her womanizing friend Nate to help her learn to flirt, and Nate teaches her to be comfortable with her own attractiveness to men.
As the time comes to turn the flirting practice into reality, Olivia realizes how uncomfortable she is with her lack of sexual experience (she only had one lover/one time and it was BAD). She again turns to Nate to show her how to please a man in bed.
Although the practice sessions with Nate gives her the experience she desperate wanted, it also solidified her initial attraction to Nate and turns it into love. But Olivia knows the reason behind Nate's decision not to have relationships with women. He gave his heart to his childhood sweetheart and watched her die of cancer at a young age. He never intends to feel that bond with anyone else.
Olivia needs to make a break from her practice session with Nate before she loses her heart completely, but it might already be too late.
THOUGHTS:
I have loved this series, but I think this might be my favorite couple. Nate and Olivia are just so much fun together and you can see just how perfect they are together as a couple. When they add sex to the relation, their passion for each other burns bright. But you know with Nate's background, what will unfortunately be coming down the road for them.
God, I love a good friends to lovers story, and this one included a bit of a twist. Usually the friends decide to risk the friendship for a romantic relationship. In this story Olivia wants Nate's help in being more comfortable with men and after becoming more comfortable after a practice kissing session, Olivia makes the leap asking Nate to show her her to please a man in bed. Although they both show some hesitation about ruining the friendship, they are both interested in the prospect of sex, so those concerns take a backseat to lust.
Even though their practice sessions last for weeks and they are absolutely perfect together, Nate does eventually freak out about his own feelings for Olivia, and gives her the "you know I don't do relationships" speech. But watching him try to win Olivia back makes for a great story as well. You have to give kudos to Olivia for having the strength to keep pushing Nate away, even though you know she doesn't want to, but being with Nate has now given her the self-confidence to know she wants to be someone's love of their life, and not a settled for second best to the ghost of Nate's first love.
I will definitely be giving this one a re-read when an opportunity arises.
Received an ARC from the publisher in exchange for an honest review.
---
Favorite Scene:
"You already know I lack confidence because of my minimal sexual experience, but…I also just don't…don't feel sexually attractive."
His silence drew my gaze to him. He was looking at me incredulously again.
"What?"
He put his beer down and planted his palms on the counter like he meant business. "Let's start with how you don't feel sexually attractive."
I gulped. "All right."
"Are you fucking kidding me?"
I jerked back at his curse, confused by the angry tone of the question. "What?"
"Get up," he replied sharply. "Come on, get up." He rounded the kitchen counter and walked past me.
I got up slowly, wondering what the hell I'd done wrong.
"Follow me."
Follow him…all right. My legs trembled when I realized I was following him into my bedroom. With my heartbeat pulsing in my throat, I was unable to speak as I stopped in my doorway and gazed at him.
He stood before my full-length mirror and gestured to it. "Tell me what you see."
I swallowed past the heartbeat. "Nate…" I took a step back and my movement shot him into action. Lightning-quick, he had hold of me and was tugging me back into the room with him until he'd maneuvered me in front of the mirror, while he stood looking into it over my shoulder.
"Tell me. Trust me."
Taking a deep breath, I let my eye focus on my reflection, sweeping them over my face and then down my body and back to my face again.
"Liv?"
"I see…I see an average-looking woman with…" I shrugged, so embarrassed it wasn't funny. "With fl–flabby arms, a belly pouch, and a fat ass."
When my answer was met by silence I finally gathered the nerve to look up into the mirror to Nate's reflection. He was glowering at me again. "Anything good?"
I glanced back at my face. My eyes were as always, the only thing I liked. They were striking eyes, inherited from my dad. Usually, pale hazel, with so many flecks of gold they appeared golden in a certain light. We both had dark lashes that set the color off. We'd been told on more than one occasion, and by quite a few folks, that our eyes were exotic, almost feline. My dad worked his eyes. They were flinty and perceptive in his ruggedly handsome face. On my average face they were the only thing to enliven my features. "My eyes," I whispered softly.
"That's a given, babe. What else?"
Tense, I searched for an answer and then said carefully, "Okay, my skin. I have good skin."
Nate smiled encouragingly at me. "You've got gorgeous skin." He heaved a beleaguered sigh. "Let's tackle the other stuff." I was pretty sure he then muttered under his breath, "Crazy fucking women," before he took hold of my arm. "Where are these flabby arms of yours, then?"
Skin flushing the color of raspberries, I pushed the fat around my tricep.
I was rewarded with a "what the eff?" look by Nate. "That's not flab. It's skin. Look, you've not got any definition, but you've also not got flab. Rule number one…"
I nodded at him to go on, my eyes wide, eager to learn.
"…don't use the word 'flab' around a guy you want to shag. Now, if a guy's like me he can get past the self-consciousness and decide to think it's cute, but there are loads of guys out there who don't think it's cute. They want a confident woman in their bed. I don't know if this library guy is one of those guys, so we'll play it safe. No more flab talk."
For some reason that really made me want to giggle, but I also wanted Nate to know I was taking this seriously, so I pinched my lips together and nodded.
"Okay. Next."
I blinked in confusion again. "Next?"
"The supposed fat arse?"
The touch of Nate's hand on my ass caused me to jump about ten feet, but he didn't let go, smoothing his hand over my butt and giving it a gentle squeeze.
Whoa, okay, then.
My skin was prickling and there was a suspicious fullness in my breasts and lower belly that I adamantly tried to ignore.
"Not fat." Nate leaned close to my ear, speaking in a low voice that did nothing to abate the physical response of my body. "Curvy. And I'll let you in on a wee secret: there are still men out there that like a woman to be soft under the hands, to have curves, hips, tits and arse." he tapped my butt gentle with the palm of his hand. "It's a good arse, babe. I don't want to hear you refer to it as anything else."
Shock rooted me to the floor. It wasn't just the very cool things he was saying; it was the rush of tingles that shivered through me as he caressed my butt and moved his hand upward, siding it under my T-shirt, and around my waist to caress my stomach. I sucked in a deep breath.
There was no ignoring the fact that he was turning me on. I really needed him to not know he was turning me on.
Nate unwittingly saved me. His hand dipped downward, shaking me out of the little sensual haze he'd put me in when I realized when he was heading.
For my belly!
I clutched at his hand to stop him, but when our eyes met in the mirror his expression was admonishing. He gave me a little shake of his head. "Let go, babe."
I shook my head back at him.
"Liv."
"Nate…"
His expression instantly softened at the panic in my voice. "Trust me."
Related Posts