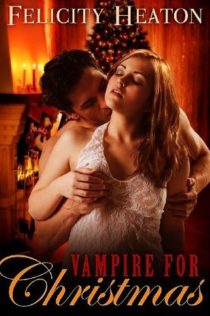 Vampire for Christmas
by
Felicity Heaton

Published by
Self-Published
on November 2nd 2010
Genres:
Holiday
,
Paranormal/Urban Fantasy
Pages:
78
Format:
eBook



This post contains affiliate links you can use to purchase the book. If you buy the book using that link, I will receive a small commission from the sale.
---
It was one last mission. Shannon, a demon hunter with the agency, is looking forward to leaving behind the small town and the vampire she's been stuck with for the past two years. Things are getting complicated fast and she wants out. A fresh start, free of her vampire partner, awaits her if she can survive their final mission and the lonely Christmas holidays.

It was one last mission. Rafe, a vampire doing time with the agency, watches it approach with dread weighing heavily in his stomach. Two years of working with Shannon has been difficult, especially since he started falling for her, but he doesn't want their partnership to end. He has barely a few days to make her face her feelings and stop her from leaving, and he intends to do just that.

When a slimy demon threatens the season of peace and goodwill, it's the chance Rafe has been waiting for and the moment Shannon secretly fears. Rafe's determination to prise open her heart and her own resolve to keep it closed clash as violently as they do with the demon, and threatens to end as messily.

Can Rafe make Shannon see that his love for her is real and that she feels something for him too? Can Shannon face her fears and her past, and stop herself from running away from both? Will a wish on a star bring her what her heart truly desires—a vampire for Christmas?
---
THOUGHTS:
I have had Felicity Heaton on my Wanna Read list for awhile now and was happy to find this short story before the holidays.
This was a great read and a great storyline for a short since the characters have worked together for two years and know each other very well so there was no awkward "we just met yesterday, but I know you're my soul mate" story that is always so hard to get into when its only a short story.
Since Shannon was a demon hunter and Rafe was a vampire, she works hard to resist any feelings she might have had for him, but he has acknowledged his feelings since they first met. The story begins with their last case just before they will be reassigned.  Rafe is the scholar of the two and I like that we find out that he is always learning and researching so he is prepared to protect Shannon from whatever comes at them.  You feel sad for him and his unrequited love.  He would do anything for Shannon to return his feelings for her.
I would have enjoyed a full story with these characters and the whole demon hunter/vampire team storyline but I didn't feel shorted at all. And you can't beat the price of Free. Grab a copy today.
---
---
"Have it your way." Rafe stepped away from the door. "Just tell me one thing."
"What?"
He frowned at the door, his heart aching over the thought that she didn't trust him and that he would never see her again. If he finished this mission, their time together was over. Maybe it was better that way. Maybe it would hurt like Hell and he would spend eternity with a hole in his chest where his heart used to be.
"Did they get the bastard that did that to you?" The venom in his tone surprised him. He had tried to keep his fury out of his voice, his lust for vengeance and desire to track down the vampire to tear him to pieces, but the force of the emotion was too strong to contain.
Silence.
"Yes."
Rafe smiled a thin-lipped smirk of satisfaction. He only hoped they had butchered the vampire for it.
The smile fell from his face.
What right did he have to hope such a thing?
Shannon was right. He was a monster. He was no better than the vampire who had hurt her. He had attacked people and fed off their struggle and fear. He had killed them without a moment's regret. He had no right to wish vengeance on another vampire who had done the same.
No. He had atoned for his sins against mankind. He protected them now and had saved more lives than he had ever taken. Maybe he had been a monster once, but he had changed. He was a man now, or as close to one has he could be, and he needed her to see that.
But she never would.
He turned on his heel and walked down the porch steps. When he reached the path, he swept his long black coat back and jammed his hands into his jeans pockets. He tilted his head back and looked up at the starlit expanse of winter sky.
He wished she would.
He wanted to be a man for her.
Her man.
Yellow light streamed out of her house, throwing his shadow out long until it reached the bottom of the garden path in front of him.
He halted and waited. She had only opened the door to retrieve her clothes. He told that to himself over and over, filling the expectant silence, dampening the anticipation swirling inside him.
"Rafe?" Her voice was soft, his name spoken with trepidation. He kept his back to her, giving her time to find her courage and to say whatever it was that she needed to. Her steps on the porch were loud in the silence of his mind. She wasn't barefoot. "I…I don't think you're a monster."
Rafe closed his eyes and dipped his chin, breathing slowly to stead himself. Warmth chased through him, easing away his anger and the chill that had settled in his heart.
The light disappeared, leaving him in darkness again, and he sighed at the soft click of the door. It was a start, he supposed, but not quite what he had wanted. Perhaps he could come back later, after completing the mission, and try to speak with her again. He looked over his shoulder at the house and frowned.
Shannon stood on the porch, wearing her black coat. She walked down the three steps and stopped at the bottom of them. The moon shone on her hair and Rafe fancied the golden glow was the halo she deserved for being able to look at him after what had happened to her.
"We have a demon to hunt, right?" Her voice shook but she managed to hold his gaze, and even tilted her chin up.
He loved it when she put on her best poker face. It could fool humans and some demons, but not him, and not because he was a vampire. He could see in her eyes even from where he was standing that she was nervous about coming out with him again, worried that he would try to make her talk. He wouldn't push her. He would do what he had always done with her. He would wait for her to talk to him. When she was ready, she would tell him why she had joined the agency and what had happened to the vampire who had attacked her.
Related Posts