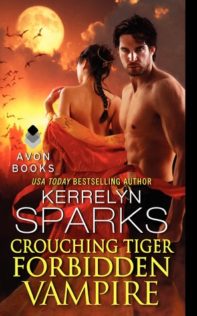 Crouching Tiger, Forbidden Vampire (Love at Stake, #16)
by
Kerrelyn Sparks

Series:
Love at Stake #16
Published by
Avon
on December 30th 2014
Genres:
Paranormal/Urban Fantasy
Pages:
372
Format:
eBook



I received this book for free from in exchange for an honest review. This does not affect my opinion of the book or the content of my review.
This post contains affiliate links you can use to purchase the book. If you buy the book using that link, I will receive a small commission from the sale.
---
[box style="rounded" border="full"]Kerrelyn Sparks takes us out with a bang. Russell and Jia fight each other for the honor of killing the Master Han. Once they finally decide to work together, they find they have more in common than just revenge. [/box]
This is intended to be the final installment of the Love at Stakes series. Kerrelyn Sparks has indicated she believes she is finished but might feel compelled to stick her toe back in the water if she is properly inspired.
I was delighted to say that I enjoyed this story more than I have the rest of the Master Han plot based stories. The last few stories didn't have the same shine as the rest. Once we moved away from the gang and from Romatech as the main basis of the series, I found that I enjoyed the stories a little less.
Russell was found hidden in a cave. Russell had been a soldier in the Vietnam war and went MIA. He had been left in a vampire coma since that time. It was Angus McKay who completed his transformation to vampire with a blood transfusion. Russell was not happy after not only losing his humanity, but losing about 50 years of his life. He lost his family, his ranch, everything that was important to him. All he had to live for was revenge against Master Han who left him to wallow in that cave.
Just as Russell tracks down Master Han and is ready to deal a death blow, were-tiger Jia pops up with an assassination attempt of her own. Her miss causes Master Han to go back into hiding while Jia and Russell argue about who has more right to get their revenge on Master Han.
Jia is treated like a pampered princess but she has no desire to sit in the palace and look pretty. She has been training for the past decade to avenge her family who were murdered at the hand of Master Han. Jia first needs to escape her gilded prison and her cousin, Rajiv, who wants to keep her safe from her crazy plan of revenge.
Once Russell and Jia realize they could work together to at least get close enough to Master Han to worry about who gets the honor of killing him, they soon realize there is more passion between them than just a desire for revenge. There is only one important hurdle. Jia's grandfather promised to Jia's hand to a were-tiger prince over a decade ago and the prince now wants to meet his blushing bride to be. If they want a happily ever after, they will have to add getting rid of the rich were-tiger suitor to their to do list without causing insult to the foreign were-tigers clan and causing a were-tiger war.
THOUGHTS:
I am heartbroken to see the end of the Love at Stake series. My husband still teases me about the vampire-dentist story. We both thought that it was a silly premise for a story but I kept coming back to it until I finally bought a copy and How to Marry a Millionaire Vampire is one of my favorite vampire stories with its lighthearted, witty banter and fun characters.
I noticed that I didn't enjoy the stories as much whenever Kerrelyn veered from the vampires and shifters, adding angels, demons, amazons.  Even in Howard's story, I liked Elsa until she turned out to be some kind of magical Dr. Dolittle w/ magical aunts. — I like my paranormals to be vampire or shifters. Stupid! I know!   Even if they weren't all my favorites, I still enjoyed the banter and time spend with the Romatech gang. Nothing these vamps love more than a party!
I am happy we could end the series with just another were/vamp story which featured two enjoyable and strong characters.
The one character I am sorry we haven't seen more of is little Tino, Shanna and Roman's son. He was the first vamp/human child and he had some very interesting powers already showing up. I am sorry we never got to see all of Tino's potential.
I am sad to say good-bye but I certainly enjoyed the stories written by Kerrelyn Sparks and I have picked them up from time to time when I want an enjoyable re-read. My copy of How to Marry a Millionare Vampire was getting well loved until I had it signed a few years ago by Ms. Sparks and now it rests on my bookshelf with my other signed books. 🙂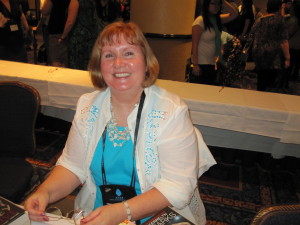 Received an ARC from the publisher in exchange for an honest review.
---
Favorite Scene:
"Shall I teleport you to Tiger Town?"
"No!" She pulled away, surprised for a second that he let her go. "I can't go back there. Anywhere but there."
He smirked. "So you admit that is your home."
"Yes, but I can't go back before my mission is done."
"Your family must be worried sick–"
"My family is dead! My parents and brother, hacked to pieces by Master Han. I won't stop until I've killed him."
The vampire stiffened. "You will not kill Han."
"I will! I swore I would avenge my family–"
"You're not killing Han!" the vampire's words and the ferocious look on his face.
"Why do you want–"
"I don't explain myself," he growled and took a step toward her. "I was so close to killing Han tonight. I had a clear shot at his neck, and you ruined it."
She stepped back. "You–"
"Two years of tracking that bastard, and you screwed it up!"
She winced. No wonder he was pissed. "I didn't know."
"You know nothing about warfare! You can't attack his guards first. He just teleports away."
"I realize that now. I'll do better next–"
"There is no next time for you. Killing Han is my job, and you will stay out of it!"
Jia's breath caught when she realized who this vampire must be. How many times had she heard Jin Long and her cousin complain about him. Some said he was dangerous; others called him a hero. According to her cousin, he'd cut the tracking chip out of his arm and disappeared two years ago, vowing to kill Master Han. A few times, when Rajiv and Jin Long had found themselves surrounded by Han's soldiers, this vampire had miraculously appeared and rescued them.
Just like he'd rescued her tonight. "I know who you are. You're the–the–"
"The deserter?" he growled. "Do they say I'm crazy?"
"No! Of course not." Shw winced inwardly. This was not the time to admit that Rajiv called him "The Crazy One." And Jin Long claimed he was a loose cannon. She searched her mind for something good they'd said about him. "They say you're the best tracker in the world."
He stared at her for a moment, then looked away, shifting his weight as if he didn't know how to respond.
He's not used to compliments, she thought, and her heart softened. What a lonesome man he had to be. But so wonderfully dedicated to his cause. She inhaled sharply as an idea popped into her mind. "I know what to do. We'll work together!"
He blinked. "No."
"Yes!" It was a brilliant solution, so brilliant that she felt a surge of confidence that she could easily convnce him. "It's perfect! We have the same goal, so all we have to do is team up to defeat our common foe."
"Hell, no."
"In fact, I think fate has brought us together for this purpose."
He hesitated, a stunned look on his face.
Yes! He was coming around. The more she thought about this new idea, the more excited she became. She'd always known it would be difficult to kill Han, but when she'd asked her uncles, Rinzen and Tenzen, to help her, they had refused. And then, to make matters worse, they'd reported her plan to her cousin, and Rajiv had forbidden her to go. Vengeance should be left to the male were-tigers, Rajiv had told her.  As the resident princess of Tiger Town, it was her job to play hostess and perform the tea ceremony for their visitors. She'd been sorely tempted to tell Rajiv what he could do with the ceremonial teapot.
"As a vampire, you can do all the levitating and teleporting," she continued. "And I'll do whatever needs to be done during the day. I can even guard you while you're in your death-sleep."
He shook his head. "I don't need a guard. No one knows about this place.'
"I know."
He snorted. "You have no idea where we are."
"That's even better! No one should know the location of our secret hideout."
"Our hideout?"
"Yes!" she grinned, delighted that he was agreeing. "And you needn't worry that I won't pull my weight. I know martial arts, and you've seen how well I throw knives."
"I work alone."
She waved a dismissive hand. "I realize you're stuck in a rut over that, but it's time for you to be daring enough to try something new. We have to be bold in order to succeed."
He gave her an incredulous look. "Are you calling me a coward?"
"Of course not. I'm just saying we'll be more efficient as a team. Take tonight, for example. If I had known your plans ahead of time, I wouldn't have interfered." She gave him an encouraging smile. "We should start right now tracking down Master Han. You know where his camps are, right? Let's go!"
"I think we should go." The vampire grabbed hold of her arms.
Yes! They were a team! "Shouldn't you arm yourself–" she stopped when everything went black.
When her feet hit solid ground, she pulled away from him and looked around her. Oh, God, no.
They were in the courtyard of Tiger Town. Torches lit up the perimeter, and dozens of armed male were-tiger were standing hereby. They all stared at her in shock. Her heart sank in dismay.
Without looking at her, he muttered, "I'll be going then."
"You're leaving me here?" Anger spiked in her chest. "We have the same goal. I thought you understood me. I thought I could trust you."
His mouth thinned. "You thought wrong."
She pulled her arm back and slapped him hard across the face.
Related Posts