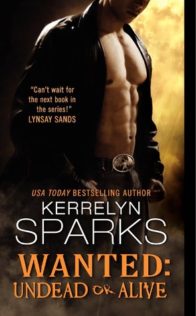 Wanted: Undead or Alive (Love at Stake, #12)
by
Kerrelyn Sparks

Series:
Love at Stake #12
Published by
Avon
on March 27th 2012
Genres:
Paranormal/Urban Fantasy
Pages:
374
Format:
eBook



I received this book for free from in exchange for an honest review. This does not affect my opinion of the book or the content of my review.
This post contains affiliate links you can use to purchase the book. If you buy the book using that link, I will receive a small commission from the sale.
---
He's a vampire from the big city . . .

Phineas McKinney thought New York City was tough, until he was attacked by Malcontents—evil vampires who consider mortals to be snacks. Saved by the good vampires, Phin swore to devote his now undead life to stopping the Malcontents. He's got his job cut out for him when word comes that their enemy may be hiding in Wyoming. What does a city boy like him know about horses and campfires? Good thing he's got Brynley Jones with him . . . if only she didn't hate every vampire on earth.

She's a werewolf princess . . .

Bryn believes vampires are seductive and charming, and that makes them dangerous. So she's more than a little annoyed about teaming up with Phin, even if he is the only bloodsucker able to make her inner wolf purr. But as they hunt down the new leader of the Malcontents, danger threatens . . . and Phineas and Brynley discover a passion that will rock the foundation of their supernatural world.
---
Phineas McKinney has been a vampire for five years now, and his life has never been better. He was a poor kid from the Bronx and now he has a fantastic job that he loves, great friends who really care about him, and nowadays he is known throughout the vampire community for his great commercials. All the women want to meet "the Blardonnay guy." But he's tired of his life as "the love doctor," women keep using him since he's the newest novelty in the vampire community. Since he is dead during the day, what he misses most is the blue of a summer sky, the blue like
her
eyes. Phineas can't stop thinking about Brynley Jones, the sexy wolf-girl and sister of his friend, werewolf Phil Jones. Too bad Brynley hates vampires because the more Phin tries not to think about her, the more he can't stop thinking about her.
Brynley Jones came to New York to live with her brother, Phil and teach at the Dragon Nest Academy, and to escape the clutches of her overbearing Alpha werewolf father. More importantly, to escape an arranged marriage set up to increase her father's holdings in the werewolf community. She hates being used and people who are users. Vampires are users…aren't they? They used people for food for centuries. They should be avoided…right? If only that Phineas wasn't so damn sexy…and sweet. It doesn't matter. Werewolves and vampires just don't mix. Hasn't she told her brother that many times.
When Phineas needs to go to Wyoming to search for Corky Courrant and bring her before the council to answer for her crimes against the vampire community, he needs someone who knows the area and the only one available to Brynley. How can he concentrate on finding an enemy when he's all alone with the one woman he truly wants but he knows he can't have.
This was a great addition to the Love at Stake series. Phineas is a great character who was brought in the series in Book 3 and we've seen his character grow and mature becoming an important part of the Romatech family. He's always been charming and funny, and it was great to see more of this character.
We first meet Brynley in Forbidden Nights with a Vampire (Phil and Vanda's story) and she has always been a little rough around the edges and we finally get to understand why.
The ending was quite the surprise and I LOVE where Ms. Sparks went with the story. Wow – what a twist!! (*he, he, he* wouldn't you like to know.)
One disappointment was that one character in this book was in serious need of a good beating for things that were done and didn't get one. Not even a solid punch in the face. Really?? WTF???
Won an ARC from Kerrelyn Sparks's editor.  Whoo hoo!!
Check out our interview with Kerrelyn Sparks
---
Favorite Scene:
"Okay, let's go."
She gave him a wry look. "Are you going to call the glacier? They don't generally come equipped with a telephone."
"Then we'll take the car." He smiled. "See? I knew it would come in handy."
"It's wilderness area. That means no motorized vehicles are allowed off the main roads."
His smile faded. "Then how do you get around?"
"You walk." Her mouth twitched. "Or you ride a horse."
He stepped back. "I don't think so."
"Aw, come on, Phineas. It'll be fun!"
"Those horses don't like me."
"They don't know you." She gave him a sly grin. "To know you is to like you."
He frowned at her. Was she flirting with him? Didn't she know that was torture? "I tried getting to know them. When you and Trudy left the barn to greet the other lady, I stayed behind for a little while. I tried mentally communicating with the horses to let them know I would never hurt them."
"Ah, that was sweet."
"Not too sweet. One of them tried to bite me."
She laughed. "Which one?"
"I don't know. They all look alike."
"Horses look alike?" She shook her head. "You're such a city boy."
His brow arched. "Country girl."
"And proud of it. I can bring down an elk in sixty seconds."
"I didn't think your breath was that bad."
She huffed and punched him in the shoulder.
"Ah, foreplay." He rubbed his shoulder. "And here I though you were going to resist me."
She scoffed. "That's not my idea of foreplay."
"Then what is?"
Related Posts