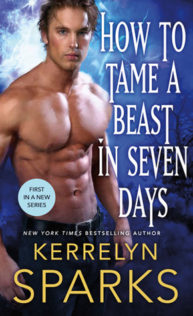 How to Tame a Beast in Seven Days (The Embraced, #1)
by
Kerrelyn Sparks

Series:
The Embraced #1
Published by
St. Martin's Press
on March 7th 2017
Genres:
Fantasy
Pages:
416
Format:
Paperback



I received this book for free from in exchange for an honest review. This does not affect my opinion of the book or the content of my review.
This post contains affiliate links you can use to purchase the book. If you buy the book using that link, I will receive a small commission from the sale.
Luciana grew up on the Isle of Moon, hidden away because of her magical powers. But when her father arrives, he offers her a choice: remain on the island or return with him and marry the Beast of Benwick in order to save their legacy—and her father's life.

Lord Leofric, the Beast of Benwick, has not been touched since he was a child. Born with the power to harness lightning, he is a danger to everyone he touches. When he meets his betrothed, he expects a loveless, lonely marriage...until he discovers she's vastly more powerful than he realized. But is she strong enough to withstand his touch?

If they can survive, their love will alter the future of the kingdom. But will their extraordinary powers cost them everything?
---





I have missed Kerrelyn Sparks's humor.  This new series is delightful.  I can't wait to see what comes next.
As this is the first book of a new series, there is so much to talk about — the set up for the new world building as well as all the new characters.  To keep this review shorter than the book itself, we will just focus on just this book.  If you want more, we spoke with Kerrelyn Sparks back in December about her new series.
The first story takes place in the Kingdom of Eberon which is ruled by a greedy king who has decided the best way to take back all of the lands in his kingdom would be to set impossible goals for the lords and upon their failure, they would forfeit their lands, and most often their lives, to the king.
If a child is born on a night when the two moons are entwined in the sky, the child will be Embraced which means that they will be borne with a magical ability.   In How to Tame a Beast in Seven Day, Luciana has been hidden on an island and raised in a convent with a few other girls.  More than just Embraced, Luciana was born a twin which is considered even more dangerous than simply Embraced.   Raised to believe she was an orphan, Luciana is quite surprised when her father appears  at the convent to bring her home.   Not only does she learn that she has a father, but she also learns that she had a twin sister who just died.  Her sister was to marry the Beast of Benwick by the order of the king of Eberon.
Failure to meet the king's demand means that the very profitable lands of her father will be forfeit to the king, along with his life.  So Luciana returns home with her father pretending to be her sister, Tatiana.
Don't worry since the king is already finding alternate ways to make sure the Duke fails to produce a bride.  He has sent assassins into the Duke's lands.  And even if Tatiana/Luciana makes it to the church, she is not the only one who is Embraced.  Leofric of Benwick can harness the power of lightening.  This is a power which has served him well as Lord Proctor keeping the other kingdoms from invading Eberon.  But this ability makes him a very dangerous adversary, it also makes Leo long for something as simple as touching another person.  The last person he touch, when he was only a child, was electrocuted.  Now everyone fears him.
The Duke isn't the only one the king is setting up for failure on this marriage arrangement.   As Leo is a possible heir to the king, the king wants to make sure that Leo disappears and if he can't make that happen, he wants to make sure that Leo never has an heir of his own.  Leo can't touch his bride without electrocuting her and now that Leo has met her, he really, really wants to touch.
When an accident touch doesn't cause her any harm, Leo begins to make plans to try to consummate his marriage.  If he is successful, the danger to Leo and Luciana will only increase.
And this is only just part of what is happening in How to Tame a Beast in Seven Days,  there is also ghosts, and shifters, and fae, and hints of so much more to come.
I know that a re-read is already in order since I raced through this the first time wanting to find out how Leo and Luciana work through their shocking issues.  Hehe, shocking.  Get it?
I can't wait to see the next book has in store and what new Embraced powers will be introduced.
---
Favorite Scene:
He sighed.  How was he going to court her if he couldn't touch her?  He was a warrior, not a poet, so he doubted he could win her heart with words. 
Fool, he chided himself.  No noble expected to find love in his marriage, not when the king was the one who mandated whom you would wed.  So why did he worry about winning her heart? Why did he care so damned much?
As a warrior, he was accustomed to analyzing battle plans, not emotions.  Even so, he made an attempt to put labels on what he was feeling.
Lust.  That was the easiest to discern.  She was a beautiful woman.  Lovely face, gorgeous body. A glint in her eye and a lift of her chin that spelled intelligence and courage. Of course he desired her.  He could lose his right nut and still lust for her.  Hell, he could be on his deathbed, and she'd still make him hard.  He shifted his weight. His damned breeches were getting too tight.  He'd better stop thinking about lust. What else was he feeling?
Possessiveness. He didn't want to share her.  Something about her filled him with greed. And lust. Move on.
Protectiveness.  The king wanted her dead, so his protective instincts were in full swing.  Along with lust.  Get a grip.
Kinship. The king wanted both him and her dead, so he felt a connection to her.  And a great deal of lust.
Dammit. Wasn't there more to him than lust? He might be a Beast, but he still had a soul.  He delved deeper into his heart till he reached an inner core of truth.
The Beast needed to be loved.
Hungry men could dream of food, thirsty men might dream of wine, but his soul was shriveling from a different kind of starvation.  How many years had it been since he'd touched someone?  Since someone had touched him?
His soul was starving.
Related Posts