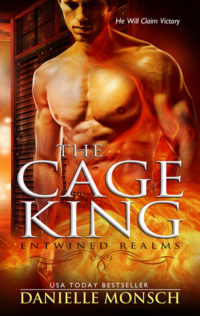 by
Danielle Monsch

Series:
Entwined Realms #2
Published by
Romantic Geek Publishing
,
Self Published
Genres:
Fantasy
Pages:
134
Format:
eBook



This post contains affiliate links you can use to purchase the book. If you buy the book using that link, I will receive a small commission from the sale.
USA Today Bestselling author Danielle Monsch invites you back to the magic of the Entwined Realms with The Cage King. Esh is the undisputed ruler of the underground fight scene, but five years ago a decision not to fight cost him his best friend and the woman he loves. Now Nalah is back, a member of the Guild and in need of his help to get into the greatest cage match in the New Realms. Oh he'll help, but it will be on his terms, and Nalah had better get ready because when Esh fights for something, he always wins.
---
Esh, Nalah and her brother Jac were three street kids who banded together and created their own family. They took care of each other and protected each other.
But Five years ago Nalah walked away from Esh. He refused to fight in her brother's place and her brother lost his life. Esh let her down and she walked away from him and was found by The Guild. They trained her to build mental shields and helped her control her abilities.
Now The Guild needs her to find one of the artifacts stolen from their vault. And in order for her to find it, she needs the help of the one man who she never expected to see again. Nalah needs to get to the underground fights and the Guild wants her to get Esh, The Cage King, to accept his invitation to the Underground Tour and take Nalah with him.
Esh knows that Nalah will find a way to get there without him, but she walked away from him once. He's not allowing her to walk away again. Especially not into a dangerous situation without him to protect her. He'll help the Guild recover their missing magic treasure and the only thing he expects is return is Nalah. She was everything to him…she still is and he won't lose her again.
THOUGHTS:
I love the Entwined Realms series. The Cage King is like a magical Mission Impossible. The Guild always seems to be two steps ahead and even though it seems like things are going wrong, they end up exactly where the Guild wanted them to be.
Nalah and Esh are definitely a couple meant to be together, and although it is heartbreaking that Jac had to died, I think Nalah and Esh needed that time apart in order to grow and to appreciate each other. They wouldn't have gotten to the place they ended if they had just continued together from kids to teens to adults.
We can understand Nalah pain and heartbreak at losing her brother and her feeling that Esh could have done something to prevent it and she feels he failed her.  Then we see the same scenario with Esh's view, trying to protect Nalah and Jac, losing Jac and Nalah disappearing and him not knowing what happened to her and it is heartbreaker to see what Esh went through.  Nalah (and the readers) are given a good shake up after Esh has been portrayed as being to blame for everything.
Although this is only a novella, it is all part of the build up of the items stolen from the Guild and all the baddies who are trying to get their hands on everything.
Great series. Great characters. Can't wait to read more.
---
Favorite Scene:
Those gorgeous dark-brown eyes were wide with surprise as he rolled her under him. No reason why they should be. He told her this was where she was going to be for the duration of the Tour.
"Esh," she started, and in response he pushed his hips against her pelvis, rubbing hard against her.
Her mouth parted. A long, deep breath met the movement while her eyes went half-lidded. Her hands went to his shoulders, her fingers half digging into the muscle, her arms both pulling him closer and pushing him away.
His Nalah was conflicted? Well, he was going to put an end to that real quick. By the end of the Tour she was going to be back in his bed and standing by his side, where she belonged now, and where she'd belonged these last five years before she'd run away.
To the Guild. Of all fucking people, she had gotten involved with the Guild. He growled, the need to mark her as his and not theirs growing in him, and he lowered his mouth to her throat.
She panted and moaned as his lips and teeth ravaged the sensitive skin below her ear, the sounds tightening his belly and ratcheting up his arousal. He wanted her to make those sounds all night, he wanted her hoarse tomorrow and embarrassed because everyone would give her a knowing look each time she spoke. He sucked the dark skin into his mouth, wishing the small bruise would show.
How had he lived without this these last years? She even smelled the same, summer nights on the beach. He told her that after their first kiss, and she laughed, saying they'd never been near the ocean in their lives.
Didn't matter. That was what she reminded him of. Her scent was always a mix of citrus and salt where her eyes and skin glowed under moonlight. She was wondrous, his escape from a shitty life, and always had been. Her eyes alight with pride as he fought in the ring, making him a hero and a warrior instead of a thug. Or how she never stopped teaching him or acted like he was too stupid to be bothered with.
He nipped her, a little harder, teeth a little deeper into her velvety skin, and her answering moan had his cock beating against the zipper of his jeans, demanding to be let out.
"Esh, let go," she whispered, those long fingers still digging into his upper arms.
She wasn't saying anything he wanted to hear, so he concentrated on licking the tang from her skin and listening to that tiny hitch in her breathing.
"Warned you." And before his brain processed, Nalah shifted, using her leg to dislodge him while those fingers twisted his body and had him on the floor.
She got off the bed and now stood above him, hip cocked to the side and fists on them, her eyes sparking in an all-too-familiar way, one that used to mean he was sleeping on the cough that night. "Damn, woman, who taught you that?"
"Who do you think? I might not be a warrior, but do you think I'd let myself be totally vulnerable?"
She was vulnerable. Any of Beylor's men could have her on her back with either a sword in her belly or them crawling on top of her in five seconds flat. But right now, with her foot that close to his balls, he wasn't going to point that out. Instead he rolled and got to his feet, watching her watch him the entire time.
There was appreciation mixed with the earlier anger, the way she followed the bunching of the muscles in his thighs and his arms. Nalah wasn't immune to him any more than her was to her. "Why'd you stop me?"
"Again, why do you think? I'm not here to be your personal amusement. Already told you."
He snorted. "When have you ever been that? If that's all I considered you good for, do you think I'd be here?"
That stopped her, her mouth closing, her face scrunching up in a V of confusion. She collapsed on the nearest chair, her arm draped across the table. "You and I need a little clearing of the air. Cards on the table?"
Yeah, that didn't promise a good time. He shrugged, going to sit across from her.
She waited until he was settled before she began. "Why did you agree to do this?"
Talk about denial. He met her gaze, held it, until she was near fidgeting but still didn't look away. "You aren't stupid. You know why. I'm not changed."
At that, Nalah did look away, out a window that overlooked the nearby forest. "It's been five year," she said, her voice as low as he'd ever heard from her.
"So? Fuck does five years mean? You're it for me, always have been. Knew it as soon as you looked at me with those big brown eyes and I told you so back then. Told you the same before we came here, though you wanted to pretend that wasn't what it meant. If it won't change in fifty years. why do you think five years is some magic number?"
She swallowed the movement doing little to hide the slight quiver of her chin. "'Cause I haven't been around."
He snorted. "Yeah, like that changes shit."
Related Posts