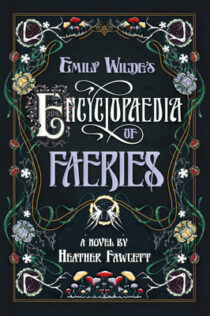 Emily Wilde's Encyclopaedia of Faeries (Emily Wilde, #1)
by
Heather Fawcett

Series:
Emily Wilde #1
Published by
Del Rey Books
on January 10, 2023
Genres:
Fantasy
Pages:
336
Format:
eBook
Source:
Netgalley



I received this book for free from Netgalley in exchange for an honest review. This does not affect my opinion of the book or the content of my review.
This post contains affiliate links you can use to purchase the book. If you buy the book using that link, I will receive a small commission from the sale.
A curmudgeonly professor journeys to a small town in the far north to study faerie folklore and discovers dark fae magic, friendship, and love, in this heartwarming and enchanting fantasy.Cambridge professor Emily Wilde is good at many things: She is the foremost expert on the study of faeries. She is a genius scholar and a meticulous researcher who is writing the world's first encyclopaedia of faerie lore. But Emily Wilde is not good at people. She could never make small talk at a party--or even get invited to one. And she prefers the company of her books, her dog, Shadow, and the Fair Folk to other people.
So when she arrives in the hardscrabble village of Hrafnsvik, Emily has no intention of befriending the gruff townsfolk. Nor does she care to spend time with another new arrival: her dashing and insufferably handsome academic rival Wendell Bambleby, who manages to charm the townsfolk, get in the middle of Emily's research, and utterly confound and frustrate her.
But as Emily gets closer and closer to uncovering the secrets of the Hidden Ones--the most elusive of all faeries--lurking in the shadowy forest outside the town, she also finds herself on the trail of another mystery: Who is Wendell Bambleby, and what does he really want? To find the answer, she'll have to unlock the greatest mystery of all--her own heart.
---
Clever story and interesting twist on living in a world with faeries.
Emily Wilde is a Cambridge scholar who is cataloging the various types of Faeries and is planning on publishing an encyclopaedia for educational pursuits. She has just arrived at the remote village of Hrafnsvik, Ljosland in a last attempt to locate the Hidden Ones for a final chapter in her book. Emily needs to interview the people of the village and note down the local stories of their interactions with the various faeries and see if she can glean any leads. But while Emily is very scholarly, she isn't very good with people. She has made progress making friends with a brownie that she has named Poe.
Emily has barely gotten unpacked when she is surprised by the arrival of her fellow professor Wendell Brambleby and his students. Wendell has a proposition, he will help Emily finish her research on the encylopaedia, if she will co-write a paper with him to present at the next scholars conference. Wendell has gotten himself into a bit of a pickle since he might have forged a bit…okay, most of the facts in his last paper and he fears that his funding might dry up. Putting Emily and her pristine reputation on a paper with him will help elevate Wendell back into the good graces of the patrons.
Wendell Brambleby oozes charm. He makes friends everywhere he goes and usually always manages to find someone to do his work for him. He is absolutely lazy but Emily has to admit that Brambleby is probably the closest thing to a friend that she has, so she agrees. She will have to wait and see if that is the worse decision she has ever made.
Thoughts:
It is a clever worldbuilding where everyone knows that the different faeries exist but they are still hard to find. They also aren't all adorable. In fact, when Emily arrives in Hrafnsvik, it appears that the more secluded Courtly Fae have started kidnapping people out of the local villages. Now this is something that happens once or twice a generation but recently it has been a bit of a plague with many of their young, and mostly handsome men and women disappearing into the woods.
The writing was very descriptive. I don't know the technical terms but it had a Jane Eyre feel to it. Because of that, it was a bit hard to get into at first, added to that Emily is very socially awkward and hard to make a connection with. It was actually the arrival of Wendell and his acceptance of Emily's view of the world that made her more likeable.   At one point, she wants to weigh the pros and cons before accepting Wendell's offer and asks if Wendell expected her to immediately jump for joy, and his response was along the lines of, if you had, I would have asked what you had done to the real Emily. So these two co-workers are on absolutely opposite sides of the spectrum with Brambleby's gregarious nature yet lazy attitude and sloppy ethics while Emily is all scientific ethics but no social grace. Yet, they understand that they are each the closest thing to a true friend that either of them has. We also find that Emily is convinced that part of Wendell's charming air is the fact that he is probably part-faerie himself. She just isn't so focused on it that she needs to prove it nor does that fact concern her and her feelings for Wendell.
We do see a small change in Emily during her time in the Village as she starts to be accepted by the Villagers. Our scholarly Emily knows all about the good and the bad of the Fae but she never actually steps in to stop the wrongs being done to the humans. They say, you know how to stop this and her first thought is, well, in theory. But Emily comes to realize that she doesn't have to sit back and just watch things happen to the people around her and she slowly begins to help the villagers with the problems created by the Faeries, especially the more dangerous Court fae and she drags a reluctant Wendell into her plans. When one of her new friends gets enchanted and kidnapped by the Winter Court, Emily insists that they try and get her back, while Wendell tries to convince her that it is easier to just pretend to look for her since she is probably lost for good.
It took me awhile to get into this story, but once Emily starts to accept her place as part of the Village and she tries to outsmart the Court Fae, the story gets more exciting. I was almost disappointed when it ended after it had just gotten so interesting.
Related Posts