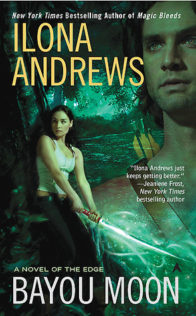 Bayou Moon (The Edge, #2)
by
Ilona Andrews

Series:
The Edge #2
Published by
Ace
on September 28, 2010
Genres:
Fantasy
Pages:
447
Format:
Audiobook
Narrator:
Renee Raudman



This post contains affiliate links you can use to purchase the book. If you buy the book using that link, I will receive a small commission from the sale.
The Edge lies between worlds, on the border between the Broken, where people shop at Walmart and magic is a fairytale–and the Weird, where blueblood aristocrats rule, changelings roam, and the strength of your magic can change your destiny…
Cerise Mar and her unruly clan are cash poor but land rich, claiming a large swathe of the Mire, the Edge swamplands between the state of Louisiana and the Weird. When her parents vanish, her clan's long-time rivals are suspect number one.
But all is not as it seems. Two nations of the Weird are waging a cold war fought by feint and espionage, and their conflict is about to spill over into the Edge—and Cerise's life . William, a changeling soldier who left behind the politics of the Weird, has been forced back into service to track down a rival nation's spymaster.
When William's and Cerise's missions lead them to cross paths, sparks fly—but they'll have to work together if they want to succeed…and survive.
---
Good story and quickly grabbed my interest.
William is a wolf changeling.   Changelings in the Weird are considered animals and women who give birth to them are allowed to give up their babies to the State. They are then raised (and trained) at Hawk Academy which is part prison/part army barracks. William performed many jobs for the good of Adrianglia but he "retired" to the Edge which is located between the Broken and the Weird. But his old boss has shown up with one more job. They need him to go into the swamps known as the Mire and find Spider, who is the mutant leader of the Hand.
William wouldn't be bothered to a job ever again, but Spider was responsible for the death of several children under William's watch and he longs for payback.
The problem is that finding your way around the swamp without a guide would definitely leave you lost, and probably dead. William comes across Cerese in his travel. She won't give him any information as to why she is traveling around the Mire by herself and that's find with him. He just needs to find a way to his contact deep inside the swamp.
But once William realizes that Cerese Mar might just be who he needs to lead him to Spider, he will do whatever he can to get Cerese to take him with her. Except William isn't known for his charm with the ladies. Charms wasn't really on the list of things taught at Hawk Academy along with knives and survival, and as a wolf, William sometimes has problems grasping subtle human cues.
The one thing that William can offer is his deadly skills as the Mar family faces off against their hillbilly rivals, the Sharille family, who might be responsible for handing Cerese's parents over to the Hand and who are trying to steal Mar land. Of course, who would want to steal this crappy swamp land is beyond William's comprehension.
The trip through the swamp won't be an easy one but with Cerese by his side, it certainly will be interesting.
It was four years since I had listened to Book 1 of the Edge series, so I didn't remember William except that there was another man trying to court Rose as well as Declan.
William is very grumpy, especially remembering how Declan stole Rose from him. You feel pretty bad for William. It appears that changelings are widely considered dangerous and crazy. Although William would like a family of his own (his parents abandoned him as a baby), he has no charm and once women find out he's a changeling, they all run away quickly. Once Cerese washes off her stinky hobo disguise and William realizes that she is pretty and smells nice and even though Cerese eventually comes to like William too, he doesn't understand subtle courting and he doesn't pick up on cues that Cerese gives that she is interested and he just keeps getting more frustrated the more he likes her. Poor William.
Like all Ilona Andrews stories I got sucked right in and decided it was a good day to clean and puppy-proof my office so I could keep listening. I like Renee Raudman's narrations. Last time I was distracted since she also narrates the Kate Daniels series, but it has been awhile since I finished that series and had less problem staying with this world building.
---
Favorite Scene:
When William first meets Cerese, she is traveling alone and looks and smells like a homeless person so that no one bothers her.
Sunrise was due in half an hour and the sky and the water glowed the pale grey of a worn out dime. William inhaled deeply sampling the scents on his tongue.  The feeble stirring of the air that passed for wind in this place smelled of algae, fish and mud. His senses regained their sharpness in the Edge and the stench rising the mess of muck, rot and water, combined with the heat, made him want to bite someone just to let out some frustration. The constant movement of the boat grated down his nerves. Wolves were meant to walk on firm ground not on this shell of fiberglass or whatever the hell it was that insisted on swaying and rocking every time one of the ropies gulped some air. Unfortunately, firm ground was in short supply. The shore was a soup of mud and water. When they stopped for the night and he stepped onto what seemed like solid ground, his boots had sunk in up to the ankle. He spent the night in the boat next to the Spaghetti Girl.
William glanced at the hobo girl. She sat across from him, huddled in a clump. Her stench had gotten worse overnight, probably from the dampness. Another night like the last one and he might snap and dunk her into that river just to clear the air.
She saw him looking. Dark eyes regarded him with slight scorn. William leaned forward and pointed at the river. "I don't know why you rolled in spaghetti sauce," he said in a confidential voice, "I don't really care, but that water over there won't hurt you. Try washing it off."
She stuck her tongue out.
"Maybe after you're clean," he said.
Her eyes widened. She stared at him for a long moment. A little crazy spark lit up in her dark irises. She raised her finger, licked it, and rubbed some dirt off her forehead.
Now what?
The girl showed him her stained finger and reached toward him slowly, aiming for his face.
"No!" William said. "Bad hobo."
The finger kept coming closer. "You touch me, I'll break it off."
Something splashed ahead. Both of them looked at the river.
Related Posts