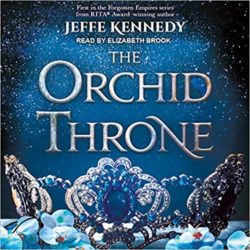 The Orchid Throne (Forgotten Empires)
by
Jeffe Kennedy
,
Elizabeth Brook

Series:
Forgotten Empires #1
Published by
Tantor Audio
on September 24, 2019
Genres:
Fantasy
Format:
Audiobook
Narrator:
Elizabeth Brook



I received this book for free from in exchange for an honest review. This does not affect my opinion of the book or the content of my review.
This post contains affiliate links you can use to purchase the book. If you buy the book using that link, I will receive a small commission from the sale.
"The Orchid Throne is a captivating and sensual fantasy romance you won't want to miss! High stakes. Remarkable worldbuilding. Unique and compelling characters. A slow-burn romance that'll make you combust." — Amanda Bouchet, USA Today bestselling author of The Kingmaker Chronicles

"The Orchid Throne captures from the first page and doesn't let go as Jeffe Kennedy weaves a timeless tale of love and survival amidst a lush backdrop teeming greed and deceit. You will fall for Lia and Con and root for them with every breath you take. This is a book that will linger in your thoughts for a very long time."- Darynda Jones, New York Times bestselling author

Welcome to the world of Forgotten Empires from award winning author Jeffe Kennedy that begins with The Orchid Throne.

A PRISONER OF FATE

As Queen of the island kingdom of Calanthe, Euthalia will do anything to keep her people free—and her secrets safe—from the mad tyrant who rules the mainland. Guided by a magic ring of her father's, Lia plays the political game with the cronies the emperor sends to her island. In her heart, she knows that it's up to her to save herself from her fate as the emperor's bride. But in her dreams, she sees a man, one with the power to build a better world—a man whose spirit is as strong, and whose passion is as fierce as her own…

A PRINCE AMONG MEN

Conrí, former Crown Prince of Oriel, has built an army to overthrow the emperor. But he needs the fabled Abiding Ring to succeed. The ring that Euthalia holds so dear to her heart. When the two banished rulers meet face to face, neither can deny the flames of rebellion that flicker in their eyes—nor the fires of desire that draw them together. But in this broken world of shattered kingdoms, can they ever really trust each other? Can their fiery alliance defeat the shadows of evil that threaten to engulf their hearts and souls?
---
DNF – So much possibility but I just couldn't take the pacing of the story.
There was so much possibility in this story. Even now I think, a tyrant who managed a coup and destroyed all the royal houses, a virgin Queen on an island whose father promised her to the tyrant to spare their lands and one who has managed to keep herself apart (so far) and an uprising of slaves brought about by the surviving son of one of those royal houses who wouldn't submit and was sent to work in the mines…these two band together to destroy the tyrant.   Ooooo…gimme, gimme.
I could tell you that I liked Lia and her quiet and careful plotting to save her people and her lands from the tyrant, finding loopholes to keep him out her bed all the while pretending to be the devoted fiance. And I could tell you about Conri who is brave and strong, the slave who used his strength from years in the mine and the tyrant's own special weapon, which he and his men and women have been mining for him, to bring about a revolt, slowly taking the lands back from the tyrant.  What I can't tell you is that I was enjoying the telling of this tale.
I should be all over this but the pacing is so, so slow it is unbearable.  I had several hours to devote to starting the audiobook, since I just couldn't get to my ebook copy, but even after hours of listening, I simply have no desire to keep going.   Every time I turned it off, I thought about the idea of the story and turn it back on hoping that the pace would pick up, and it just wasn't happening.
I had read some reviews of the story which indicated that the pacing was an issue but also declaring that if you can get passed that, the story was really, really good. Unfortunately, I just have too many audiobooks backing up already to keep forcing myself to listen, and I was forcing myself to continue which is never a good sign for reviewing a book.
I am mostly disappointed that this is my second Jeffe Kennedy story that I have walked away from, the first was a short story in an anthology and I had thought it was simply because it was part of a series I hadn't read and wasn't familiar enough with the characters that I couldn't get into it.   In reading The Orchid Throne, I had hoped to get a chance to see why everyone is so excited about this author, but again, it was all promise and a bad delivery.
Related Posts