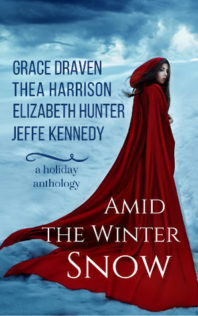 Amid the Winter Snow
by
Elizabeth Hunter
,
Grace Draven
,
Jeffe Kennedy
,
Thea Harrison

Published by
Self-Published
on December 12th 2017
Genres:
Holiday
,
Paranormal/Urban Fantasy
Format:
eBook



I received this book for free from in exchange for an honest review. This does not affect my opinion of the book or the content of my review.
This post contains affiliate links you can use to purchase the book. If you buy the book using that link, I will receive a small commission from the sale.
As the snows fall and hearths burn, four stories of Midwinter beginnings prove that love can fight its way through the darkest night…

THE DARKEST MIDNIGHT, by Grace Draven
The mark Jahna Ulfrida was born with has made her a target of the cruel and idle all her life. During the long, crowded festivities of Deyalda, there's nowhere to escape. Until a handsome stranger promises to teach her to save herself…

THE CHOSEN, by Thea Harrison
In her visions, Lily sees two men fighting for her tiny country's allegiance: the wolf and the tiger, each deadly, each cunning. One will bring Ys chaos and death, one a gentler path—but she's destined to love whichever she chooses. The Midwinter masque is upon them, and the wolf is at her door…

THE STORM, by Elizabeth Hunter
When her soul mate died in a massacre of the half-angelic Irin people, Renata thought she'd never feel happiness again. She's retreated to her childhood home in the snowy Dolomites to hide and remember the hurt—until determined, irrepressible Maxim arrives to insist on joy, too. And before she can throw him out, they discover a secret the Irin have to know…

THE SNOWS OF WINDROVEN, by Jeffe Kennedy
As a blizzard batters the mountain keep of Windroven, Ami, Queen of Avondligh of the Twelve Kingdoms, and her unofficial consort Ash face their own storm. Ash knows a scarred, jumpy ex-convict isn't the companion his queen needs. But when a surprise attack confines them together in their isolated sanctuary, the feast of Midwinter might tempt even Ash into childlike hope
---
I was given a copy of this anthology by Thea Harrison. I do love anything from Thea Harrison. My problem with this anthology is that I had a problem getting into the other stories.
Thea Harrison's contribution in this anthology is The Chosen, which is part of her Elder Races world, but is set in the otherland. It also left us with a few vague and open plot points so this could be a standalone or the beginning of a new spinoff.
While the description leads us to believe that The Chosen will need to decide between two men, the Tiger or the Wolf.   We really only spend time with one while the other sent her a few charming letters but this truly isn't going to be a story where people are Team Tiger or Team Wolf.
I liked Lily, who is of course the Chosen, although this isn't confessed right away.  She is brave and although she allows her friend to rule the Village, she does what needs to be done to protect her people.  She trusts Wulfe enough to go with him to his camp so she can see for herself what is going on and once satisfied, she just takes off and goes back to her people.  She didn't need to explain or ask for help.  She just goes.
Although there is supposed to be this big choice between suitors, Lily only refers to letter she receives from the other man. Wulfe is on Lily's land because it is between the two men's kingdoms and Wulfe explains that the tiger is about to start taking over the other kingdoms, and that he is using stealth rather than direct attacks because he is a coward.
This story ends before we actually meet the Tiger or before we get to any fighting so I hope there will be more to come on this.  My only confusion is why the Kingdom is called "Y".  Since I received a review copy, I thought at first that this was a typo of the Y was standing for something or didn't convert correctly, but apparently, the kingdom is called Y.   Why?
I must confess that this is the only story in the anthology that I finished. I tried reading the other stories, but I just couldn't get into them. When an author is writing a short story which is part of another series, it either caters to fans or it is written to drawn in new readers. It is the rare story which can do both. As I was unfamiliar with the other authors and their worldbuilding, I found I could not focus on their stories and more than one expected you to know what was going on.
Related Posts