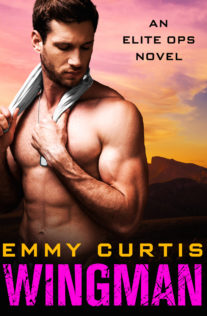 Wingman (Elite Ops #2)
by
Emmy Curtis
Series:
Elite Ops #2
Published by
Grand Central Publishing / Forever Yours
on November 7th 2017
Genres:
Action
,
Military
Pages:
304
Format:
eBook



I received this book for free from in exchange for an honest review. This does not affect my opinion of the book or the content of my review.
This post contains affiliate links you can use to purchase the book. If you buy the book using that link, I will receive a small commission from the sale.
The higher the risk, the harder the fall.

Maj. Missy Malden loves her job, her plane, and its pilot-not that she could ever let him know. He's way too cocky, way too sexy, and in their job, any distraction is way too dangerous. But when a training exercise spirals out of control, Missy's in the hot seat, and Conrad's the only one who can bail her out . . .

Lt. Col. Francis Conrad has always valued Missy too much as his weapons specialist to ever tell her how he really feels. But now that she's been accused of treason, he can't sit back and let her fly solo. To keep her safe, he'll put everything on the line-his career, his heart, and even his life.
---
An enjoyable story, but you MUST read Book 1, Aces Wild, first. This second book is happening at the same time and the happenings of Book 1 correlate to this story.
Thankfully, Book 1, Wild Aces, was enjoyable because you have to go read that before you start Wingman. There is a big conspiracy going on at the Red Flag competition where all the best pilots in the world are invited to come compete against each other for fun, and these pilots find themselves unwitingly dragged into it.
This second book focuses on Missy and Conrad. Conrad is the pilot and Missy handles weapons and navigations. Missy and Conrad are both sexually attracted to each other and both know it is a very big no-no to sleep with your fellow officer so each handles the attraction very differently. Conrad pretends that he is sleeping with a different lady almost every night, inventing stewardesses and nurses and waitresses and all the naughty tales he tells Missy why he can't come hang out with her and the other pilots. Conrad doesn't want to spend time outside of the plane with Missy and also doesn't ask Missy questions about herself because he doesn't want to create a deeper attachment to her. This is a big problem later in the story.
Missy is going to request a transfer after the Red Flag competition because she knows her attraction to Conrad is a problem and she won't get anywhere with her own career if she stays in the shadow of the man she can't have. When she finally has a chance to tell Conrad about her transfer request, she knows she has made the right choice, because Conrad is shocked that Missy would leave him before he is ready to retire or move on. He expected her to be there for him for his career.
At this turmoil in their relationship, we have the happenings of book 1 and the issues created by Missy's friend Eleanor overhearing a conversation she shouldn't have. The conspirators believe that Eleanor shared the information on this convesation with Missy so they point fingers at Missy for Eleanore's plane crashing (see Book 1) and take her into custody. Conrad is frantic to help help Missy, but when he is questioned about what he really knows about Missy and her life before joining the air force, he realized what a selfish ass he has been and goes about trying to get Missy freed of the charges and to make up for his assedness.
In Wild Aces, I felt like the conspiracy issue wasn't explained enough, and in Wingman, we get more information about what is going on but it is hard to piece all of this together unless you are reading both books back to back (and I am certain the next book as well) since they are all happening at the same time. Some of what is happening in Wingman was all a big question mark in Wild Aces. It is very brave of the author to think we can all keep up with the little details months and months later.
Honestly, I didn't remember every tiny detail, but I did remember some things, like the men Eleanor and Missy saw in their hanger and Eleanor noticing that Missy and Conrad where not at their post when they were supposed to be watching over the planes one night before her plane crash, so there was a little "oh, yeah" on my part here and there throughout the story.
I enjoyed this story, almost as much as Wild Aces, but mostly because of Conrad and Missy. The problem is that it is a lot for the author to expect the audience to be able to piece together these two stories with a half a year separating the release dates and even worse when that third book won't be out until later this year, a year after the first book was released. At this point, I might suggest waiting it out for Free Fall to be released and then just read them back to back.
---
Favorite Scene:
Eleanor was sitting in the one armchair in the room, with her PC on her lap. "Help youself to a cup of coffee." She nodded toward the pot on top of the small fridge.
Missy dumped her bag on her bed and went to pour the coffee.
"Oh my god, you totally got laid," Eleanor gasped, closing her laptop.
"What? How do…Why would you say that?" Missing stumbled unconvincingly over her words.
"You just sashayed across the room. And unless you're doing it for my benefit…"
Missy went on the offensive. "Well, what are you doing up so early, wearing the same clothes–" she broke off. "Oh my God, so did you!"
They stared at each other for a second, then burst out laughing. Missy raised her coffee cup in a salute.
"Here's to deepening internatinal relations with our NATO partners," Eleanor said with a grin, lifting her own cup in response.
"Really? With a foreign national? You rebel!"
Eleanor just raised her eyebrows lasciviously and tucked her feet under her. "Are you going to tell Conrad?" she asked.
Missy winced.
"Oh my God!" Eleanor shouted before clapping her hand over her mouth. "Seriously? That's …I don't kow what that is. Wonderful? Career-ending?"
Missy took a deep breath. "Closure. That's what it is."
"Are you sure? Are you still requesting your transfer?" she asked.
"Now more than ever," Missy replied firmly. She was completely convinced that she'd made the right decision. Getting out from under Conrad's career path and forging her own and doing it with at least three states between them sounded like a good plan to her.
"What does Conrad think?"
Missy took a deep breath, trying to surpress the rage she'd felt earlier. "He feels that I should stay with him until he's reached his own personal career goals."
Eleanor nodded thoughtfully.
Missing was a little pissed that she wasn't more outraged on her behalf.
"I can't honestly say I blame him. You're the best weapons officer in his squadron. You read his mind, can anticpate his every operational need, and if I flew an F-15 and needed something in the backseat, I'd want to hold onto you as long as possible."
"No. I'm sorry. You can't bring your reason and stupid pilot-logic to a personal grudge."
"You're right. He's an arrogant prick, and I hate him. But all pilots are, you know." Eleanor shrugged and gazed at her cup of coffee.
"You're not." Missy said.
"Yes, I am. You just haven't flown with me. I'm the worse, but I have to be. Otherwise those flyboys will stomp all over my mad skills, even though I'm a much better pilot than they are." she grinned.
"You are right–you are an arrogant prick."
Silence fell between them for a second. Missy hoped they'd have time to go out on the town while they were there. Eleanor was stationed near DC–which was fairly close to Langley Air Force Base, where missy was stationed–but it was hard to find the time to catch up when they were working all the time and exhausted on their days off. Flying every day took its toll.
Then she realized she hadn't been nearly as nosy as Eleanor had been. "So who made you do the walk of shame?"
Eleanor gave her a cat-who-ate-the-cream smile. "Have you seen that Typhoon with the traditional camo paint job?"
"No way! That's the most beautiful aircraft on the field. I even asked Conrad if he'd find out if the pilot was single."
"I bet he loved that!  Well, he is. At least, I assume he is." she frowned for a split second.
Missy wanted to reassure her, but experience had told her that there was a certain type of pilot who thought they could have every woman who had a pulse. Her heart lurched. Conrad was one of those, wasn't he?
Related Posts