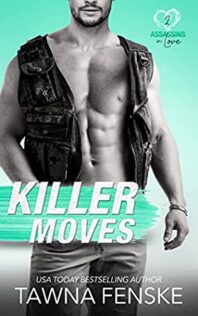 Killer Moves (Assassins in Love, #2)
by
Tawna Fenske

Series:
Assassins in Love #2
on May 12, 2022
Genres:
Action
Pages:
252
Format:
eBook
Source:
Netgalley


I received this book for free from Netgalley in exchange for an honest review. This does not affect my opinion of the book or the content of my review.
This post contains affiliate links you can use to purchase the book. If you buy the book using that link, I will receive a small commission from the sale.
He's a hacker. A high-tech hitman. And now…a daddy?
When Matteo skips prison with a clean record, his conscience is anything but. Guilt hits him like a sack of marbles when he spots the woman he jilted. The clincher? A child who looks like him.
Renee's son may have Matteo's eyes, but she won't say who fathered AJ. She's also mum on what sent her into hiding or why guys with guns are after her. But when Matteo blocks an attack, he persuades Renee to appoint him their protector.
Keeping them safe means faking they're a normal family road tripping with s'mores and snuggles and possibly a sniper rifle. Toss in a potty-training toddler and temptation from the woman he still craves, and it's officially Matteo's toughest mission.
But with danger nipping their heels, the only way to save his family may be to leave their lives for good.
---
Who doesn't love a romance that includes an adorable kid?
In the prequel story, Killer Looks, we see Matteo distracted by the fact that he left Renee in the dead on night with no goodbye. He realizes how strong his feelings are for her and promises himself that he will go back to her and beg forgiveness after that job is complete, except Matteo is picked up by a corrupt cop and goes to prison. In Killer Insticts, Dante and Sebastian get Matteo released frim prison
In this story, Matteo freshly released goes to see his sister who runs a daycare for those women who need a shelter and protection from someone (witness protection, hiding from spouse, etc.). He is just greeting his sister when his ex-girlfriend, Renee (under an assumed name) walks in with her son AJ who looks surprisingly like Matteo
Renee is on the run from someone and she thinks she about to run again. she keeps seeing a man watching her. Mateo recognizes the signs and offers his protection to Renee and AJ. While Renee wants to tell him to take a flying leap, she know that Matteo is her best bet to protect her son so she agrees.
He gets her to his family's beach house but they have been found and they have to go on the run again. Matteo needs to keep them safe but he also needs to win Renee's trust again so hopefully she will confess to him that he is AJ's father. But when they are found again and Matteo disappears, will Renee believe that he has abandoned her again or does she trust that Matteo truly cares for them and will always have her back?
Being on the run adds an excitement to this story since we don't know who is after them or why? Is someone after Renee for something she did or are they using her to get to Matteo? Do they know Matteo is with them? It definitely kept you reading.
We also have the adorable AJ bringing a lightheartedness to the story. We know that Matteo spent much of his childhood helping to raise his younger sisters but Renee is so surprised how easily he steps in as a role model and helper with her son. She badly wants to trust him but a criminal father who was in and out of prison doesn't make her trust easily.
It was an interesting story although I have to complain about how flimsy the whole "send Matteo to prison/corrupt cop" storyline was.  Maybe we will get more in the third book.
I also have a weird side complaint. Renee's father was in and out of prison and so Renee was in and out of foster homes but a big deal is made of the shabby furniture handed down to her from her grandmother that Renee can't part with for sentimental reasons, so #1 – where was this furniture while she was in foster homes and her father was in prison, #2 – if she had a beloved grandmother who left her furniture, why didn't grandma take her in,  and #3 – how did this single mom with very little finances move this very, very heavy old furniture from house to house and while she was on the run?  I know it seems obscure but I am obsessed with this.  The furniture thing bothered me.
It does bring in characters from the ponderosa ranch series as a bonus for fans.
Related Posts