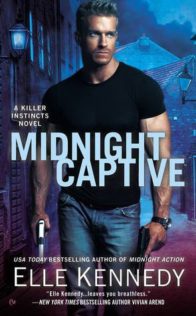 Midnight Captive (Killer Instincts, #6)
by
Elle Kennedy

Series:
Killer Instincts #5
Published by
Signet
on June 2nd 2015
Genres:
Action
,
Military
Pages:
368
Format:
eBook



I received this book for free from in exchange for an honest review. This does not affect my opinion of the book or the content of my review.
This post contains affiliate links you can use to purchase the book. If you buy the book using that link, I will receive a small commission from the sale.
---



[box style="rounded" border="full"]Sean Reilly thought he and his twin brother, Oliver, could walk away from their old life, but his old boss is holding his brother hostage, unless Sean will do one more job for him; and his boss's rival, is literally holding a gun the Bailey's head unless Sean betrays the man he knew all his life. Sean can't choose between his twin and the woman he loves. He's going to have to come up with something quick if he hopes to get them all out of there alive.[/box]
Sean and his brother, Oliver, just landed a job with Jim Morgan and his team. He's wanted in on Morgan's team for awhile, but he'll have to walk away to protect the men he now calls friends and still save his brother's life.
Sean and Ollie's father was part of an IRA military group known as The Irish Daggers, second only to the leader, Eamon "Rabbit" O'Hare. After their father's death, Sean and Ollie realized they really had no interest in fighting for their father's lost cause. They walked away and became well known information brokers.
Now, Rabbit wants Sean to break into the local bank and steal something which belongs to his rival, Ronan Flannery. There has been bad blood between Rabbit and Ronan for decades and they seem more interested in destroying each other than fighting for the cause. Rabbit is holding Oliver prisoner until Sean gets him what he wants.
But one of the hostages at the bank has emailed out a video of the bank robbers and one of Noelle's assassins, Bailey Jones, recognizes Sean. Even wearing a mask and fatigues, there is no way Bailey would miss Sean. Sean might make her crazy with is cavalier attitude toward the job, and there is the fact that he impersonated his brother and showed up at her hotel room for a night of steamy, hot sex, but there is no way Sean would be stupid enough to rob a bank.
Bailey hops on the next plane to Ireland and breaks into the bank herself to get some answers and to get Sean the hell out of there. Bailey and Sean make it out of the bank, but Flannery knows that Sean has his property. He wants it back and he wants Sean to help him destroy Rabbit. If he doesn't, Flannery will send one of his men to kill Bailey.
Sean needs to think fast if he wants to get them all out of there alive. If they make it that far, then his bigger hurdle will be to get Bailey to forgive him for pretending to be Oliver, but he won't apologize for what was the best night of his life.
THOUGHTS:
The only two problems I have with this story is: one, if you have access to an awesome, elite rescue team, why the hell are you quitting your job to keep them out of your problem and not asking for an employee discount to rescue your brother; and two, if Sean actually slept with the woman his brother is in love with, pretending to be Oliver, that would make him a big douche and knocks him down from a hero to a real bastard. We can only overlook this because we come to know that Sean has some serious feelings for Bailey, that Bailey has feelings for Sean and that she doesn't have any romantic feeling for Oliver outside of their close friendship. But on the flip side, the fact that Bailey knew from the beginning that that the man she had sex with was Sean and that she tortures him and allows him to think he is an awful person, does make her a bit of a bitch.
Aside from some minor plot issues, the storyline was a nail-biter. Sean and Oliver are being dragged back into their old life and in order for them all to make it out alive, they have to figure out a way to screw over two very dangerous men in such a way that they won't come after them. They can't just skip town since both have men have connections. They would simply hunt them down even if they had to wait to get to any one of the three of them. They would never be safe. As if there isn't enough problems, we also have a creepy henchman who has his eye on Bailey for a little raping fun. It's not just that he's evil, he's creep-me-out evil.
Romancewise, it was a bit frustrating. Sean was jealous of his brother since he wanted Bailey. Sean is unaware that although Oliver and Bailey clicked as friends, they never had any romantic spark.  That was how Bailey knew for sure that she was sleeping with Sean. One, Oliver wouldn't have come to her room for sex, and two, there was no spark when she and Oliver kissed, so burning up the sheets sex had to be Sean. But Oliver is the serious, dependable twin and Sean is the "we'll figure something out" twin and Bailey doesn't trust anyone without a plan. So have have Sean, who is guilt ridden, that he is hiding what he did with Bailey from his brother and from Bailey, and Bailey who knows that the great sex she has was with Sean, but since he lied to her and pretended to be Oliver, she won't let him off the hook and lets him torment himself with guilt. Both are definitely wrong on this, but the sexual tension between them is awesome.
This is a great series and I am interested to see where she is leading with Sullivan and Liam. Things are still uncomfortable between them since the kiss they shared. They are trying to get past it since they were great friends until their feelings started to get a little muddled up. Although Sullivan is a little more liberal with who he has sex with, Liam is from a large Irish-Catholic family. He's already feeling guilty about crossing the line with Sullivan. While Liam is from a large family, Sullivan is an orphan who was never important to anyone until his friendship with Liam. so he has no interest in messing of the most important relationship he's ever had no matter the attraction. I have never read a M/M romance before but I am working my way toward Quinn and Blay in the Black Dagger Brotherhood and hopefully this one. As part of these storylines, I am interest in seeing these gentlemen get their HEA although I don't believe that either will open me up to this new genre of romance.
Received an ARC from the publisher in exchange for an honest review.
---
Favorite Scene:
"You want me," he muttered into her lips without breaking their mouths apart.
Oh God, she did. She craved him as badly as she had last year. She'd known it was Sean the second she'd opened that hotel room door, but he'd kissed her before she could speak, and then he'd pulled back without revealing his true identity. Pretending he as his brother, and goddamn it, but she'd let him. She'd played along because after just one second, she'd been dying for him to kiss her again. She'd wanted to experience the kind of passion she'd only ever read about.
The same uncontrollable passion swept through her now, as Sean's tongue slicked against hers, drawing a desperate moan from her throat. She heard a soft rustling sound, realized his towel had dropped to the floor. He was naked, gloriously naked, and her hands moved of their own volition, roaming his rock-hard chest. He growled when her fingernails scraped one flat nipple, deepening the kiss as he backed her into the closet door. He rotated his hips and his erection brushed her belly, teasing the top of her mound.
Stop this. Now. No, not yet. She hadn't gotten her fill yet. Her eyes were squeezed shut but she didn't need them open to explore his warrior body. Her fingers ran over his hot flesh, encountering smooth planes and roped muscles, bumpy scars that reminded her of the violent life he led. Sean's teeth sank into her bottom lip, sending a jolt of excitement between her legs. She shamelessly rubbed up against him, sliding her tongue in his mouth as the kiss went from blistering hot to downright explosive. Stop. This.
Common sense prevailed, penetrating her foggy mind. She wrenched her mouth away and staggered backward. Her breath came out in unsteady pants. Every inch of her trembled, sizzled with unquenched need. Sean was breathing just at hard, lust burning in his green eyes, but when he spoke it was with unmistakable regret. "Goddamn it. I lose my bloody head when I'm around you."
His muscles flexed as he bent down to retrieve his towel. He hastily secured it around his waist, but the terry cloth couldn't hide his thick ridge of arousal. Bailey couldn't even muster up any anger toward him.
She'd challenged his restraint by provoking him, and it wasn't fair to blame him for losing control.
"You're right." She could barely hear her shaky voice over the thudding of her heart. "The attraction is there." Surprise flitted across his face. "I won't pretend it's not, okay" A sigh slipped out. "But I won't act on it either."
Sean met her eyes. "I'm sorry I pretend to be him. I truly am."
The earnest apology evoked a pang of guilt. It was wrong to let him apologize again. To let him think she'd been ignorant of what he'd done. But admitting that she'd been onto his charade from moment one…that meant admitting she'd wanted him that night. It meant revealing her weakness. Exposing herself to a man she'd never intended to let get close to her.
She'd worked so damn hard to become the strong, capable woman she was now, but Sean Reilly made her feel weak, not just with desire, but with the way he took control of every situation. Some women might like being bossed around, but Bailey wasn't one of them. Sean treated her like she couldn't take care of herself, and then he wondered why she resented him for it. "You're in love with Ollie. I get it." His voice rippled with anguish. "I'm a shit for putting you in this position. You pushed Ollie away because of what I did, and that's not right. What I did wasn't right."
Did he honestly believe she was in love with his brother? Bailey swallowed, searching his face, and realized that yes, he really did believe it. The need to correct him bit at her tongue, but she choked it back. Maybe it was better if he thought she loved Oliver. At least then he'd back off. Stop tempting her with…with everything. His potent masculinity, his seductive taunts, his addictive kisses.
Related Posts