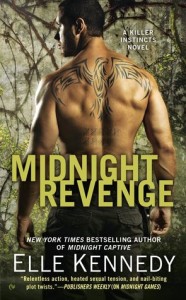 Midnight Revenge (Killer Instincts, #7)
by
Elle Kennedy

Series:
Killer Instincts #7
Published by
Signet
on February 2nd 2016
Genres:
Action
,
Military
Pages:
384
Format:
eBook


I received this book for free from in exchange for an honest review. This does not affect my opinion of the book or the content of my review.
This post contains affiliate links you can use to purchase the book. If you buy the book using that link, I will receive a small commission from the sale.
---
[box style="rounded" border="full"]I really enjoy this series. I was a little put off at the beginning by how close the storyline reflected another book that I read, which is going to happen now and again when you read the same type of story. After the start, this one did go off in its own direction. Derek isn't a character who is going to be overly romantic, but there was plenty of action to balance that out. [/box]
It has been several months since Sullivan Port was abducted in Derek Pratt's place at the end of Midnight Captive. There was a bounty on D's head and Sully made the mistake of using D's name. The man who is keeping him has a grudge against D and will stop at nothing to get Sully to share D's location. Nine years ago, just before D went to work for Jim, he was undercover trying to take down a sex slaver. A Senator's daughter was abducted on vacation in Mexico and sold overseas. D's job was to learn the location where she was sold. Before he could complete his mission, he made a decision and killed the slaver's son and the mission failed. Now this man wants nothing more than to make D pay for his "crime."
Jim Morgan and his team have been working tirelessly for the last six months trying to locate who is holding Sullivan and if he is even still alive. Liam is getting frantic to find his best friend and his desperation is making him sloppy. That is how he ends up in the clinic of Dr. Sofia Amaro, the team's unofficial doctor, with a gunshot wound. That is also how, while Liam is resting, Sofia and D end up going to her house and having sex.
Two months later, Sofia is looking for D. She has something that she needs to tell him in person since a text of I'm pregnant just seems inappropriate. But D just left the compound after getting a tip about where he can find Sully. D wants to handle this alone, but Liam doesn't believe his protests that his disappearing has nothing to do with Sullivan. So the man who likes to work alone, now has Liam, Sofia and the rookie hanging around him and looking for an explanation. But D doesn't want to tell them that his only plan seems to be to exchange himself for Sullivan. D knows Mendez has been waiting 9 years to get his revenge on D and he won't let Derek go.
D tries to be a heartless bastard, but he won't let Sully suffer in his place and facing Mendez and his army is a lot less scary than facing Sofia and the thought of fatherhood.
THOUGHTS:
I really like Elle Kennedy's Killer Instinct crew, but I had a moment of déjà vu when I started this book. Derek Pratt, better known a D, brought Liam Macgregor into the clinic of Dr. Sofia Amaro, who the guys always go to when they are injured. While giving Liam a chance to rest, Sofia and D head over to Sofia's house (shack) nearby and have sex to scratch an itch. You do have to give it to D for being succinct and to the point with his liaisons. She said yes, he turned her around, pushed her up against the counter, wham, bam and a "You good?" then he was gone. Turns out that even thought Sofia is on the pill and D used a condom, she still gets pregnant but if there was any character who would have sperm that would rip through a condom, rip an egg out of an ovary and fertilize it, it would belong to Derek Pratt.
I had a moment of didn't we just do this storyline, the one-time, one-night, knock up the doc who sews us up story plot, and then I realized, that it was the same storyline of Maya Banks Forged in Steele from her KGI series. Common story plots are the downfall of having a favorite genre. After this basic plot set up, Midnight Revenge does go off and do its own thing, mostly. Both stories end up with the doc in the hands of a bad, bad man but while the KGI series had her being abducted because the bad man needed a doctor, in Midnight Revenge Sofia walked her ass right in the line of fire like a ditsy bimbo when in other respects she was smart, intelligent woman. Maybe you can call it hormones, but her lack of judgment seemed very out of character.
Now the similarities in the storylines does not mean there was anything wrong with either story. They were both good and each involved a different cast of characters which changed up the story.
We learn about Derek's horrific childhood and the things he has done since that have all made him the closed off bastard that we have seen him to be. Sofia is the only one who takes the time to break down D's defenses and teach him that there is more to life. It was a good story even thought neither character was very lovey-dovey.
I had also forgotten about the Sully storyline where he was abducted in D's place at the end of Midnight Captive. He is held and tortured for six months before D is able to locate him. Mr. Happy-go-lucky Sully does not come out well at the end of this and after six months of doing nothing but worrying about his friend and spending day and night hunting for some lead, I feel bad because Liam is all but pushed to the side.  All I can say is these two better be the next book in this series.
Received an ARC from the publisher in exchange for an honest review.
---
Favorite scene:
I couldn't find a good scene to share. The good scenes between Sofia and D were overly sexual (which I try not to share here), and several others, including Sullivan reuniting with the team, gave too much away. 🙁
Related Posts