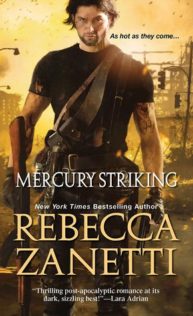 Mercury Striking (Scorpius Syndrome, #1)
by
Rebecca Zanetti

Series:
The Scorpius Syndrome #1
Published by
Zebra
on January 26th 2016
Genres:
Dystopian
,
Military
Pages:
384
Format:
eBook


I received this book for free from in exchange for an honest review. This does not affect my opinion of the book or the content of my review.
This post contains affiliate links you can use to purchase the book. If you buy the book using that link, I will receive a small commission from the sale.
---
[box style="rounded" border="full"]This is definitely Rebecca's best series and it has just started. I am a fan of her Dark Protectors as well as her Sin Brothers series. This one has just enough of a dark edge to keep you worrying where she will go and will your favorite characters make it to the end.[/box]
In the anthology, On the Hunt, Rebecca give us a novella which narrates how the bacteria comes to Earth and how the CDC attempts to control the bacteria before it becomes a pandemic. (This was a great anthology and this story in particular left me primed for this first novel.) The kill rate for the bacteria is nearly 100 percent and most of those who survive the fever are left with damage to their frontal lobe, creating survivors who no longer have a sense of right and wrong. They become psychotic, ranging from mindless, crazed beings to cunning and lethal serial killers with no remorse. There are a very few who survive Scorpius with their minds not only intact, and even fewer who seem to have some slight mental boost. They feel a little more focused, etc.
In Mercury Striking, Rebecca drops the bomb. Several months have passed since we finished Scorpius Rising and only about one percent of the population has survived the initial epidemic. One of the survivors is Dr. Lynne Harmony, the head scientist at the CDC who was attempting to find a cure for Scorpius. She needs to find a hidden facility which she believes was in the Los Angeles area. Before everything crashed, the CDC were making some strides with Vitamin E, which the body does not create but it was helping those infected have a better chance of surviving with the brain intact. The hidden facility was making strides in getting the body to create it's own Vitamin E which is important since factories have stopped and no one is creating more of what might be the only thing to save those still alive.
Lynne knows that her medical knowledge is not going to help her survive in the wilds of this new world. She is trying to reach Jax Mercury. Former military, Jax started gathering people, food and weapons and creating a safe haven just before the world went black. Lynne is hoping he and his people are still in LA and that she can gain his help to find the facility and continue her research.
Everyone know who Lynne Harmony is and most are afraid of her. It could be the bulletins that went out before the power was lost, the ones advising that Lynn is carrying a more dangerous strain of the bacteria. Those still in power wants Lynn back to continue her work for them and will do anything to get her dragged back to them.
While Jax agrees to take Lynn in, he isn't exactly ready to trust her. There are many, including the government, that want what food and weapons Jax and his people have managed to find. There are also several in Jax's camp that would willing trade Lynn for the promise of food, medicine and safety that the government is promising.
Jax and his people have survived the epidemic, but what's next? What comes next after basic survival has been met?
THOUGHTS:
One of my all time favorite books is Stephen King's The Stand. I'm am also a fan of The Walking Dead. It's the only show I take time away from my reading pile to catch. I don't want to fixate on the idea that Rebecca's series in any way copies The Stand or TWD. Like any dystopian story, there is a catalyst for the end of the world (Scorpius Bacteria) and the aftereffect of the mass extinction of the human race, which is the fight for survival and the question of what the future holds for those left alive.
What I like best of this series and why I think it will top her others, is the slight edginess. Her Dark Protectors and Wicked Edge and her Sin Brothers series all had action and romance and a continuing threat, but you kind of always knew that your main characters were gonna make it through the series. Maybe get a superficial wound. The only seriously wounded character in DP was mostly decapitated and still survived.
In this series, there is no safety (at least not yet): first, Scorpius is still around and can infect those who haven't yet been infected and then the infected and the scavengers are as much a danger to the survivors as the bacteria. With this level of danger, we are going to lose characters. Anyone and everyone is at risk and just when you think they survived to live another day, there is a loss where you least expect it. That vulnerability adds a level of excitement which was missing from her previous stories. Yes, this is a romance series but with a dystopian background, you can't keep a bubble around all your favorite characters all the time. Just ask TWD fans.
I am looking forward to seeing how Rebecca will be breaking our hearts in future stories and if and where our survivors can create a new world out of the ashes of the old.
Received an ARC from the publisher in exchange for an honest review.
---
Favorite Scene:
He turned to the door. "What?"
"Jax? It's Sami. I have news."
Jax slid open the door to one of his top soldiers, Sami, his only female lieutenant, handed him a hastily drawn map. "C Team was out scouting near Pacific Palisades and found another food depot controlled by some unknowns."
He took the map and frowned, studying the rough lines. "We should get more intel before deciding what to do." He focused back on her.
Sami stared at his chest, her tongue darting out to lick her lips. About twenty-five years old, the former LAPD rookie had pinned her thick black hair in two braids hanging down her back. She had deep brown eyes and sassy freckles spattered across angled cheekbones.
This was the first time he'd seen her blush. "You okay?"
She swallowed. "Ah, yeah. Just never seen you right out of bed." Her gaze rose. "Want to go back?"
He stilled. "Um–"
She stiffened her shoulders and nudged open the door. "I'm serious, Jax–" Her voice caught as she took in Lynne. "Who the fuck are you?"
Lynne, naked and wearing razor burn on her chin, lifted an eyebrow like any three-star general questioned by a subordinate. "I'm unaware of that being any of your business. Who the hell are you?"
Sami sputtered and rounded on Jax.
He took a deep breath. At least two guns and three knives showed along Sami's fit form. "Can we talk about this later?"
She planted both hands onto trim hips. "No. Let's talk about it now. There's a strange bitch in your bed, and considering I'm in charge of take-ins, I'd like to know who the hell she is and why she's here."
Amusement, dark and annoyed, filled Lynne's eyes. "I'd get out of bed and introduce myself, but that would just piss of handsome there. And according to him, I don't really want to piss him off. You know. The whole you won't like me when I'm angry kind of thing."
Jax shot her a look that would've immediately made a recruit piss his pants back in the service. While he appreciated her keeping the blue heart hidden he didn't like the fury emanating from her well-kissed skin.
"Now, Jax," Sami ordered.
Oh hell no. He pivoted until her back was against the door. "She's none of your fucking business, Sami. When I want her properly taken in, I'll let you know. Get back to work."
The solider opened her mouth to argue, and he stepped even closer, erasing all expression. She gulped. Her skin lost color, and she shot Lynne a hard look. Lifting her head, Sami sidled past him and stomped down the hallway. He shut the door and crossed his arms. "Was that necessary?"
Anger, bright and obvious, nearly succeeded in hiding the wounded look in Lynne's eyes. "I take it you fuck your way around your people."
Shit. He truly didn't owe the woman an explanation, and having her believe he was a complete asshole suited his plans. But that hurt look did him in. "You're the only woman I've had sex with in the last year."
A frown furrowed between her eyebrows. "Bullshit."
He sighed and rested his head back against the door. "Listen, Lynne Harmony, and listen good, because I ain't saying it again. I haven't fucked anybody else and have no intention of doing so, because it creates an issue I can't afford right now. However, what happened between us already happened, so there's no going back. I like you, I enjoyed the hell out of being inside you, and I'd like to be there again. But the decision is yours." He lowered his chin to meet her gaze.
She studied him, her eye clearing. "You also don't go around spanking people, now do you?"
He lifted an eyebrow. "No."
"You wear dominance like most guys wear boots." She rubbed her reddeneed chin. "Were you all into that BDSM stuff before Scorpius hit?"
He barked out a laugh. Damn. He'd smiled more in the last day than he had in months. "No, I wasn't into the BDSM shit. Labels have never worked for me. Although if I was with a woman and she needed her ass reddened, I took care of it."
She sputtered.
Yeah, he like that expression. A lot.
Related Posts