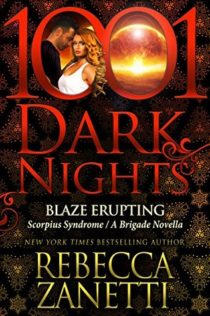 Blaze Erupting (Scorpius Syndrome #4.5)
by
Rebecca Zanetti

Series:
The Scorpius Syndrome #4.5
on January 23rd 2018
Genres:
Dystopian
Pages:
124
Format:
eBook


This post contains affiliate links you can use to purchase the book. If you buy the book using that link, I will receive a small commission from the sale.
From New York Times bestselling author, Rebecca Zanetti, comes a new Scorpius Syndrome/A Brigade Novella…

Hugh Johnson is nobody's hero, and the idea of being in the limelight makes him want to growl. He takes care of his brothers, does his job, and enjoys a mellow evening hanging with his hound dog and watching the sports channel. So when sweet and sexy Ellie Smithers from his college chemistry class asks him to save millions of people from a nuclear meltdown, he doggedly steps forward while telling himself that the world hasn't changed and he can go back to his relaxing life. One look at Ellie and excitement doesn't seem so bad.

Eleanor Smithers knows that the Scorpius bacteria has and will change life as we know it, but that's a concern for another day. She's been hand-picked as the computer guru for The Brigade, which is the USA's first line of defense against all things Scorpius, including homegrown terrorists who've just been waiting for a chance to strike. Their target is a nuclear power plant in the east, and the only person who can help her is Hugh, the sexy, laconic, dangerous man she had a crush on so long ago.

**Every 1001 Dark Nights novella is a standalone story. For new readers, it's an introduction to an author's world. And for fans, it's a bonus book in the author's series. We hope you'll enjoy each one as much as we do.**
---



Rebecca Zanetti does what Fear the Walking Dead failed to do, take us back to the beginning of the plague which ends civilization and keep us interested.
The first novella which introduced the concept of the Scorpius bacteria was Scorpius Rising. With the next book, Mercury Rising, we were already dealing with the aftermath of the plague and how the survivors were recreating some semblance of civilization. In Blaze Erupting, we take a set back to our hero Deke McDougal who is the leader of The Brigade, an elite military group who were tasked with keeping order while the world burned around them. And someone is trying to make the world literally burn while the fear and chaos of Scorpius ruled the planet.
Deke's computer expert, Ellie Smithers, bring in her college friend Hugh Johnson to the Brigade. Hugh is high up in the command of power plants and works with the security, trying to keep terrorists from taking advantage of weaknesses. One large weakness since Scorpius is the fact that more than half of the staff at the more vulnerable plants have either succumbed to Scorpius or have taken their families and run, leaving the gates wide open for someone to turn a power plant into a nuclear bomb.
Deke's Brigade has come across information which indicates that someone will soon be making an attempt on a plant, but they are hoping that Hugh can help them determine which nuclear plant is the most likely target and most susceptible right now.
Ellie and Hugh were just friends in college but they both hope to have enough time before the world goes to hell to maybe become more than just friends.
But photos show up in an FBI file showing Hugh getting all chummy with a known terrorist, Ellie hopes to prove him innocent before Deke decides to cut his losses and find another way to stop nuclear winter on top of a devastating virus.
I found the funniest part is where they so certain that someone will figure it out and stop the pandemic;  "Don't worry everything will be fine." While in my head I keep going "Yeah, that's not happening."
Even in the future post-Scorpius world, nuclear winter would be too devastating for the sane survivors of the virus to rebuild the world so the Brigade has to succeed.
In this short story, we had a good romance, action, excitement, and even ice cream. You will miss ice cream post-apocalypse.
We have been hoping (both in the story and out) to have a meet between our current group of survivors and Nora, Deke and the Brigade which met in the first book. I hope there will be more novellas which help us bridge the gap between the now and the then.
---
Favorite Scene:
Ellie barely kept from smacking Hugh in the nose as he sat at the conference table, looking all calm and reasonable. If the guy had half a brain, he'd be scrambling to make an explanation. Connor and Ivan flanked him while they waited for Deke to arrive.
"It's okay, Ellie Mae," Hugh said, kicking back in the chair.
She sat at the head of the table and gave him a look. "I've been reading the files on you for the entire ride here, and I can't find a loophole. Any sign that you're anything but a crook." It couldn't be true. It just couldn't.
Deke strode into the room. "Well? Are we shooting the bastard?" He yanked out a chair next to Ellie and faced Hugh.
Ellie granced toward the door. "Where's Nora?"
"On the phone with Lynne Harmony at the CDC. Or rather, at the hospital where Lynne is being treated." Deke didn't look away from Hugh. "Has he explained?"
"Nope," Connor said, almost cheerfuly. "After I shoot him, where are we gonna leave the body?"
Hugh sighed and crossed his arms.
Deke cocked his head to the side. "You're a cool one, aren't you?"
"I'm not." Ellie slapped her hand on the conference table. "Give him your clearance so we can figure this out." She was so finished with the tough guy acts from all the morons at the table and couldn't care less that they were most possibly the most dangerous men in the country right now. "I can't believe the future might hinge on you dorks."
Connor leaned forward enough to see Ivan on the other side of Hugh. "She called us dorks." He sounded slightly hurt.
Related Posts