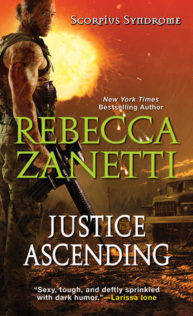 Justice Ascending (The Scorpius Syndrome, #3)
by
Rebecca Zanetti

Series:
The Scorpius Syndrome #3
Published by
Zebra
on January 31st 2017
Genres:
Dystopian
Pages:
400
Format:
eBook



I received this book for free from in exchange for an honest review. This does not affect my opinion of the book or the content of my review.
This post contains affiliate links you can use to purchase the book. If you buy the book using that link, I will receive a small commission from the sale.
Before surviving the Scorpius bacterium, Tace Justice was a good ole Texas cowboy who served his country and loved his mama. After Scorpius, the world became dark, dangerous, and deadly... and so did he. The Vanguard medic is stronger, faster, and smarter than before, but he's lost the line between right and wrong. His passion is absolute, and when he focuses it on one woman, there's no turning back for either of them.

Sami Steel has been fighting to survive right alongside Tace, convincing the Vanguard soldiers she's one of them. In truth, Sami is a former hacker turned government agent who worked at The Bunker, where scientists stored both contaminants and cures. Only she knows the location, and she's not telling. Yet when sexual fire explodes between her and Tace, she'll face even that hell again to save him.
---




Once again Rebecca Zanetti held me captive. There was no way I was putting this story down.
I wanted Tace's story since he recovered from infection and started noticing his own lack of emotion. It was a very intriguing (and sad) development to see the gregarious and flirtatious medic loose his emotions. It was also hinted at the end of Shadow Falling that Tace was obsessing on fellow soldier, Sami. Was this a hint of his further fall into darkness or a tingle of his humanity returning? It may be a bit of both.
As a refresher, Tace was infected while Vanguard was out of the Vitamin B cocktail that they all take. They found that B helps against the worst of the infection. This is why Tace is showing a lack of emotions that the others do not. He did receive B during his recovery so we are still learning how that will effect him in the long run. It is also important to remember that while we have had months and months between stories to digest the happenings of the prior stories, time wise, this novel takes place right after Shadow Falling and in general, it has been less than a year since the spread of Scorpius and the fall of civilization, and just weeks since the infection of Tace specifically until this story begins.
In Justice Ascending, we see Tace still struggling with knowing that he lacks emotions…or maybe it is more correct to say that he knows he should be struggling with that fact, but he can't work up any concern and he knows that is wrong. His concern is more that he will become a ripper and the friends he has made will be the ones forced to kill him. Again, while he is not emotional about that, just the fact that he knows that they will be upset shows that all is not completely lost for Tace.
He knows that he is becoming obsessed with Sami and his concern is less his obsession, since he noticed Sami and was attracted to her since the first day she arrived. Tace is more concerned that the obsession in conjunction with his fall into darkness might cause him to hurt her. Again, this shows that all is not lost for Tace.
Tace knows he should put some space between him and Sami but that won't be happening anytime soon since they are both sent up to the Merc camp. Their only doctor was killed during the attack by the President when he tried to take Vinnie and Raze's sister. (I'll give you a moment to recall…okay) Jax sends them Tace to patch up their wounded but Jax won't let him go alone, so he sends Sami to back him up.
We are still looking for the bunker. We are still trying to find Deacan and Nora from Scorpius Rising.
What is great in this series is that both Jax (Vanguard) and Greyson (Mercenaries) are contemplating an alliance but since they aren't 100 percent sure it will work out, they both strategize each situation with how do we get the other camps stuff and what do we need to do to be allies? And they both know that the other is also weighing each interaction the same way and they are cool with it since they are both good leaders and aren't going to risk their people by trusting too easily.  It's just funny to see them shaking hands while checking the area for goods and forces but there is no malice just the reality of the new world order and no malice between the leaders as long as they don't actually act against one another.
There is so much happening in Justice Ascending and yet there is still so many things left up in the air. Part of me wants to know what will happen and the other part doesn't want it to end.
---
Favorite Scene:
She'd never, in her entire wild life, been kissed with such completed focus. His warmth drugged her, and his taste of mint, promise, and man seduced her more completely than any words of love. The kiss was all Tace. Everything she'd wanted and everything she'd feared. Yet she couldn't help but kiss him back, pulled into his slow movements and deliberate gentleness.
A growl rumbled up from his chest and into her mouth, sending electricity through her. She moved against him, her body becoming restless. His pressed her into the bed, holding her still, as he continued playing.
Finally, he lifted his head to let her breathe. His eyes had darkened and his nostrils flared. Desire was stamped hard across his face. "If you don't want this to happen, now's the time to put a halt to things." The drawl deepened with his need. His strong hand still cupped her jaw, and he swept his thumb across her tingling mouth. "I want to taste every inch of you."
She shivered. He'd take his time about it, too. Her mind fuzzed and her body yearned. "This is a mistake."
"Yeah. Wanna make it?" His gaze dropped to her mouth again.
God, she wanted him. It seemed as if her penchant for bad boys and huge mistakes hadn't ebbed. Maybe it was impossible to truly change. Right now, with her body on fire, she didn't care. She needed relief. "Yes, but just one night."
"Darlin'? I could take a whole night just with your breasts."
Her nipples hardened to rock. Traitorous little bastards. She thought rapidly but not too deeply. "Okay, two nights. These two nights in Merc territory, and then we go back to normal. This can't be a thing." Her voice came out breathy and low. If he knew her story, her criminal past, he wouldn't like her. Even now, at his darkest, Justice was all about law and order.
"Hmmm." He licked along her jawline, and she arched against him, caressing down his flanks.
She'd said yes, and now she could touch him. Really touch him. Firm muscle and unreal strength filled her palms. Even his lower back was muscled. She hesitated upon reaching his very fine butt.
"Don't stop now," he whispered, his breath heating her ear right before he nipped.
She jerked and then laughed. "All right." While he licked the shell of her ear, she ran her hands over his taut ass. Firm and hard…just like the rest of him. He finished with her ear and lifted up to settle his mouth over hers, more firmly this time.
She caressed up his torso and under his shirt. They had too many clothes on. She opened her mouth to tell him, and he dove in, kissing her hard. She lost herself in the moment, her palms on his warm skin.
A hard knock on the door had him off her in a second and standing between the bed and the door. "What the fuck?" he snapped.
"Tace?" Greyson knocked again. "We need a medic."
Sami sat up and fumbled for the flashlight. She flipped it on and tried to control her breathing somehow. Then she yanked the sheet to her throat like a damsel from a fifties would have.
Tace stomped forward and shoved the dresser out of the way. "If you're fuckin' with me, I'm killin' you."
Related Posts