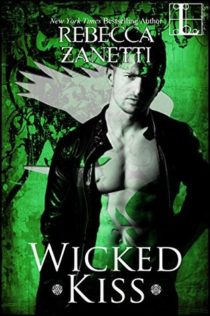 Wicked Kiss (Realm Enforcers, #4)
by
Rebecca Zanetti

Series:
Realm Enforcers #4
Published by
Kensington
on July 4th 2017
Genres:
Paranormal/Urban Fantasy
Pages:
286
Format:
eBook



I received this book for free from in exchange for an honest review. This does not affect my opinion of the book or the content of my review.
This post contains affiliate links you can use to purchase the book. If you buy the book using that link, I will receive a small commission from the sale.
Working as an informant for the DEA, Victoria Monzelle is used to living on the edge. But she's not a big fan of getting kidnapped. And definitely not by a bunch of bad boy witches with fancy-colored fire to shoot at people. So when Adam Dunne shows up and claims to be a witch enforcer, she's not going to put her life in his hands based on his word, no matter how smooth and smart and beautifully Irish his words sound. But on the run from a tribunal of witches, she isn't going to make it far . . .

Before she knows it, Adam's word is all that stands between her and execution. Sophisticated, just-gotta-ruffle-him Adam has vowed to make her his one eternal mate, wild and unpredictable as she is—to save her from a sentence of certain death. But Tori isn't interested in being anyone's pity date. And if they think she's unpredictable now, they should see what's coming next . . .
---


While I thought I was excited about Adam and Tori's book, it seems I was mistaken.
In this Dark Protectors spinoff series, the witches came to Seattle to find out who was making a drug known as Apollo, what used Planekite, the only substance that harms witches. Humans are becoming addicted as use the use more deadly levels of the drug, they don't just overdose, they spontaneously combust. But make no mistake, someone has created this drug as a way to destroy witches.  This was the focus of the first book or two, but in order to get a full series, these guys not only have to get nowhere each story, but we added too many other subplots (including dragon shifters) that made sure we didn't have time to solve the mystery of who was making the drugs and trying to destroy all the witches.
Adam and his brothers, the other Realm Enforcers for the Coven Nine, have been in Seattle trying to track down the manufacturer of the drug. They have made very little progress on this investigation, and this story doesn't get us any further on that front. The Dunnes had infiltrated a local biker gang who are distributors getting the drugs on the street.  The cover plan was to exchanging guns for drugs and at this point both parties are getting frustrated and pissed off. The Gang won't tell who is manufacturing the drugs and the Dunne haven't ponied up any guns (not that they intended to) so this plan has been a waste of time and has done nothing but put a bulls-eyes on their back with the local police since they were considered gang members, not undercover international investigators.
Since Tori's sister, a member of the local Police Department, is now dating (mated to) Kellach Dunne (who they believe to be a Gang member not a witch enforcer), the FBI is forcing Tori to act as an informer against the Dunnes and the local bear pack. Of course, Tori (a musician) never tells her sister (a cop) that she is being forced into dangerous situations by the FBI to get information about drug dealers.
The prior books diverted a bit from the main drug issue to introduce dragon shifters and the fact that the Coven 9 is becoming corrupt.  Since most of the members are related to the Dunnes, it should have been pretty easy to figure out who the problem is, but apparently not.
In the last book, Tori was in the wrong place/wrong time and got to see witches tossing plasma balls. Since she is human, the Coven takes her into custody to determine what her threat level would be. The only remaining members of the counsel (three) are being lead by the most obvious douche and he wants her killed to keep her quiet because that is quite fair — witches fuck up and shoot fireballs in from of a human, so the human has to die.
Romancewise, Tight-ass, rule following Adam Dunne has had his eye on Tori (his brother's sister-in-law) for some time now, but ignores his interest, even though if Alexandra is gifted and able to mate with a witch, so should Tori. When witches abduct Tori, Adam goes rushing off to Ireland to get her back, especially since his brothers are all on the run from the Witches' counsel for protecting their cousin, Simone who is a wanted criminal.
Of course it makes sense to trust the one enforcer who is left even though he is probably more loyal to his brothers and his cousin than the only members of the counsel left, none of whom are family or even people that Adam likes.  Yeah, great idea.  He should mention that counsel misjudgment when he see is brothers next time in their hidden hideout.
So Adam promises to mate with Tori, which would then bring her into the fold, and therefore, there is no need to kill her. The counsel only gives him a few days to make that happen since they are not happy with anything Dunne anymore, but Adam decides "Screw that. They can't make me. I'll do it at my own good time."  He wants her to get to know him and be okay with the idea before forcing it on her.  Great idea!  When the counsel finds out he has refused to mate Tori under their deadline, they put a bounty out for both Adam and Tori.
While I thought there would be a lot of tension between Adam and Tori, it didn't pan out as exciting as I anticipated.
This series seems to have diverted from the issue of a dangerous drug manufacturer to witch counsel corruption in the last few books. There was enough going on in this series — or should I say not getting anywhere in this series, that we didn't need to add in Tori being an FBI informant since she didn't have anything to do with the drugs. She was the sister of a cop and one of her band members got their hands on the drug, so what would justify sending Tori into the "field" to take on dangerous drug dealers?
I would actually say you could skip this one and jump right to Wicked Bite, which was good and will finally give us some answers.
Related Posts