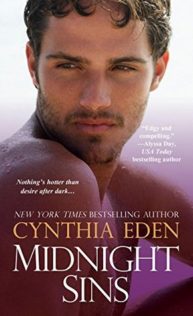 Midnight Sins (Midnight, #2)
by
Cynthia Eden

Series:
Midnight #2
Published by
Kensington
on March 31st 2015
Genres:
Paranormal/Urban Fantasy
Pages:
352
Format:
eBook



This post contains affiliate links you can use to purchase the book. If you buy the book using that link, I will receive a small commission from the sale.
---
Cara Maloan doesn't look like a monster. In fact, the gorgeous blond nightclub singer possesses heavenly attributes that makeAtlantadetective Todd Brooks sure there's a higher power somewhere. But a twisted killer is leaving a trail of bodies in seedy hotel rooms across town. The male victims show no wounds-it's as if the life was simply drained from them. And right now, mysterious Cara is Todd's only suspect.

Cara knows it's foolish to be so drawn to a man who thinks she's a murderer. She also knows Detective Brooks would find the truth even harder to swallow. Cara is one of the Others, a race of powerful, paranormal creatures who live among humans. Cara's particular abilities make men putty in her hands-all except this rugged, sexy-as-hell detective. But now someone, or something, has singled Cara out for serious payback…

As uneasy trust gives way to mind-blowing desire, Cara and Todd will go head-to-head with a killer whose mission is deeply personal, and who's determined to serve up revenge that's hotter than hellfire, and just as deadly…
---
Det. Todd Brooks was just learning the hard lesson that supernaturals truly exist.  Then a new murderer is in town, literally sucking the life out of men.  His best lead is the Cara Maloan.  She is not only beautiful, she is one of the others.   A demon…a succubus who gets power of sex.
Is she the killer or the woman of his dreams?  He better decide soon because someone is out to get her. 
This was an enjoyable story, but I am always a little put off when one of the main characters is an icubus or a succubus and the other main character is simply human.  I find it hard to just go with a love story when one of the characters uses love and sex as a source of power since it is their very nature, but I guess you could say the same thing about a vampire/human relationship. 
It was a good story aside from my personal prejudice against the succubus. 
---
Favorite Scene:
What would happen if he stopped asking so nicely?  A hot spurt of fire streaked though her gut.
Uh, oh.  She did not need to get turned on by a dark, rumbling voice.
She also didn't need cops on her doorstep.
Cara released the chain and hurriedly jumped back as the door was shoved open.  Then the men stormed inside, and her heart pounded too fast as a shiver of fear skated down her spine.
It wasn't the guns in heir hands that made her wary, though they were a definite concern.  Bullet wounds hurt like a bitch – she knew, she'd been shot once.  Not exactly a stellar memory.
No, it wasn't the weapons that made her tremble.  It was the men.
The first guy, Detective Brooks, he was tall, a couple of inches over six feet, and leanly muscled.  There was power there, in the tight lines of his body, a strength that hung in the air around him, and damn but the guy was  handsome.  Sharp, clean lines defined his face.  A straight nose, a chiseled jaw and chin.  His top lip was a little too thin, but strangely sexy.  And his eyes, they were dark brown.  They looked…warm.
A deception, she was sure, but there was something about him…something hot.  Dark.  A curl of heat unfurled within her, and a rampant thought raced through her mind.  I want to taste him.  All of that wonderful power swirling just beneath his surface.  He'd be delicious.
The demon inside her trembled with hunger even as the woman fought to hold on to her control.
Related Posts