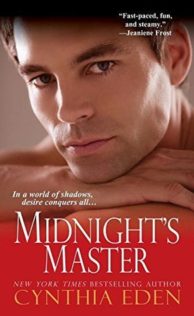 Midnight's Master
by
Cynthia Eden

Series:
Midnight #3
Published by
Kensington
on August 25th 2015
Genres:
Paranormal/Urban Fantasy
Pages:
352
Format:
eBook



This post contains affiliate links you can use to purchase the book. If you buy the book using that link, I will receive a small commission from the sale.
---
Tall, dark, and formidable, Niol Lapen is the last demon on earth most people would ask for a favor, yet the sexy little reporter who wanders into his club dares to do exactly that. Holly Storm already knows too much about his kind, and Niol has no wish to help her get in deeper over her head. But working alongside her may be the only way to stop a killer, even as it ignites a primal desire unlike anything he's known.

Holly has seen firsthand what Niol is capable of, but that doesn't frighten her nearly as much as her body's instinctive reaction to him, or the wild, fierce passion that would tempt her to follow him through hell itself. Something evil and relentless is prowling the streets ofAtlanta. And as Holly's search leads her into danger that even Niol could never have predicted, she'll uncover a secret that could rip her world apart.
---
Someone is trying to get their hands on new reporter Holly Storm, but not if Niol has any say.  Especially since he wants want to get his hands (and other body parts) all over Holly. 
Niol is a very powerful level ten demon, and he plans to get to this killer and teach him to hunt in Niol's city.  But he better to it before Dt. Gyth and partner, Todd Brooks arrest him first. 
This was a climatic end of the Midnight series, and not to be missed. 
---
Favorite Scene:
He lifted his hand.  Stroked her cheek.  Damn, but she was soft.  Leaning close, Niol told her, "Sweetheart, I warned you before about coming to my Paradise."
There was no doubt others overheard his words.  With so many shifters skulking around the joint, a whisper would have been overheard.  Shifters and their annoyingly superior senses.
"Wh-what do you mean?"  The question came, husky and soft.  Ah, but he liked her voice.  He could all too easily imagine that voice, whispering to him as they lay amid a tangle of sheets.
He cupped her chin his hand.  A nice chin.  Softly rounded.  And those lips…the bottom was fuller than the top.  Just a bit.   So red.  Her mouth was slightly parted, open.
Waiting.
She stepped back, shaking her head.  "I don't know what you think you're doing, Niol—"
He stared down at her.  "Yes, you do."  He caught her arms, wrapping his fingers around her and jerking Holly against him.  "I told you, the last time you came into my bar…"
Her eyes widened.  "Niol…"
Oh, yeah, he liked the way she said his name.  She breathed it, tasted it.
His lips lowered toward hers.  "If you want to walk in Paradise, baby, then you're gonna have to play with the devil."
"No, I—"
He kissed her.  Hard.  Deep.  Niol drove his tongue right past those plump lips and took her mouth the way the beast inside him demanded.
She tasted like wine, and the more he sampled, the more he wanted.
Related Posts