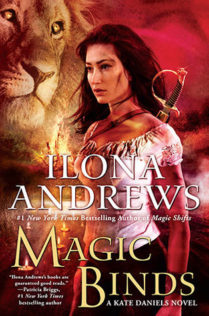 Magic Binds (Kate Daniels, #9)
by
Ilona Andrews
Series:
Kate Daniels #9
Published by
Ace
on September 20th 2016
Genres:
Paranormal/Urban Fantasy
Pages:
384
Format:
eBook



I received this book for free from in exchange for an honest review. This does not affect my opinion of the book or the content of my review.
This post contains affiliate links you can use to purchase the book. If you buy the book using that link, I will receive a small commission from the sale.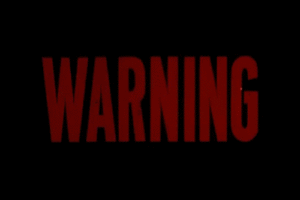 Spoiler Alert. If you are not up on the series, come back and discuss with us later!
[box style="rounded" border="full"]Another exciting Kate Daniels story. Well worth the wait.[/box]
Kate and the former Beast Lord Curran Lennart are finally making their relationship official. But there are some steep obstacles standing in the way of their walk to the altar…

Kate's father, Roland, has kidnapped the demigod Saiman and is slowly bleeding him dry in his never-ending bid for power. A Witch Oracle has predicted that if Kate marries the man she loves, Atlanta will burn and she will lose him forever. And the only person Kate can ask for help is long dead.

The odds are impossible. The future is grim. But Kate Daniels has never been one to play by the rules.
We will try to keep spoilers to a minimum.
You will remember at the end of Magic Shifts that Kate got a flash of what the witch oracle wasn't telling her about Roland and his plan for Kate's future. Think about it…okay!
As we head into Magic Binds, Curran is working to whip the new Guild into shape and even creating his own elite tactical team and Kate, Curran and Julie are settling into their new lives quite well.   They have set a date for the wedding and have asked the volhv, Roman, to officiate.   This brings a certain comic relief throughout the story since Roman is so excited to be a part of the wedding, he has taken over as wedding planner and shows up at the most inopportune times to discuss fittings, flowers, invites, etc. with Kate.
Comic relief is necessary since things between Roland and Kate are starting to become a problem.  Roland is pushing at the borders of Atlanta as a test.  He has also been talking to Julie behind Kate's back with thoughts of making her his next warlord now that he has sent Hugh d'Ambray away.  (You know we haven't seen the last of Hugh. He doesn't like being foiled and then pushed aside.) When Roland grabs Saimon, a citizen of Atlanta, Kate can no longer sit back.  Roland has all but declared war against Kate. She and Saimon are no longer friends but if she let's it go, he will continue his subtle attacks.
Kate has also found out that her father has created his own secret militia.  Highly trained with weapons and magic, these zealots believe that a special place in heaven awaits them for killing or dying on behalf of Roland.  When Kate comes across one of his warriors, Kate's anger becomes so great, she breaks her father's blood bond in an "in your face Roland" move, except the warrior is now bonded to Kate.   Using her blood to bond someone to her is that line in the sand never to be crossed for Curran.  Avoiding Curran only pushes off the inevitable confession, but they are both busy keeping the world from imploding and prepping for a wedding which might not happen now.
But Kate hasn't forgotten the single biggest issue — Roland is centuries older and more powerful than Kate.  She can't win in a head to head battle against him.  Worse, the witch oracle has seen one of two futures for Kate:  she marries Curran and he will die in battle, or she doesn't marry Curran and her loss is even greater.
A battle is inevitable and no matter what Kate will lose everything.  Kate can't win in the future being seen by the oracle so Kate needs to change the future to change the outcome, and she will get help from the most unlikely of allies.
Magic Bind brings back the excitement to the series as a battle between Roland and Kate seems inevitable.  Changes  come to not only Kate, Curran and Julie but several other characters.    Like Magic Breaks, there will be series changing revelations, some friendships torn apart and an ultimate battle and an ending that will leave us screaming, "I can't wait another year!"
---
Favorite Scene:
Curran walked in behind me and took in the living room. His thick eyebrows rose.
"What?" Roman asked.
"No alter?" Curran asked. "No bloody knives and frightened virgins?"
"No sacrificial pit ringed with skulls?" I asked.
"Ha. Ha." Roman rolled his eyes. "Never heard that one before. I keep the virgins chained up in the basement. Do you want some coffee?"
I shook my head.
"Yes," Curran said.
"Black?"
"No, put cream in it."
"Good man. Only two kinds of people drink their coffee black: cops and serials killers. Sit, sit."
I sat on the sofa and almost sank into it. I'd need help getting up. Curran sprawled next to me.
"This is nice," he said.
"Mm-hm."
"We should get one for the living room."
"We'd get blood on it."
Curran shrugged. "So?"
Roman appeared with two mugs, one pitch-black and the other clearly half-filled with cream. He gave the lighter mug to Curran.
"Drinking yours black, I see," I told him.
He shrugged and sat on the couch. "Eh…goes with the job. So what can I do for you?"
"We're getting married," I said.
"I know. Congratulations. On Ivan Kupala night. I don't know if that's good or bad, but it's brave."
Ivan Kupala's night was the time of wild magic in Slavic folklore. The ancient Russians believed that on that date the boundaries between the worlds blurred. In our case, it meant a really strong magic wave. Odd things happened on Ivan Kupala's night. Given a choice, I would've picked a different day, but Curran had set the date.  To him it was the last day of werewolf summer, a shapeshifter holiday and a perfect day for a wedding. I told him I would marry him and if he wanted to get married on Ivan Kupala night, then we'd get married on Ivan Kupala night. After moving the date a dozen times, that was the least I could do.
"So did you come to invite me?" Roman asked.
"Yes," Curran said. "We'd like you to officiate."
"I'm sorry?"
"We'd like you to marry us," I said.
Roman's eyes went wide. He pointed to himself? "Me?"
"Yes," Curran said.
"Marry you?"
"Yes."
"You do know what I do, right?"
"Yes," I said. "You're Chernobog's priest."
"Chernobog" literally meant Black God, who was also known by other fun names like Black Serpent, Lord of Darkness, God of freezing cold, destruction, evil, and death. Some ancient Salvs divided their pantheon into opposing forces of light and dark. These forces existed in a balance, and according to that view, Chernobog was a necessary evil. Somebody had to be his priest, and Roman had ended up with the job. According to him, it was the family business.
Roman leaned forward, his dark eyes intense. "You sure about this?"
"Yes," Curran said.
"Not going to change your mind?"
What was with the twenty questions? "Will you do it or not?"
"Of course I'll do it." Roman jumped off the couch. "Ha! Nobody ever asks me to marry them. They always go to Nikolai, my cousin–Vasiliy's oldest son."
Roman had a vast family tree, but I remembered Vasiliy his uncle. Vasiliy was a priest of Belobog. Chernobog's brother and exact opposite. He was also very proud of his children, especially Nikolai, and bragged about them every chance he got.
Roman ducked behind the couch and emerged with a phone.
"When some supernatural filth tries to carry off the children, call Roman so he can wade through blood and sewage to rescue them, but when it's something nice like a wedding or a naming, oh no, we can't have Chernobog's volhv involved. It's bad luck. Get Nikolai. When he finds out who I'm going to marry, he'll have an aneurysm. His head will explode. It's good that he's a doctor, maybe he can treat himself."
He plugged the phone into the outlet.
It rang.
Roman stared at it as if it were a viper.
The phone rang again.
He unplugged it. "There."
"It can't be that bad," I told him.
"Oh, it's bad." Roman nodded. "My dad refused to help my second sister buy a house, because he doesn't like her boyfriend. My mother called him and it went badly. She cursed him. Every time he urinates, the stream arches up and over."
Oh.
Curran winced.
"You hungry? Do you want something to eat?" Roman wagged his eyebrows. "I have smoke brisket."
"My fiancé leaned forward, suddenly interested. "Moist or dry?"
"Moist. What am I, a heathen?"
Technically, he was a heathen.
Related Posts