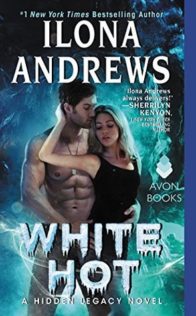 White Hot (Hidden Legacy, #2)
by
Ilona Andrews

Series:
Hidden Legacy #2
Published by
Harper Audio
on May 30th 2017
Genres:
Paranormal/Urban Fantasy
Format:
Audiobook
Narrator:
Renee Raudman
Length:
13 hrs 18 min



This post contains affiliate links you can use to purchase the book. If you buy the book using that link, I will receive a small commission from the sale.
Nevada Baylor has a unique and secret skill—she knows when people are lying—and she's used that magic (along with plain, hard work) to keep her colorful and close-knit family's detective agency afloat. But her new case pits her against the shadowy forces that almost destroyed the city of Houston once before, bringing Nevada back into contact with Connor "Mad" Rogan.

Rogan is a billionaire Prime—the highest rank of magic user—and as unreadable as ever, despite Nevada's "talent." But there's no hiding the sparks between them. Now that the stakes are even higher, both professionally and personally, and their foes are unimaginably powerful, Rogan and Nevada will find that nothing burns like ice . . .
---
I downloaded this book as I was finishing Book 1. For once, I was so happy to be behind in a series.
I would have hated to have to wait.
Nevada Baylor hopes that she has seen the last of Connor "Mad" Rogan after the Adam Pierce case but fate has other plans, and we are so happy that it does.
We are also reintroduced to Cornelius Harrison of House Harrison, Adam Pierce's forced friend, whom we met in the last story. Cornelius has come to Nevada for her help. His wife was brutally murdered and he wants he to find the person or persons involved in her death. Her employer is claiming no knowledge of why died, and threatening the smear her memory if Cornelius doesn't let it go. The police won't get involved in what they think is House business. So Nevada is his only hope for justice.
But Nevada's investigation puts her in the path of Rogan since he too is investigating the death but for other reasons. Nevada may want to give Rogan a wide birth, but Cornelius is more than happy to accept Rogan's agreement to work together.
This investigation once again throws Nevada and Rogan into the middle of the Conspiracy to destroy the social structure of House politics and take the current govement down with it.
And while Nevada claims she wants nothing to do with Rogan, it comes to light that part of her anger is due to the fact that after all Rogan's talk about how much he wants her, he never once showed up to ask her on a date. Sexual tensions will hit a boiling point. Unless they are too busy trying to fight off mages or monster, these two can't be in the same room without fighting or making out.
Nevada hasn't been sitting on her butt waiting for her mad prince to not show up at her door. She has reading up on honing her own magic and while her circle drawing might be looking more Pre-K than Prime mage, there is no question that her abilities are increasing and growing stronger daily.
This time when Rogan and Nevada collide with the conspirators, it won't only be Rogan making them quake in fear, and in the end, it might be time for a new House to emerge.
I loved every moment of this story: the wonderful characters; the world building; the action; and the romance. I jumped straight into Book 3 as soon as I got to the end.
---
Favorite Scene:
He grinned at me. It was a sharp, amused grin that made him appear wolfish. "The real question here is would you like me to cook something for you?"
"Like what?"
"What are you in the mood for?"
Sex.
Rogan leaned forward, muscles rolling under the sleeves of his T-shirt. His face took on a speculative expression. There was something slightly predatory about the way he focused on me; it wasn't the fear of being in the presence of a man who posed real danger. It was the feeling of being in the presence of a man who was about to try to seduce me. Anticipation zinged through me. Had he actually plucked the impression of my lust out of my head? Maybe it was just a coincidence.
He reached over.
I tensed.
His fingers slid so close to mine, I thought for a moment we touched. He stole the remaining half of my cookie and looked at it.
"That's mine," I told him.
"Mhm."
"There is a whole jar of cookies."
A light sparked in his eyes. "I want this one."
"You can't have this one. Give it back." I held out my hand.
He examined the cookie and slowly raised it to his mouth.
"Connor, don't you dare."
He bit the cookie and chewed it. "I took your cookie and ate it. Are you going to do something about it?"
I was playing with fire. fine. He ate my cookies, I'd drink his drink. I reached for his coffee. It slid out of my reach and settled next to him.
"Not fair."
"This isn't about fair. This is about delicious cookies."
"In that case, that will be your last." I grabbed the jar and put it in front of me. It shot straight up and hung about us. My half-empty teacup took off like a rocket and landed on the far end of the island. Okay, enough is enough. This was my kitchen.
I jumped up and marched around the table.
He surged up and his arms closed about me, catching me. His touch was light, but I knew with absolute certainty that there was not getting away. He had me.
Only two thin layers of fabric separated me from him. I wasn't even wearing a bra. My breasts brushed against the hard wall of his chest. My hands rested on his shoulders. A low, insistent feeling began to build between my legs. I wanted to be touched and stroked.
He was looking like I was the most beautiful thing in the world.
"What are we doing?" I asked. My voice came out quiet.
"You know exactly what we're doing."
His breathing deepened. Need and lust swirled in his eyes. I searched their depths for the familiar icy darkness, but it was gone. I had chased it away. He was focused on me completely and I drank it in. Oh, I wanted him.
I slid my hands up his arms, feeling the hard cables of muscle tense and bulge under the pressure. He made a low male noise but didn't move. His body was hard with tension against mine, but he didn't move an inch.
It dawned on me that he was waiting for me to decide.
"You're being very patient."
"I can be a good dragon, when the occasion requires it."
I licked my lips. His gaze snagged on my tongue.
I had to decide. I couldn't stand it any longer. Either we did this, or I needed to march back upstairs. I was a grown woman, damn it. I'd almost died less than twelve hours ago and he was there, protecting me, making sure my family survived the night. He didn't have to do it. Maybe he was a sociopath, but if he was, for some reason, I mattered to him. In this moment, right now, he belonged to me.
"This one time, maybe you shouldn't be."
"I shouldn't be what?" he asked.
"Maybe you shouldn't be so good."
He spun me around. My back pressed against the kitchen wall. His big muscular body caged me in. His blue eyes laughed at me. "How bad am I allowed to be?"
"I don't know. Let's find out."
"Try not to scream." He winked at me.
Related Posts