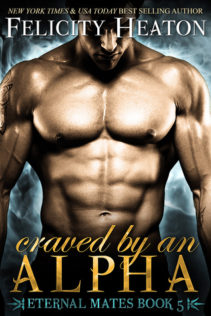 Craved by an Alpha (Eternal Mates, #5)
by
Felicity Heaton

Series:
Eternal Mates #5
Published by
Self-Published
on January 27th 2015
Genres:
Paranormal/Urban Fantasy
Pages:
122
Format:
eBook



I received this book for free from in exchange for an honest review. This does not affect my opinion of the book or the content of my review.
This post contains affiliate links you can use to purchase the book. If you buy the book using that link, I will receive a small commission from the sale.
---
[box style="rounded" border="full"]I had been waiting for this one.  Out of the four the Felicity is releasing in January and February, this is the one that caught my attention.  It was only a novella, but I did enjoy it.  [/box]
Cavanaugh is a snow leopard shifter. After his father's death, Cavanaugh became the alpha. He never wanted to become the Alpha. As Alpha he lost the one thing he wanted, a chance to be with Eloise. Eloise was his best friend from childhood. Once they matured, Cavanaugh realized she was his fated mate but before he could tell her and mate with her, he became Alpha. Eloise is not a female of status and because of that she was not eligible to mate with the Alpha.  Sadly, it is not well explained why she is not a female of status but obviously there is no way around this flaw.
After several years of being so close to Eloise but separated by station from the woman he loved, Cavanaugh purposely lost a challenge for Alpha. If he were to return within five years, he would be able to reclaim his Alpha status.  He has been counting down those years and only has a few days left. Once he has been away from the pride for five years, he can return as a male of no status and take Eloise home with him to Underworld and they can begin a new life together.
Just when he has his dream within his reach, Eloise shows up on his doorstep begging him to return with her and once again become their Alpha. The current Alpha of the pride has been killing off the strong males who oppose him and he intends to claim his right to force himself on all the unmated females, including Eloise.
After five years of waiting to finally have his Eloise, Cavanaugh can't leave his people to suffer any longer and agrees to accompany Eloise back to the pride to fight for the right to be the true Alpha, but in doing so will lose her forever.
THOUGHTS:
This was an enjoyable novella. I liked Cavanaugh and Eloise. Although there is no real discussion of why Cavanaugh, as alpha, can't just change the rules and mate with Eloise anyway, you can appreciate why he would chose being with Eloise over being Alpha.
It was a quick read and a nice story.
Received an ARC in exchange for an honest review.
---
FAVORITE SCENE:
His gaze swung her way and his expression suddenly went cold.
"Eloise!" He shoved out of the water, spraying it everywhere and startling her.
He rushed across the wet rocks, his footing sure as he sprinted towards her, leaping with agile grace from one boulder to the next, his muscles working hard as he closed the distance between them.
Her eyes widened and she turned slowly, her heart thundering against her breast and cold prickles crawling over the nape of her neck.
She wasn't alone.
Her eyes met the huge tiger's ones as it stalked towards her from the edge fo the forest, already close enough to pounce.
Her breath hitched and stuck in her throat.
Cavanaugh appeared between her and the tiger. His left hand clamped down on her waist and he pushed her behind him, shielding her with his big body.
He roared at the tiger and silver-grey fur rippled over his powerful shoulders.
His hand flexed against her hip, a silent warning to her, telling her not to move. She kept still, pulse racing at a dizzying pace, her blood running cold in her veins.
Beyond him, the tiger hunkered down, preparing to attack.
Eloise's heart leaped up to join her breath, lodging in her throat and refusing to come down. Fear blasted through her, the thought that Cavanaugh might have to fight the wild cat turned her blood to ice and filling her with a desperate need to do something in order to protect him. She was powerless though. No match for the beast. It wouldn't back down if she faced it. It would sense her weakness and attack.
Only Cavanaugh was strong enough to face the animal and make it leave.
The tiger growled, flashing long yellowing canines.
Cavanaugh snarled back at it. She could sense his desire to shift. It ran through her too, but it would be a grave mistake to give in to it. She was bigger in her human form and appeared far more like a threat to the tiger, and so was Cavanaugh. His hand trembled against her hip, cold from the water but filling her with comforting heat. Cavanaugh was strong. A king of beasts.
He could convince the tiger to leave them. She had to believe it, because she couldn't bear thinking about the other path things might take.
She couldn't think about Cavanaugh fighting.
Related Posts